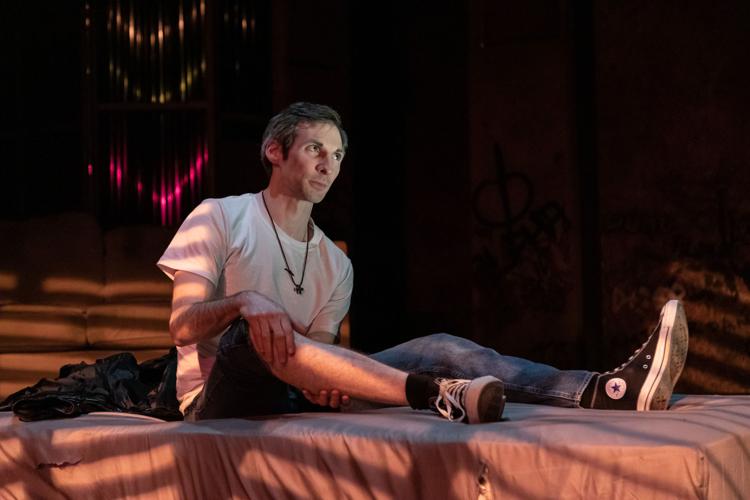 Gasps of disbelief were echoed by the rattle of laughter in the audience as one man's story of addiction portrayed an honest take on substance abuse, wavering between grotesque drug nightmare and hopeful chronicle of recovery.
The Book-It Repertory Theater's adaptation of Tom Hansen's "American Junkie" opened Thursday, Feb. 14, to a packed theater. Directed by Jane Jones, and adapted for the stage by Jones and Kevin McKeon, "American Junkie" is Hansen's personal account of his experience in the opioid world of Seattle's grunge years.
The stage was set with a backdrop of particle board and skeletal wood framing, the floor strewn with a bare mattress, a decrepit couch, and a miscellaneous array of junk used for props throughout the show. With mobile prop pieces and an impressive variety of lighting techniques, the stage was always changing; it could be anything from a bleak heroin den to the flashing atmosphere of a concert stage.
Told in both the present and in retrospect, Hansen, played by Ian Bond, recounts his life from both a hospital bed and a rehabilitation center as he recovers from a near-overdose, his body frail and decaying from heroin and opioid abuse. He tells the story of his life up to this point: his adopted childhood, his beginnings in Seattle's music scene, and his descent into the world of using and dealing heroin.                      
There's no glamour in the depiction of his drug use. Sure, Hansen is honest in his description of the ecstasy while using, emphasizing heroin's magic ability to wipe everything away, saving him from the pains of reality, but his using is not glorified. His career as a dealer is depicted as a rollercoaster of events, including a deal with Nirvana's Kurt Cobain. Drugs didn't add to Hansen's life — they instead took everything away, pain and all. And that was the point.
Yet, Hansen doesn't hold back the horrors of his drug use, detailing the grotesque injection points on his body — his veins were so withered away that he eventually was left to shoot into a softball-sized hole in his hip. The graphic description of the physical effects of his use was powerful enough to make audience members squirm in their seats.
On the writing front, the script had an unstoppable pace that slowed in all the right moments. From tragic events of familial loss and the static void of opioid highs, the story knew when to slow things down and wrestle with the sources, throes, and effects of addiction. Throughout the highs and lows of the story, Hansen's distorted humor and sarcastic undertones shed relief on the macabre events in his life.
Bond was an excellent casting choice, as he was able to successfully inhabit the different stages of Hansen's life. One moment, after injecting cocaine into his neck, he is violently convulsing on the kitchen floor of a Dick's Drive-In, the next he is too frail to sit up in bed. From the meekness of boyhood, the electric pace of the punk rock scene, and finally the cold and stoic fatigue of a body drained of life, Bond was impressively malleable.
With a cast of only six actors and more than twice as many characters, different cast members played a variety of roles throughout the performance. Childhood friends went on to play rockstars and later hospital and rehabilitation staff. Friends, family, junkies, rockers, and healers all swirl around Hansen as he swings from present to past in his both unraveling and recovering life. Two of Jesica Avellone's roles included Hansen's mom and an attentive rehabilitation nurse, emphasizing a role as caretaker. Brian Gunter played a variety of characters: Hansen's tormented adoptive father, a down-and-out druggie, a prostitute, and an AIDS patient. This dynamic worked quite well for the group, the tight-knit ensemble complimenting both Bond's performance and Hansen's story.
"American Junkie" runs until March 10 at The Center Theatre at The Armory. Tickets range from $26 to $50 with available group rates. A student price of $20 will be available with a valid school ID.
The verdict: Book-It's "American Junkie" is striking and well done. Go for the wild ride of a story, but beware the graphic descriptions of all the ways one can shoot heroin into a body.
Reach writer Maxwell Eberle at arts@dailyuw.com. Twitter: @MaxwellEberle
Like what you're reading? Support high-quality student journalism by donating here.