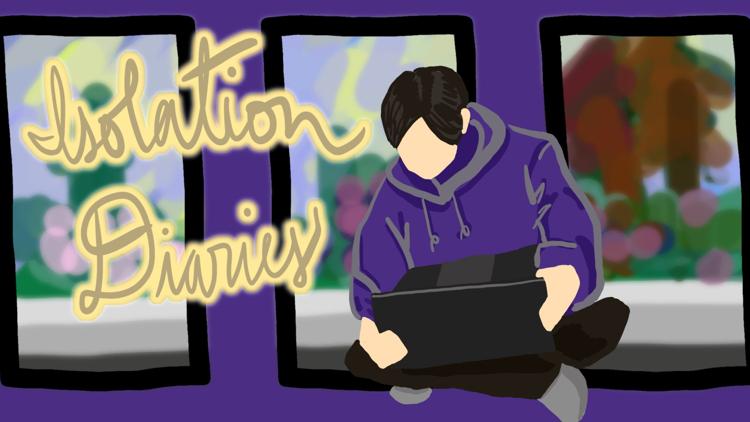 Editor's note: The Isolation Diaries is a Health & Wellness series about living in isolation during the coronavirus pandemic. 
I have never understood "Macbeth" quite like I do now. No doubt to the chagrin of my high school English teacher, it seems to have taken a global pandemic for me to truly appreciate my favorite Shakespeare tragedy. 
After months of quarantining, it does seem like time is passing according to its own distorted pace. Birnam Wood is moving inexorably toward Dunsinane, and I'm about one news cycle away from running around my house compulsively washing my hands and screaming, "Out damned spot!"
While I must acknowledge that I am incredibly privileged, in that little of the chaos around me — police brutality, the coronavirus, economic instability — touches me personally, I, like everyone else, am feeling the shock waves of current events.
As someone who lives with an anxiety disorder, I thrive on structure, routine, and the feeling of productivity, all of which are difficult to find in quarantine. Even therapy, which is typically a lifebuoy in the storm of daily life, has been made far more complicated by the realities of a global pandemic. 
Video chatting with my therapist is a far less intimate and comfortable experience than visiting her office in Capitol Hill. A key component of therapy is the feeling that you are in a safe space and can be honest about your feelings, both of which are near impossible when you are living at home and privacy is difficult to come by. 
On my wonderful therapist's suggestion, I have thrown myself bodily into a number of new projects in an attempt to feel productive and keep myself busy. I am proud to report that I have completed three paintings, read four books, taught myself Beethoven's solos for cello, deep-cleaned my room multiple times, and watched an unhealthy amount of "Criminal Minds."
However, keeping busy is a double-edged sword. Despite my outward veneer of productivity, I know that it stems from a need to feel in control of a world that is rapidly spiraling. Problems that I struggle with far less when I am distracted by school and friends have reared their heads again when I am faced with nothing but free time, and so I struggle to keep myself occupied to avoid facing my demons.   
If quarantine has reinforced anything for me, it is that every day is a battle, and remembering to do the simple things, like showering and feeding yourself, is a victory. 
We are surrounded by messaging that tells us that quarantine provides us with an unparalleled opportunity for self-improvement, and I am certainly guilty of believing it. If I haven't completed another painting, taught myself the next piece on cello, read that book I've always wanted to read, and made sure to stay up-to-date with the news all by the end of the day, then I feel worthless.
Ultimately, I have had to make peace with the fact that keeping yourself alive is the kindest thing you can do, both for yourself and for others. 
We are all facing innumerable personal sacrifices. I am missing the first Pride since I came out, I haven't seen my friends or my boyfriend for months, and I can't safely visit my aging grandparents for the foreseeable future. However, it is imperative that we remember the bigger picture. The worst isn't behind us, and we all must work together to ensure that COVID-19 doesn't continue to spread. 
Despite the fact that I feel a bit like I've fallen into the pages of my favorite tragedy, I still hope that there is a happy ending out there for all of us — we deserve it. 
Reach writer Zoe Luderman Miller at wellness@dailyuw.com. Twitter: @zozozaira
Like what you're reading? Support high-quality student journalism by donating here.