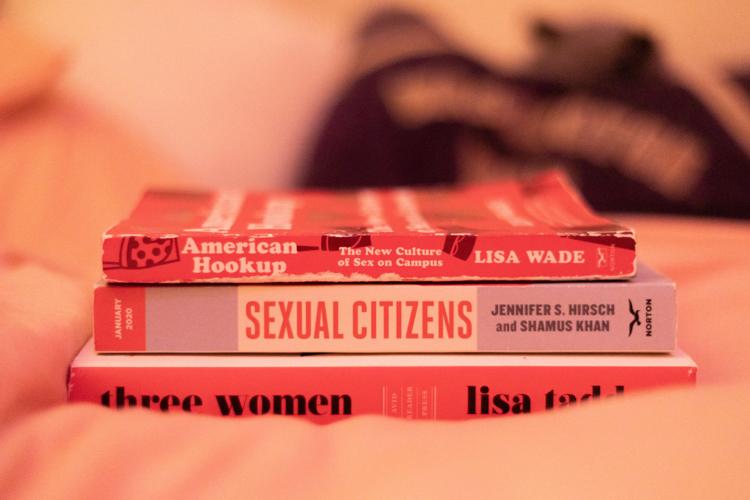 Books
American Hookup: The New Culture of Sex on Campus by Lisa Wade
When I read this book my freshman year of college, I was basically doing therapy with myself through annotations in the margins. I had a lot of questions about casual sex, and this book gave me *Billy Ray Cyrus voice* much to think about. It's written by a sociologist who used interviews with her students to construct a narrative of what hookup culture looks like on college campuses, including the reliance on alcohol, the "ban on warmth," and the surprising amount of students who don't actually want to participate in all this but feel the pressure to nevertheless.
Sexual Citizens: A Landmark Study of Sex, Power, and Assault on Campus by Jennifer S. Hirsch and Shamus Khan
This book, released in January, is full of groundbreaking sociological research that took place on Columbia's campus. They were primarily researching sexual assault on college campuses, but it still has some extremely juicy explorations of the way that college-aged students conceive of actual sex (since rape and sexual assault should not be considered sex). This book, like American Hookup, is based largely on qualitative data through interviews with actual students and, combined with its recency, makes for a vibrant and realistic representation of the way real students experience sex at college. Many of these stories are about assault, but many of them are about joyful and pleasurable sex as well; a lot of them delve into that gray area in between. 
Three Women by Lisa Taddeo
Sex is one of those things that we don't get a lot of real representations of. There are romanticized movie and TV show scenes that tend to show us the same variation of an unhelpful script, and then we have our friend's stories, but other than that, we're pretty much left to our own devices to experience sex. This book is a non-fiction account of three different women's sex lives told from a journalist who inserted herself into their lives for months. It's incredibly detailed, intimate, gripping, and unlike any other representation of sex that I've ever read. 
Come as You Are: The Surprising New Science that Will Transform Your Sex Life by Emily Nagoski
No one is normal, and therefore everyone is normal — that is the main takeaway from this book. It's amazing for anyone, but especially female-bodied people, who might be struggling to embrace their sexuality, with a form of sexual dysfunction, or orgasm (with or without a partner). Or maybe you just have a hard time feeling comfortable with sex in general. Almost all of us were raised to fear sex in some way or another, and this book is a fantastic crash course on unlearning that fear we may have internalized of our own body. There's even an appendix that teaches you how to edge while masturbating.
Shows 
Sex Education
I LOVE THIS SHOW. People told me it was good, I didn't believe them. I was wrong. This show is all about sexual dysfunction, and it shows all the awkward and sad ins and outs of identity when you're a teenager and the way intimacy complicates all of that. This is also the first time I've ever seen a character in a show who experiences pain during sex and it's not just brushed off. It's a masterpiece in tenderness.
Chriastine Amanpour: Sex and Love Around the World
This is an awesome journalistic docu-series that looks into the way sex is experienced in different countries around the world. Christine Amanpour examines the different norms on public displays of affection, gender identity, and marriage, which calls into question all of the western norms that we see as so binding. It's a good way to get out of your head. 
Sex Explained
This Vox special on Netflix delves into fantasies, attraction, fertility, and more. The episodes are bite-sized at around 16-18 minutes, and it's basically like a really well-produced, well-researched Youtube video. The regular Netflix Explained series has an episode on female orgasm, which kept me and my friends up late into the night discussing all 18 minutes of it. It's also a great place to collect really fun facts to chuck out at parties.
Podcast Episodes 
The Sexually Liberated Woman: Ep. 11: Our Polyamorous Relationship 
This episode offers a great introduction to non-monogamous relationships and what potential they may open up. In the episode, host Ev'Yan talks with her husband of 10 years about what opening up their relationship taught them and how they dealt with jealousy and other difficulties around their partnership. The podcast also features other episodes on topics including decolonizing desire, sex and cannabis, and male sexual liberation. 
Bobo & Flex: Hookup Culture: Dating Etiquette, Soul Ties & Who Benefits? 
This podcast episode discusses a critical question in the sex-positivity movement: Is hookup culture ruining or liberating us? The conversation is a big one, but Bobo & Flex provide an apt intersectional feminist analysis of our current moment and offer tips on how to decipher between the broad spectrum of hookup experiences. If you need more convincing, their channel description reads: "Bobo and Flex are on a quest to decolonize our minds, intersect our feminism, but most importantly, give us the tools necessary to stay away from problematic boys!"
Reach Editor-in-Chief Mira Petrillo and Pacific Wave Edition Charlotte Houston at pacificwave@dailyuw.com. Twitter: @mira_petrillo and @lilgarlicclove
Like what you're reading? Support high-quality student journalism by donating here.