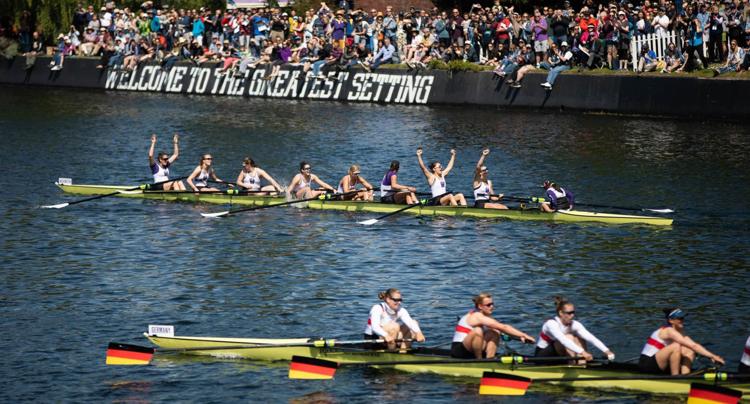 In the midst of a society reeling from the effects of the #MeToo movement and a school that had just experienced a #MeToo-esque case of its own, one group decided to step up and say enough was enough.
It was March 6, 2018, and time was up.
For members of the UW men's and women's rowing teams, "something had to be done."
That something was the formation of Student-Athletes Against Sexual Harassment and Assault (SAASHA). Their goal? "To drive social and cultural change," according to the SAASHA website. "If we, as student-athletes, declare sexual harassment and assault of all forms as wholly unacceptable, we can drive real change in our communities, our universities, and the world."
Created the summer after she graduated from the UW, women's rowing team assistant coach Maggie Phillips said the idea to found SAASHA was a culmination of the #MeToo movement and ideas from "The Hunting Ground," a documentary she had watched about sexual assault cases on college campuses.
"It was kind of like an idea in my mind for a while. A lot of times when you Google 'Student athlete sexual assault,' there are so many stories about athletes being perpetrators and that always makes the news," Phillips said. "Athletes are leaders in their communities and leaders on campus. Why not take that position and use it for good and try to become better people through that as well?"
Phillips commended the athletic department for making student-athletes go through Green Dot trainings, but said she wanted to make a student-driven grassroots organization because she wanted to make a group that represented the opinions of the students on campus.
"It was really important to me that SAASHA was kind of grassroots — from the student-athletes," Phillips said. "Like these are the changes we want to see. We're in the locker rooms, we're on the field, we're on the water. Let's lead it with our perspective."
That student leadership, originally just student-athletes, has grown to include non-athletic students, as SAASHA itself has also expanded from more than just an athletic organization.
"How SAASHA is structured is there's a student leadership group, which is full … of [students] who are just passionate about this," said Phillips. "I guess the most important part of SAASHA is that it's student-driven."
Since then, SAASHA has become a model for other colleges who have shown interest in creating similar organizations on their campuses. When Phillips, who discussed SAASHA at the U.S. Rowing Conference in December, "so many people were interested [and] we weren't ready for it," she said. "But that's kind of what we're working on now, is making something so that we can be like, 'These things are necessary to have a successful chapter.' Like what works, what doesn't, what resonates, what doesn't. Putting that all together in a way that we can pass on to other schools."   
"I don't think there's anything like it," Phillips said of SAASHA.
And while SAASHA wasn't founded on a specific moment, but its timing couldn't have been better. The summer of 2017 found two UW students, 19-year-old Tyler Minney and John C. Young — both on the men's rowing team — guilty of distributing intimate images after sending out a 12-second video of themselves engaging in sexual intercourse with a female UW student.
Minney and Young were dropped from the team after the then-allegations turned out to be true. Young was sentenced to 12 months of probation after pleading guilty, whereas Minney — who also pleaded guilty to charges — was booked into the King County jail on Aug. 10, 2018 and released Aug. 12, 2018, sentenced to 120 hours of community service, and is required to "wear an alcohol detection device, such as a SCRAM bracelet, until he turns 21 in June 2019."
A Seattle Times article written in the aftermath of the incident found that "because the charges represent[ed] each man's first offense for the alleged crime, the charges are gross misdemeanors under state law."
Although Minney and Young were convicted of distributing intimate images of one UW student, UWPD reports show that two additional female students came forward against the two. At the time of each incident, all three victims were freshmen and lived on-campus in McMahon Hall. They were all also members of the women's rowing team.
In all three cases, the women were highly intoxicated, incoherent, and in some instances had even blacked out. The instances occurred between October and December of 2016.
In one case, which echoed the other two, the victim "had no memory of the sexual encounter or any knowledge of a video being taken."
This left the rowing team — men and women's — at a standstill. In this midst of this circumstance, how were they supposed to react? What would they do? How would they proceed from here?
"There was kind of this guttural feeling that something more needed to happen, or we needed to take it in our own hands," Dr. Hank Pelto, the physician for the men and women's team, told the Seattle Times at the time.
Thus, SAASHA was formed.
Currently, SAASHA has expanded from the rowing team to working with the entire UW athletic department, giving presentations and collaborating with other university teams.
"This year was a lot of change," Phillips said. "[We thought a lot about] how … we [can] pursue excellence … It's about leaving this place better than you found it."
Reach writer Madison Morgan at wellness@dailyuw.com. Twitter: @madiannemorgan
Like what you're reading? Support high-quality, student journalism by donating here.