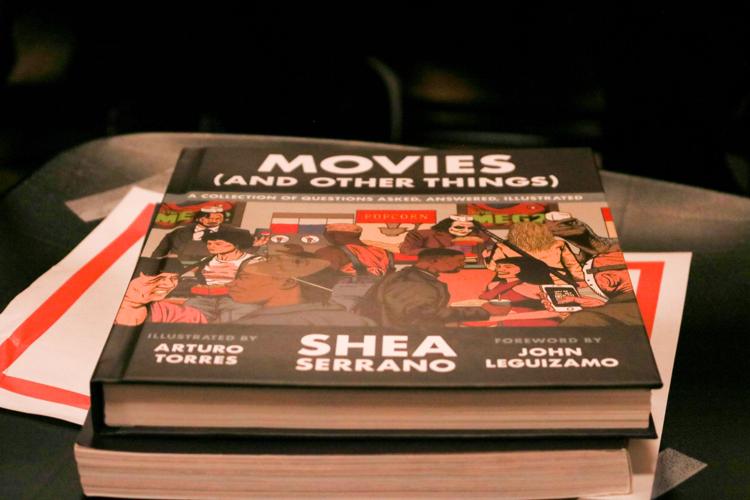 Shea Serrano's night at Third Place Books in Seward Park on Friday, Oct. 11 began with a flying pen and ended with him declining to light a car on fire.
In between, well, he went over a lot.
The airborne ballpoint came from Serrano — famous on Twitter for, among other things, being a massive Las Vegas Aces fan — when a store employee took extra pleasure in pointing out representatives from the Seattle Storm, who had brought the 2018 WNBA championship trophy, which the Aces failed to capture, with them to the event.
And the car? That also had to do with the Storm, calling back to when Seattle played Las Vegas on July 19. As UW alum Sami Whitcomb went off with three three-pointers in the first quarter, Serrano jokingly tweeted that if she made one more he'd have to start setting fire to cars.
Whitcomb made another three in the second quarter. So on Friday, those Storm representatives brought — along with a Sue Bird jersey and a basketball — a printed out receipt of the tweet and a three-pack of Hot Wheels for Serrano to immolate if he so chose.
"I can't believe they brought me this," Serrano said afterward. "This is really funny."
Serrano was in Seattle promoting his newly released book, "Movies (And Other Things)." His previous books, "The Rap Year Book"and "Basketball (And Other Things)," both made The New York Times' bestseller list. Should his latest release make it, he would become the first Mexican-American author to do so three times.
"I'm of Mexican-American descent, and it's nice having that representation," Anthony Groves, who came to listen to Serrano speak, said. "I think he does a great job of doing that."
Groves, wearing a jersey for the San Antonio Spurs — Serrano's favorite NBA team — said he got to Third Place books around 2 p.m. for the 7 p.m. event. He wasn't the only one with the same idea. Real crowds began forming around 6 p.m., and by the time Serrano took the stage, an estimated 200 people filled the chairs in front of it and filed between the bookshelves behind.
Without an interviewer on stage with him, Serrano spent 50 minutes answering questions from the audience. But this wasn't your average Q&A with an author about their process or inspiration, as made clear with the first question: If you could choose any current artist to get a biopic, who would it be?
"I would like a Beyoncé movie," Serrano said. "I don't think there's a way you can do it. I don't know who'd you get to play Beyoncé — that seems like a no-win situation."
That was followed by a simple hypothetical: If you had to go on a long road trip with three fictional characters, who would you pick? Serrano went with Dominic Torreto and Letty Ortiz from the "Fast & Furious"franchise and Ryan Gosling's character in "Drive."
"I would pick people who knew how to fix cars," Serrano said in reference to his first pick. "And then also I need a guy who's just going to shut the f--- up and drive."
While some questions landed vaguely in the area of actually being about his book, the event consisted more of the random conversation topics people would come up with over drinks. Serrano hit everything from "The Office"to dating advice, from The Ringer(for which he writes) to "El Camino," the new "Breaking Bad" movie.
That relaxed, funny, shooting-the-breeze style of his is just what has made Serrano so popular an author and figure on social media, and exactly the point he wants to make.
"I want anybody who sits there to think, 'I could be the one up there answering these questions or doing this,'" Serrano said. "You should be able to feel like, 'I can write that book … It's just a bunch of personal essays, I can do that s---.' That's what I want to have happen."
The Storm weren't solely there to make fun of Serrano with old tweets and plastic toys. The team also ran a book donation program, where fans could donate one of Serrano's books to Seattle Public Schools and receive a pair of tickets to the Storm's 2020 home opener next spring.
By the end of the evening, the table at the front of the store on which the team had placed its championship trophy also included a stack of donated books a couple feet high.
"He just seems like a person that attracts good people around him," attendee Evangelia Pantoleon said.
The night at Third Place Books was funny. It was heartfelt. It was genuine. It was Shea Serrano as readers and fans know him online and on the page, perfectly copied in person.
Even if it didn't involve a car on fire.
Reach Managing Editor Josh Kirshenbaum at arts@dailyuw.com. Twitter: @J_Kirshenbaum
Like what you're reading? Support high-quality student journalism by donating here.