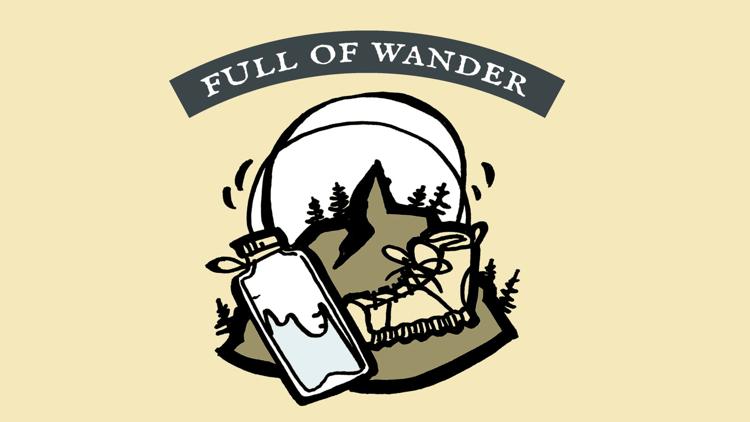 Author's note: Full of Wander is a biweekly column hoping to help serve as a student's guide to outdoor adventures in Washington.
Summer in Seattle has started. I'm calling it. People seem to have lost almost all academic motivation. I've been sweating too much and wearing sunglasses on the walk to class the past few weeks, and on Memorial Day some friends and I jumped into Lake Washington. If that's not quintessential summer, then tell me what is.
You've probably heard a Seattleite refer to the city as "perfect" because it's "surrounded" by mountains and water, and while I hate contributing to the Seattle-or-die attitude some other locals have, I couldn't agree more. We truly are surrounded by water: Puget Sound to the west, Lake Union smack dab in the middle, and Lake Washington to the east, not to mention the many smaller lakes — Green Lake, Bitter Lake, and Angle Lake, to name a few — and the waterways, cuts, and streams that connect our larger bodies of water. If you are around this summer, do yourself a favor and take advantage of our "perfect" city by getting out on the water.
While going out on that one lucky friend's motorboat on Lake Washington is a dream come true, there are other types of boating around Seattle that are accessible and lend themselves to great exploration of our extensive bodies of water. Kayaking, canoeing, stand-up paddleboarding, paddle boating, rowing — you name it!
With that in mind, I want to give you a few options for non-motorized boating in the Seattle area to check out this summer. Trust me, it will be worth it.
The UW Waterfront Activities Center (WAC) is probably the friendliest rental spot for your wallet in all of Seattle. Renting a rowboat, kayak, or canoe there costs $10 or less per hour for students. The WAC is in Union Bay between the Montlake Cut and Lake Washington. It's the perfect place to explore shoreside lily pads and gawk at the enormous mansions lining the waterfront. If you are willing to paddle long enough, you can make it out to the choppy, yacht ridden Lake Washington and feel tiny (and maybe a bit vulnerable) on big, open water.
Another good place to feel tiny is as a paddleboarder on Lake Union. There are multiple rental places with access to the lake, but two of my favorites are Agua Verde Paddle Club and Moss Bay Kayak Paddle Board and Sail Center. Agua Verde is technically in Portage Bay, so kayaking or paddleboarding from there into Lake Union brings you past many industrial docks and houseboats. Portage Bay is often crowded with motor boats and yachts blasting music and pushing the speed limit as they sail from Puget Sound to Lake Washington or vice versa. The roar of the Montlake and I-5 bridges overhead make your adventure even more invigorating. This ride isn't necessarily relaxing, but it's great people watching and a lot of fun. Hourly rates at Agua Verde are $20 for a single kayak, $26 for a double kayak, and $23 for a stand-up paddleboard. And the best part of it all? The cafe above the paddle club serves incredible Mexican food and margaritas for a post-paddle treat.
Putting in at Moss Bay provides for a similarly chaotic but lovely on-the-water experience, but it is located in South Lake Union — all the better to check out the glossy Amazon buildings, the waterfront near the Museum of History and Industry (MOHAI), and the more upscale houseboats on Eastlake. Hourly rates here are $20 for a paddleboard, $18 for a single kayak, and $24 for a double.
Surf Ballard is a rental hub for paddleboarders, kayakers, and surfers wishing to explore a bit of Puget Sound. The funky, modest-looking shack was the first place in the state to offer yoga classes on paddleboards. Check out Shilshole Bay Marina, the waters by Golden Gardens Park, and the ship canal on a paddleboard for a reasonable $40 for two hours.
So try one or four of these recommendations this summer — just make sure you get on the water.
Reach columnist Clara Yardley at arts@dailyuw.com. Twitter: @clara_yardley
Like what you're reading? Support high-quality student journalism by donating here.