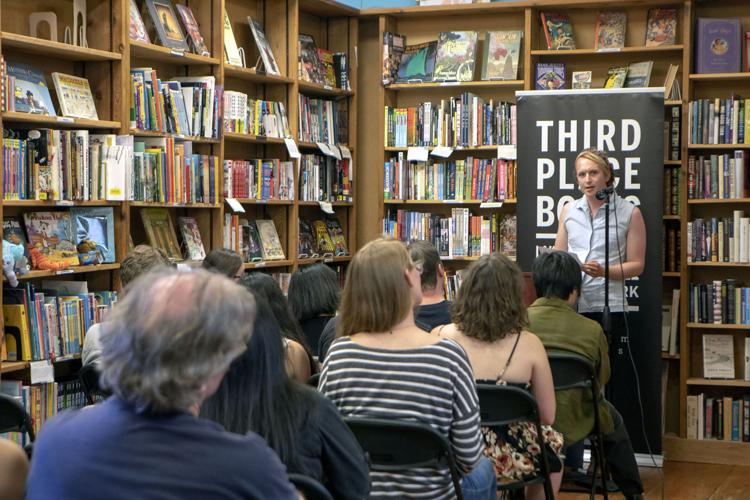 It was a warm Saturday night and the room was cramped. People filled the chairs that were tightly and carefully placed between the towering shelves lined with books from every genre at Third Place Books in Ravenna. To my left, I saw an overwhelming number of guides on how to potty train your children. To my right, German philosophy. In front of me, I watched as Masters of Fine Arts (MFA) graduate and undergraduate students from the UW pulled the audience into the worlds of their own creation.
The event was Black Jaw, an open mic presented by the MFA program that celebrates peculiarity, denies grandiosity, and showcases "raw and rough" creative works. Readings ranged from poetry to prose to the early works of a novel.
Black Jaw began during winter quarter 2017 and aims to take away the formality of presenting written creative work.
"We have a main departmental reading called Castalia, but it's more formal and it takes place at Hugo House," co-organizer and MFA graduate student Dilara Elbir said. "[Black Jaw's founders] started this so we could have a more relaxed environment where people could share unfinished works. You can come here and read work that hasn't been workshopped or worked on much."
That relaxed environment made way for some very interesting works. One poem by senior Gage Anderson, titled "There's a reason Chuck Taylors have been in style for over a century and it isn't baseball, basketball, or James Dean," was written addressing the writer from the perspective of their own shoes. The poem told the story of the shoes beginning to accept their purpose as supporting the writer.
Another work, a short story called "Catsitting," told the story of a cat named Socrates who decided to commit suicide after it got sick of eating sashimi-grade tuna.
There was one story that piqued my interest in particular: the prologue of a novel written by senior Tate Crowley that personifies the emotions felt during a divorce. The story brought the audience into a solemn room with a man and woman sitting on separate couches. They are being visited by the Ring Collectors, three scaly-fingered figures with concave, cracked ribs, that remove and collect the rings (and fingers they're attached to) of the couples of failed marriages.
"It's a metaphor for loss," Crowley said. "Can you reconnect with somebody if you physically lost a part of them?"
The prologue was written for professor David Bosworth's ENGL 485 A: Novel Writing class. Students were instructed to write their own story and weren't given any criteria.
"We picked whatever story we were interested in," Crowley said. "I was really interested in the idea of what it means when a relationship is over and what happens to that love. Where does that physically go?"
Writers from Black Jaw's latest open mic were not only comprised of students from the UW Seattle campus, but also the Bothell campus.
"We had an idea for doing the open mic, and we've had just a few Seattle-Bothell events recently," co-organizer and MFA graduate student Michael Turner said. "We thought, 'Why don't we ask if they want to join us?'"
Black Jaw's organizers hope to make the event quarterly for the next school year, and intend to include UW Bothell students again.
"This will be an opportunity for MFA students at Bothell and Seattle campuses to get to know each other," Elbir said. "We're all in the same community."
Reach contributing writer Kyle Bender at development@dailyuw.com. Twitter: @ATOMICpandaBOMB
Like what you're reading? Support high-quality student journalism by donating here.