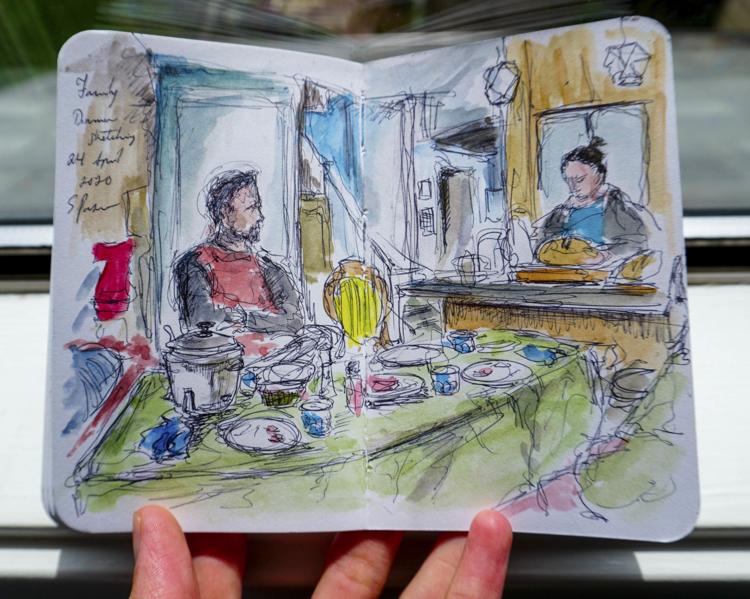 Despite being at home, each member of my family's household still runs on their own schedule. Both my parents telework from the upstairs office, my sister has school online during most of the day, and I am in my room at my desk either on Zoom calls or reading. 
Sometimes, I will be in my room till late in the evening, as I will work till 8 p.m. some nights or be in a rehearsal meeting as late as 10 p.m. There are even some nights where I'll rush down to the kitchen, grab some leftovers, then go back up to my room to eat at my desk with a glass of wine while I continue to work. 
Despite living in close quarters with the other members of my family, there are times I feel as if we remain distant. Each of us occupy our own spheres of existence under the same roof.
To spend more time together, my family has started having cocktail hour and long dinners on Fridays. During the day, the dining table is usually occupied by a 1,000-piece jigsaw puzzle, which takes about a week, on average, to solve. Each morning, it's nice to walk down and see how much progress has been made.
For dinner, we throw a tablecloth over the solved portion of the puzzle so we can save our progress. After dinner, we all eat dessert with coffee (and sometimes whiskey) and play a card or board game, or just tell stories and talk with each other. 
There is something deeply comforting about sharing a meal with others. There have been evenings where I have even had a Zoom dinner with some of my friends. While we all remain distant, it is important we find both the literal and metaphorical tables around which we can gather and connect.
Until the next sketch,
Reach The Campus Sketcher Elijah Pasco at arts@dailyuw.com. Instagram: @the_campus_sketcher
Like what you're reading? Support high-quality student journalism by donating here.