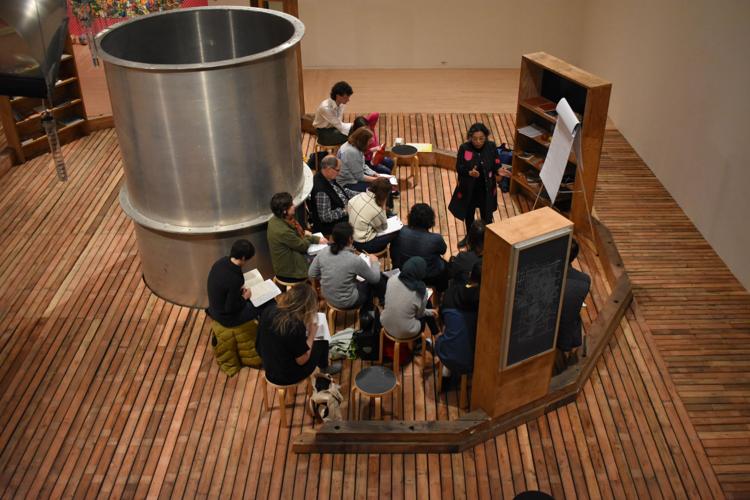 An apple, a river, a body, a memory, a poem: For Washington state poet laureate Claudia Castro Luna, these seemingly different things flow together through water.
Luna, who is also an instructor at Seattle University, facilitated a public poetry workshop called "Watershed" Saturday, Nov. 16 at the Henry Art Gallery that used water as a way of thinking through the interconnectedness of objects, memory, and poetry. 
Luna was recently announced as an Academy of American Poets Laureate Fellow and has used the grant to begin her project "One River: A Thousand Names." The project consists of her traveling along the Columbia river teaching and speaking at community centers, schools, and colleges. The goal is to introduce the movement and ubiquity of water as a topic of discussion, both as an important resource and as a creative medium. 
The Henry Art Gallery currently hosts Oscar Tuazon's "Water School" installation, a piece meant to engender conversation about local water issues and environmental justice, making it the perfect location for Luna to instruct.
In a relatively intimate setting, with participants seated on stools and huddled in a cluster, the workshop began with Luna asking attendees to consider just how prevalent water is in our everyday lives, such as how our own anatomy is composed of roughly 70% water. She went on to produce an apple, a staple crop of Washington state and explained how its water, supplied by the Columbia River, puts us in closer relation to the vast water source than we in Washington dwell on or near.
Luna then had participants contemplate how they might incorporate a memory associated with water to a specific body part, and how, like water, the memory can flow in different directions, carrying with it new sensations as well.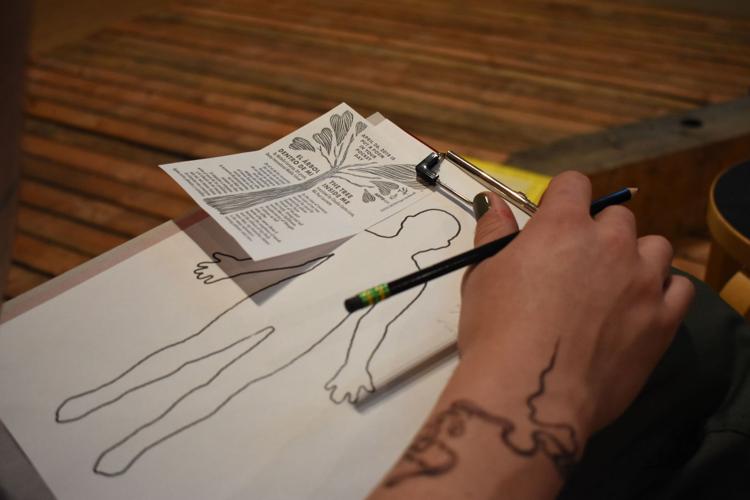 Poems by other poets were handed out, read aloud, then discussed. These poems included "Dishwater" by published poet Ted Kooser, and "El Arbol Dentro De Mi" ("The Tree Inside Me") by Michelle Carranza, an eighth grader. The point in the juxtaposition was that anyone can craft poems based on their own experiences, and qualifications should not be an issue when writing. In fact, one of the attendees was in fourth grade and actively engaged in the session.
When discussing the poems, Luna drew attention to the vividness with which the authors crafted their poems and expressed her belief that poetry should come from the heart.
"A poem is a distillation of feelings," Luna said, adding that sometimes, her original intent never even experiences full development when writing poems and that the natural current of memory can guide our hand in its own fashion. She said that poetry is a way of encapsulating and expressing what is felt during any particular moment in one's life.
Attendees were given the task of constructing their own poems and letting their words swell as their memories shifted. Eight minutes to construct a poem might seem a bit rushed, but Luna assured participants that she was interested in the heart of the poem. Editing, she said, was "for the brain." While editing may make the poem sound better, it would obscure the true essence of what they were trying to produce.
The workshop was a collaborative event with everyone voicing their own thoughts and memories, allowing participants to gauge how a meaningful moment in their own life might affect others when put to words. Using the characteristics of water as a focal point, Luna guided participants in existing and moving within their own memories in order to create sincere poetry.
Reach contributing writer Aaron Kerschner at art@dailyuw.com. Twitter: @Aaronkerschner
Like what you're reading? Support high-quality student journalism by donating here.