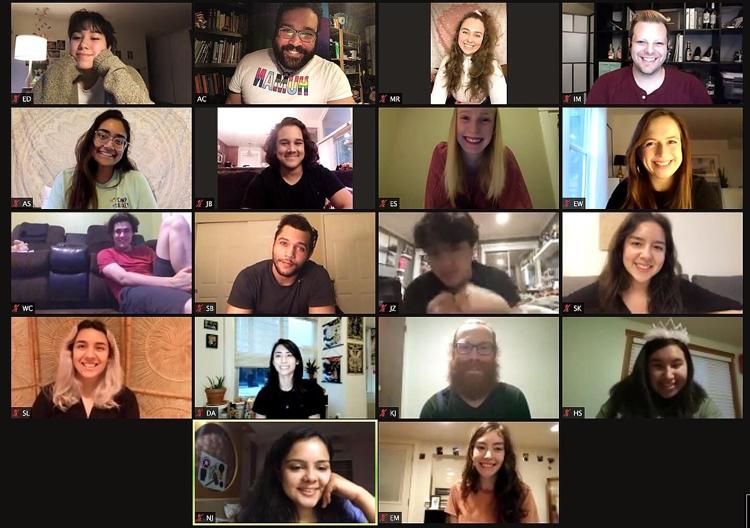 Connecting with people through low-resolution pixels is strange. Virtual strangers are offering us glimpses into their lives that would otherwise be obscured by the shared spaces of non-pandemic life. Gone is the artifice of manicured appearance; it is instead replaced by bedrooms, pets, and partners. There has never been a greater sense of intimacy between people we barely know — nor will this be the case in a post-pandemic world.
"Love & Information," a CabLab production of the play written by Caryl Churchill, and directed by MFA directing candidate Andrew Coopman, captures our current reality beautifully.
To capture the breadth of a digitized human experience, Coopman created 73 mini-plays to illuminate a sense of perseverance despite the world seemingly ending. Each vignette is a glimpse into the everyday moments we share through our cameras: playing with pets, therapy sessions, and even a wedding livestream are all subjects currently on display.
"I actually started directing this play back in May, when the quarantine started, [and] it's changed a lot since then," Coopman said. "It's not every day a director gets to go back to a production so soon, but this seemed too perfect given our current world."
The play is set in found spaces, which are sets that the actors live amongst and interact with outside of the production, as well as on screen. Even though this limitation is a result of social distancing, the feeling of familiarity the actors share within their own spaces extends a unique believability to the online production. It is a fleshed-out, realistic experience that no longer feels constricted to our imaginations.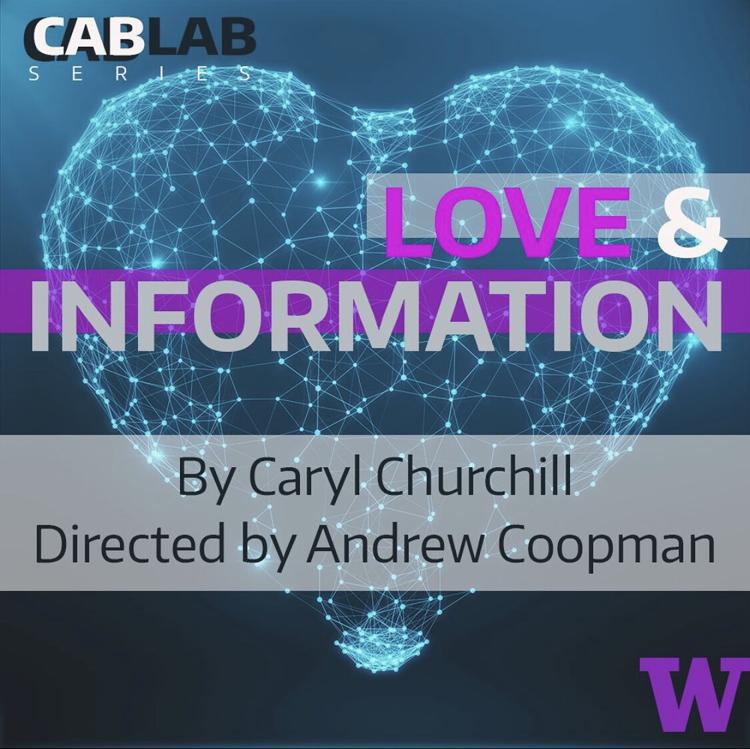 The silicate screens that convey information to the audience give the characters a realness that makes the production seem almost voyeuristic. Even without names or ample screen time, the characters have plenty of dynamic development.
"The play is really about intersectionality, which is why I really tried to let all of our cast members bring their identities to our production," Coopman said.
The throughline of the play is the idea of memory as a truly amorphous, yet somehow crystalline concept that preoccupies each character. The dynamics that each actor brings to their performance are enthralling, but a real standout is a conversation between two ex-lovers who reminisce over the end of a relationship. The raw emotion and shared history, even if imaginary, feels surprisingly more genuine than actual relationships do.
Memory serves as the foundation of plots that are disparate, as human thoughts and experiences play out on-screen. The switch between phone and computer screens warrants a momentary pause that forces the audience to question whether or not the interactions they too share are real.
"There is a double helix of DNA in our play, and each of the seven parts is a gene," Coopman said. "As a director I got to decide how the stories and threads flow from one part to another."
The experimental nature of online theater posits an existential question as to how information changes the dynamic qualities of human memory and relationships. The actors inhabit ephemeral roles that build in complexity; with each new character they embody, they obtain greater depth as both performers and people. Yet, the audience is entirely unfamiliar with these actors, which speaks to the odd intimacy that people experience over Zoom calls and perhaps even in typical everyday interactions.
This sense of pseudo-connection is bolstered by the truly fly-on-the-wall experience that the audience wouldn't otherwise receive in a physical theater. The virtual method of presentation embodies this message with striking efficiency, leaving the audience to wonder if the connections built are, like memory, concrete.
"My role as a director hasn't changed during the pandemic," Coopman said. "I'm still holding up a mirror to what society is. Now more than ever, we really need to evaluate what that society is to us."
The play is a wonderful exploration of the human condition, painting our reality as a transcendental experience that begs the question: What do memories, connections, and humanity truly mean when stripped down to a single screen?
Tickets for "Love & Information" can be reserved through the CabLab website. The play is anticipated to run from Friday, Oct. 16 to Sunday, Oct. 18.
Reach writer Andy Chia at arts@dailyuw.com. Twitter: @GreatBaconBaron.  
Like what you're reading? Support high-quality student journalism by donating here.