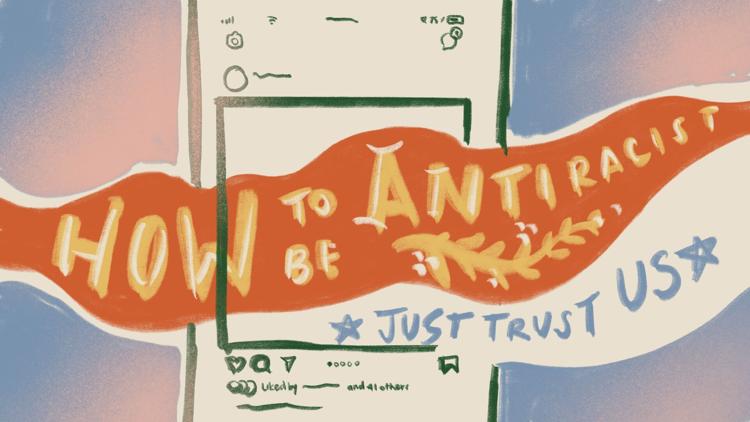 In recent months, Canva, a graphic design platform, has become a fan favorite of activist-minded social media users. Instagram stories and feeds are chock-full of carousel posts that use pastel colors and funky fonts to explain police brutality, the school-to-prison pipeline, genocide, and other relevant social issues. Aesthetically pleasing formats are being utilized to convey controversial information in a more broadly digestible way. In this vein, electoral politics is becoming increasingly aestheticized as well.
As with any form of public communication, considerations of branding and appeal are not necessarily bad, but this can sometimes teeter on the line of prioritizing aesthetic design over the actual discussion of information or policies.
"Biden's campaign leaning into aesthetic and humor and branded lingo to appeal to Gen Z and millennial liberals is a deliberate misdirection from his more centrist policies," sophomore Em Dickson said in an email. "It prioritizes brand and social media personality over any substance or promised action, which I think has the potential to be very dangerous. The scary thing is, it's working."
These pretty Instagram posts have definitely drawn more people into debating social and political issues, but there is still concern as to whether it perpetuates more harm than good.
Social media outlets, especially Instagram, are places to perform, where people can publicly present themselves to their followers and cultivate a brand. As with any platform, instances of disingenuity, deception, and propaganda may occur; part of this is shown in the ways we perceive recent "educational" Instagram posts.
Around the peak of infographic use, The Soapbox put it best: "The resulting marriage of content and style … may feel disconcerting outside the context of Instagram, but within the walls of the tile grid, where aesthetic cohesion reigns supreme and users have become acclimated to the ever-present filters and the easy ubiquity of the content, everything snaps into place as if it were ordained by a higher power."
The effect means we're more likely to click on the posts that are pleasing to our eye, while posts that may have emphasized research and sourcing at the expense of design may fall at a disadvantage.
"Using certain colors, fonts, and imagery might make a post more noticeable and therefore prompt more people to be aware of an issue — which is a good thing," HOMEROOM UW president Johanna Shieh said in an email. "But it's disadvantageous in that it sets up a hierarchy where the issues that aren't aestheticized might get ignored."
Additionally, aestheticization can also easily lead to commodification, especially on social media, when major "activist" accounts on Instagram start to create merchandise, despite this conflicting with the perception of these accounts as speaking out on behalf of and supporting the collective people.
"When I see activist accounts post ads or make merch based off of their activism content, it makes me uneasy in the sense that they're personally profiting from these issues they post about," Shieh said in an email. "Subsequently, it feels like they aren't decentralizing themselves in the process of bringing attention to these issues."
At the crux of these appealing Instagram posts is the sharing of controversial, radical information about real things that are presently happening. These are not simple issues that are being presented, but complex ones that have resulted in discrimination, violence, and hardship.
"I think social media is, before anything else, a performance space," Dickson said in an email. "We perform who we are, and that includes what we believe in and who we support. It's aestheticization and commodification of identity, which, again, frames political policies and stance as passive and two-dimensional."
It's important that more people are learning how to be anti-racist and expand inclusivity, but some of us solely derive our information from social media posts, which depict complex issues in simple, 10-slide graphics. Worse, many of us read the information being presented as the unbiased truth, although there should be a healthy level of skepticism.
In our Instagram education and the ways we engage with politicians' presence, there is an increasing emphasis on the "cool" factor and public image rather than on policy and substance. To propel the change infographic accounts and politicians claim to want, the discussion must move beyond its pastel, performative aesthetic.
Reach writer Deborah Kwon at arts@dailyuw.com. Twitter: @debskwo
Like what you're reading? Support high-quality student journalism by donating here.