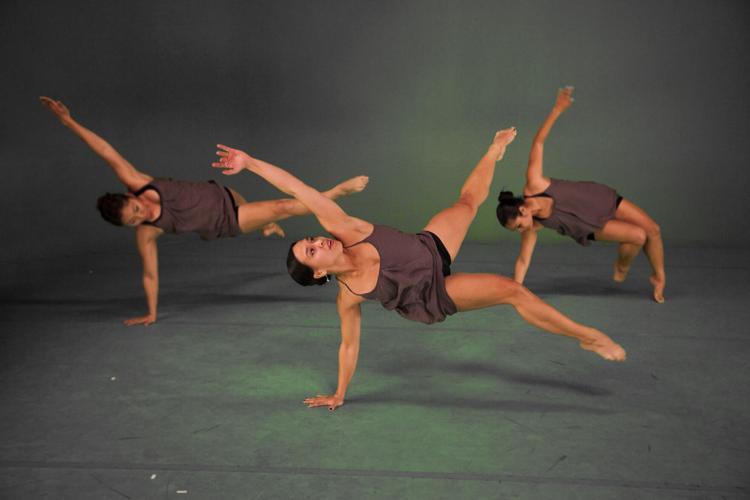 Alana Isiguen was a mere 2-years-old when she became so committed to emulating the movements in her older sister's dance class that the instructor eventually conceded, much to the young pupil's delight, in letting her join.
From there, it was love.
Isiguen, who will join the UW department of dance in the fall as the artist-in-residence, soon advanced beyond the small studio to begin training with the Charlotte Ballet at just 9-years-old. Isiguen describes her time with the company as a formative experience that allowed her to envision her trajectory from the perspective of professional dancers. 
At 16, however, the rigorous training schedule began to take its toll, and Isiguen transitioned to taking private lessons from a past teacher who had, by happenstance, recently started their own school.
Through this teacher, and another whom she learned from as an undergraduate at New York University's Tisch School of the Arts, Isiguen developed her own dance pedagogy centered on an understanding of movement through the first-person experience.
"I knew from a very young age [that] I had to really work with my own body that wasn't built for ballet," Isiguen said. "I wasn't super externally rotated, my legs were turned out, and I was shorter and more muscular, rather than long. I was always trying to fight against my body … [but] when I started training privately with my teacher, she said, 'OK let's go slow and stop to look at it for your body; when I do [this movement] I feel it here and in this muscle; what do you feel?' And to this day, that has influenced me so much as a teacher."
Isiguen believes that all bodies, regardless of flexibility or rotation ability, are capable of exploring movement. Speaking from experience, she contended that how we move or the enjoyment we derive from moving in a certain way, should be free from judgment, even if these don't conform to classical methodologies. Creative practices of choreographing, teaching, or performing, Isiguen argues, embody the dancer's relationship with their art form and should thus remain governed by untainted self-expression.
It wasn't until Isiguen left Tisch and began to see herself as a veteran dancer that she felt fully comfortable in performing. Opportunities such as being commissioned to create a "West Side Story" symphonic dance — in which she played the leading character Maria — stand out as defining career moments for Isiguen, in large part because of the novel, theatrical emotions she explored in assuming the role.
Following her graduate studies at the University of California, Irvine (UCI), Isiguen continued choreographing and dancing with small collectives of friends, all the while working at dismantling rigid notions of movement and leaning into dances and experiences that felt most gratifying. Eventually, she was offered her first full-time teaching position as an assistant professor at Cornish College of the Arts; concurrently, she served as an adjunct lecturer at UCI and Santa Ana College and, although she loved her students and teaching, the multiple commitments began to weigh heavily.
"It was the freeway hustle, I mean I was pretty much living out of my car," Isiguen said. "I probably left my apartment around 6 in the morning and didn't get back until 11:30 at night. It was a great life, but I knew that it was finite and that I couldn't keep up that hustle."
The decision to accept the artist-in-residence position at the UW was spurred by Isiguen's realization that the university's size offered far more opportunities for cross-campus collaboration and research, which she believes will contribute to the longevity of performative art forms like dance. Moreover, Isiguen appreciates the ease with which non-majors can access courses and programs within the dance department. In her opinion, this reflects a beneficial exploration of interests — both for inquisitive students and dance as a discipline looking to expand its outreach — that disproves higher education models of students "coming in and having the same goal and the same dream."
As artist-in-residence, one of Isiguen's main roles will be teaching ballet and other techniques; given the circumstances, however, these classes will likely be remote. She will also be tasked with choreographing and producing two of the four concerts and live performances the department holds each year — again, if these are able to occur.
This is the juncture at which Isiguen sees collaboration across disciplines become increasingly relevant. Utilizing the knowledge and production skills of film artists and videographers will, to Isiguen, allow dance to embrace technology, not just as a means of survival given in-person event cancellations, but as a platform for expanding the "visceral, kinesthetic experience of watching live dance or theater to a virtual audience."
As we concluded our interview, which, like many I've conducted this quarter, has taken place over Zoom, Isiguen reflected on how the pandemic has lent new meaning to community and togetherness as they relate to dance.
Dance classes are, at their most essential, a gathering of people whose shared movements and physical exaltations from the basis of deeply personal interactions. Isiguen expresses that, although dance is in many ways an internal process, dancers must constantly observe or "sense" themselves within a space. Coming into a studio, physically being around other dancers and witnessing their crafting, these are elements which can't be replicated over Zoom and, as Isiguen put it, alone in one's kitchen.
Yet, Isiguen maintains that there is a difference between giving into this "dark place" that sees creative environments as fundamentally changed versus absorbing the gravity of the situation in a way that devotes energy to positive production.
"A society needs art for all different reasons, but [in this sense] art is a way to understand what's going on," Isiguen said. "The makers are making art to help explain and express how people are dealing [with the circumstances] and what they're going through."
Of the utmost importance, Isiguen argues, is that we remember joy and commit to actively seeking it out. Even if our practical means of emoting, expressing, connecting, and sharing our understandings of the world become limited, this isn't to say these manifestations of joy become nonexistent. Believing in continuance and art's limitless purpose will render hope; putting on music and dancing in the kitchen will move us forward.
Reach reporter Brooke Kaufman at arts@dailyuw.com. Twitter: @bkaufmanLJ
Like what you're reading? Support high-quality student journalism by donating here.