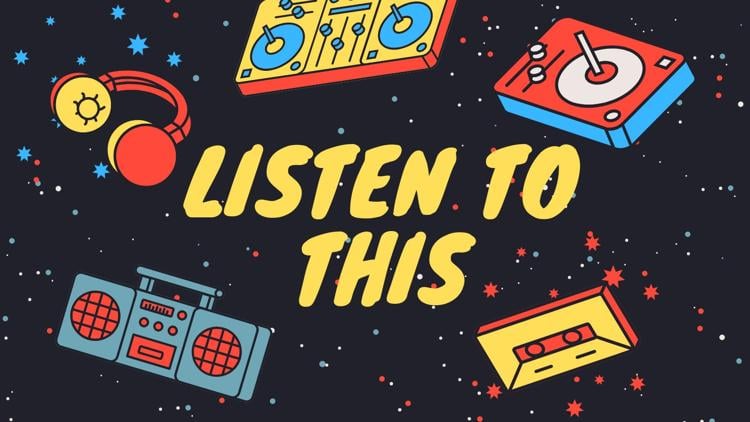 Author's note: Listen to This is a bi-weekly column that serves as a listener's guide to the world of music, with recommendations, reviews, and music-related stories.
Hobo Johnson & The LoveMakers popped up on my radar in 2017 with their "Peach Scone" Tiny Desk Contest submission. I instantly fell in love with the group's new take on a love song that highlights the awkward emotions you feel when you're crushing on someone.
Hobo Johnson's songs often talk about themes of love, relationships, and how to maneuver your way through a society with high, unrealistic beauty standards. Their songs also almost always express the desire for a genuine, loving, stable relationship. However, they also often sound depressed and at times desperate. It's not uncommon to see Hobo Johnson labeled online as a band that makes music for incels. 
I find this label problematic. Writing off Hobo Johnson's songs as "incel music" not only dismisses the band's vulnerable, public expressions of real emotion — a somewhat rare occurrence — but it also limits the lens through which others will listen to their music.
In an effort to dismantle this limiting perception of the band's music, let's take a look at Hobo Johnson's newest album, "The Fall of Hobo Johnson," which covers a wide range of the musical spectrum. 
"Mover Awayer" is my personal favorite off the album. It has a light and whimsical piano melody throughout the verses and an explosive yet wholesome production in the choruses, with aesthetically-pleasing, echoey background vocals. The song talks about a relationship that fell apart, but also about how an ex made the singer's "Mondays feel like Fridays," and how they made his "Ruby Tuesdays taste like Benihanas."
"You & the Cockroach" is a comedic spoken-word piece that depicts the rise and fall of sentient life on the planet. I love this piece, but I don't want to spoil some of the cooler aspects of the song so I really encourage you to give it a listen for yourself.
"February 15th," on the other hand, is a lonely, depressing, and neurotic lament about accepting indefinite loneliness. The pessimistic and defeated lyrics coupled with the upbeat and light guitar instrumentals reminds me of Twenty One Pilots. 
"The Fall of Hobo Johnson," and Hobo Johnson's earlier songs like "Sex in the City," "Creve Coeur 1," and "Peach Scone," possess a constant theme of loneliness and desire for a loving relationship. Each of these songs and the album also talk about Hobo Johnson's own shortcomings in previous relationships.
This is where I would draw the line between genuine, toxic, and violent inceldom and an expression of sadness and desire to be loved. None of Hobo Johnson's songs bring up the idea of entitlement to sex or aggression toward women.
However, some of their music is certainly problematic in terms of how it talks about women's physical appearance. The song "Sex in the City" comes to mind in particular. This track idealizes the relationship between "a girl that's like a 10 and a guy that's 'bout an eight." The overall shallow view of this "ideal" relationship doesn't skirt the dangerous line of inceldom, but still possesses a toxic, outdated view on sexual relationships.
So what's the deal? Is Hobo Johnson an incel's artist? 
In all honesty, I don't know. I think that Hobo Johnson's lyrics and overall message can speak to the community, but I believe that labeling their music as "incel music" diminishes the genuine, violent threat that incels pose to others. Hobo Johnson's music doesn't seem to portray hatred toward women or a sense of entitlement to sex. If anything, the band's relationship-related music is a fairly harsh criticism of their own emotional shortcomings and an expression of a desire for genuine love.
Reach writer Kyle Bender at arts@dailyuw.com. Twitter: @ATOMICpandaBOMB 
Like what you're reading? Support high-quality student journalism by donating here.