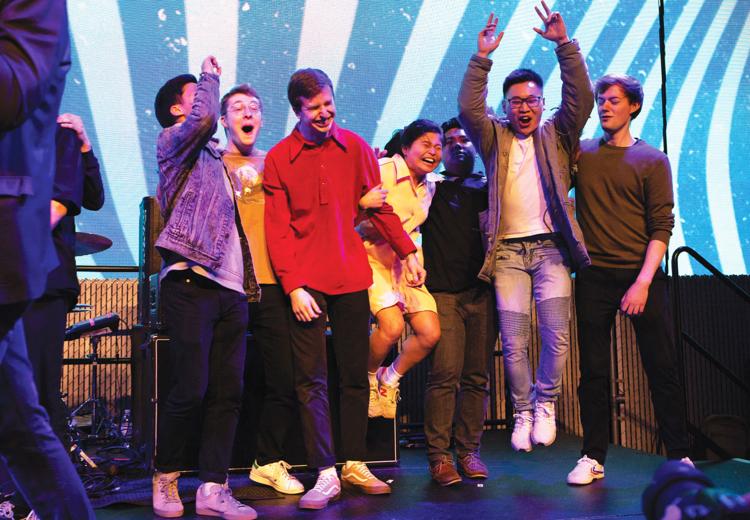 Audience members of all ages huddled beneath massive parasols suspended 65 feet above in the Museum of Pop Culture's (MoPOP) renowned Sky Church. The venue's stage was a tangle of cords leading to an array of microphones and amps and beside it sat DJs from KEXP's audioasis, preparing to live stream all that was to follow in the dramatic space.
It quickly becomes evident upon a single take that the event about to take place is no small deal. Any Seattle-based underground music aficionados will concur: MoPOP's annual 21-and-under battle of the bands, Sound Off! — having helped launched the careers of now nationally-touring artists like Strawberry Mountain, Falon Sierra, and Naked Giants —  is definitely a big deal.
The evening of Saturday, March 2 served as the culmination of the three-day competition that spanned three weekends, with four of the 12 selected artists — Huey and the InFLOWentials, who placed second on the first night of the competition and went on to take the coveted wild-card spot; Baja Boy, who placed second on the second night; i///u, the first place winners of the first night; and Alex Cade, who clinched the first place on the second night — competing for the win.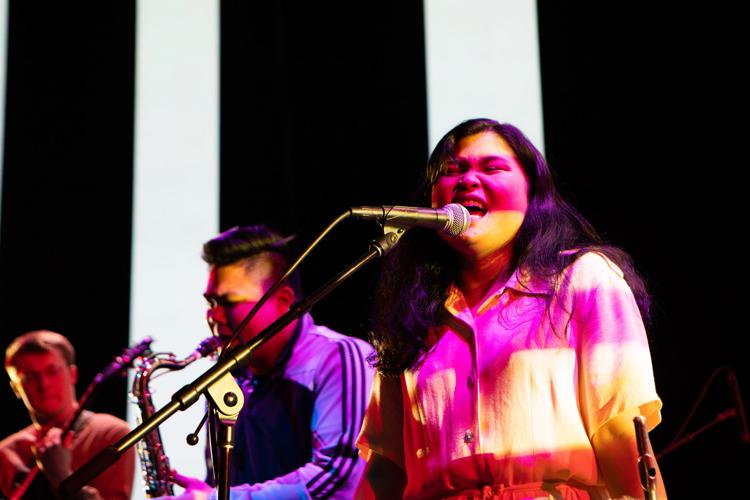 Ultimately, i///u took home the title of 2019 Sound Off! Champions, though all four of the night's performances were rife with impressive artistry and some great musical moments.
The competition differed from the 17 previous years in that it maintained the same four judges for the duration of the multi-day event, ensuring that a band wouldn't be judged based on a one-off poor performance. The general judging categories remained the same, however, with the judges focusing on, as public engagement producer Robert Rutherford explained at the evening's intro, "musicianship, creativity, authenticity, performance, and stage presence."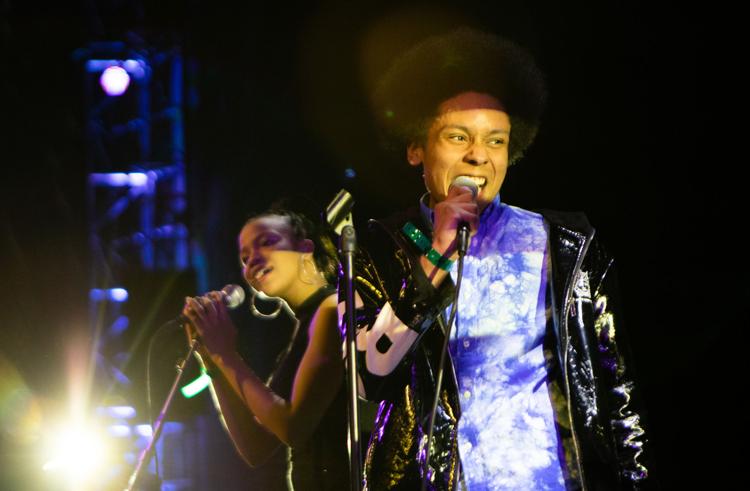 The night kicked off with wild card-winner Huey and the InFLOWentials. The Seattle-based hip-hop group featured a perfectly in-sync rhythm section over which Bryce Villatoro-Thomas rapped with a decidedly early-'90s feel. The band stuck to its jazz roots, often featuring grooves harkening back to Herbie Hancock's funkier numbers. While the lyricism wasn't particularly unique and the group would benefit from better highlighting its excellent background musicians, it ultimately delivered a sophisticated sound in a very appealing arrangement.
Tacoma-based Baja Boy, a four-part group fronted by founder Christian Taylor, began on a mellow note, with Taylor taking to the stage alone.
"I haven't played this live yet but we'll see what we can do," the bucket-hatted lead said before launching into a solo rendition of an uptempo ballad. Taylor easily wowed the audience with his guitar work, which resembled the lo-fi style of Mac DeMarco. Though in-tune and not uninteresting, Taylor's voice could not quite fully command the large space alone.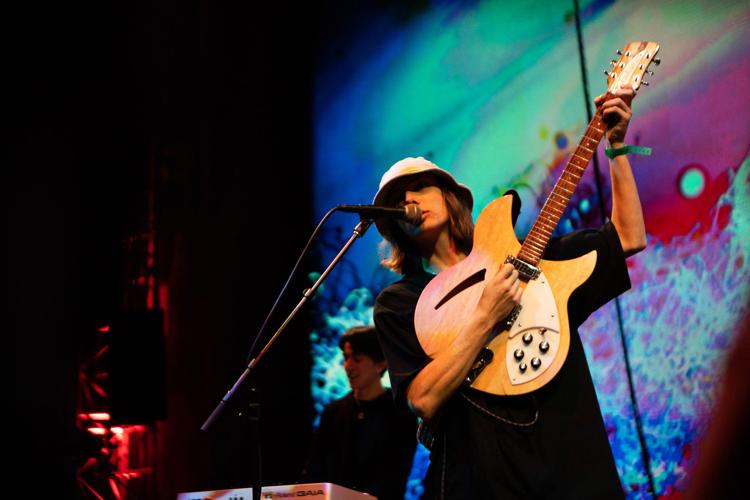 Luckily, Taylor's bandmates soon joined him on stage for the next song, which featured a bouncy surf-rock-style guitar line as heads bobbed across the audience. While the members of Baja Boy definitely demonstrated command of their instruments and competence within their lo-fi-indie-pop genre, they have not quite struck the balance the other bands have, and the heavy drum style often over-powered Taylor's voice.
Whoops and chants escaped the audience the moment hometown favorite i///u took to the stage. The seven-piece ensemble composed primarily of UW undergraduates took control of the space within seconds, as the audience grooved along to the jazz-inspired neo-soul group. Lead singer Katyrose Jordan's bright sound and shimmering vibrato sailed above a tight rhythm section and harmonized sax lines. It was obvious i///u's members were having the time of their lives as they announced the names of soloists mid-song to an outpouring of cheers.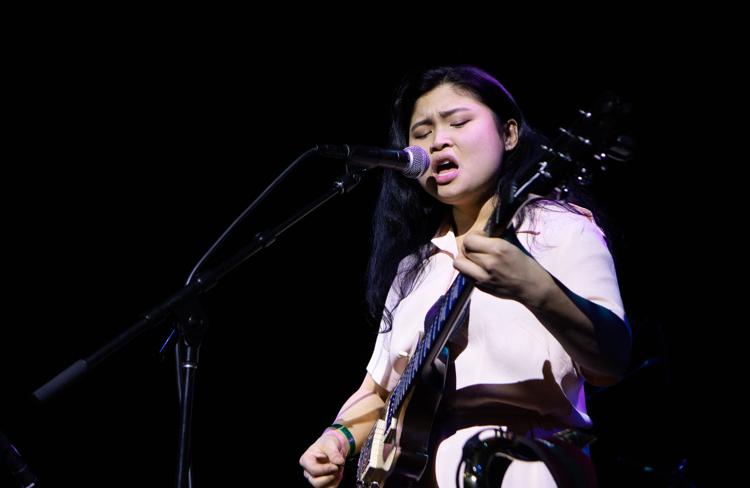 Standout moments included Jordan whipping out a flute on which she soloed inbetween singing (she later also played guitar and alto sax), Scott Elder's arching bass-lines, and the orchestral closing of the group's final song, which highlighted their complex harmonic arrangements with awe-inspiring performance.
Representing his adopted Pacific Northwest home with a Russell Wilson jersey, Detroit-raised, Port-Orchard-based Cade commanded the stage like no other. With full rhythmic control and competence, Cade deftly moved between singing and rapping. His pre-recorded tracks were complex with touches of ambiance against more traditional synth-based sounds, but they never buried Cade's thoughtful lyricism.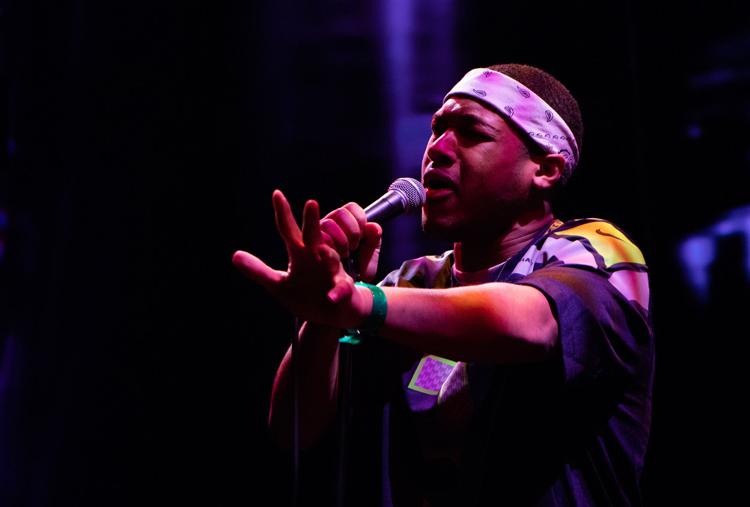 After a couple of songs from his previous performance at the Sky Church, Cade decided to shake it up. "This is stuff that's never been heard outside of my team," he explained before diving into new material that sent the crowd roaring its approval.
In the end, i///u clinched a well-deserved first place, though after three weekends of excellent performances to enthusiastic crowds, it goes without saying that all 12 artists chosen for this year's Sound Off! have bright futures. 
Reach writer Sophie Aanerud at arts@dailyuw.com. Twitter: @thesraanerud
Like what you're reading? Support high-quality student journalism by donating here.