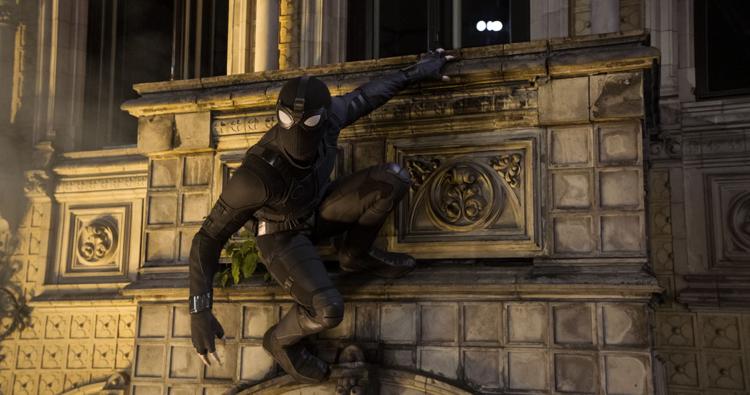 After the emotional gut punches that came with "Avengers: Endgame" just over two months ago, which served as a natural conclusion for the first 22 films of the MCU franchise, it could be considered an exhausting proposition to come back into this universe. With a franchise that prides itself on tonal and thematic consistency, I wondered if Marvel and Sony's second pairing with Spider-Man could bring something fresh to the table. 
Fortunately, that question fades away about 30 seconds in as "Spider-Man: Far From Home" brings a light-hearted emotional sincerity to a fun, hilarious action adventure.
In the aftermath of "Endgame," Peter Parker (Tom Holland), in an attempt to escape the growing pressures of being a superhero in an unstable world, decides to take some time away from being Spider-Man to go on a field trip to Europe with his classmates, including Ned (Jacob Batalon) and MJ (Zendaya). His trip goes off the rails when a group of extra-dimensional monsters, the "Elementals," start reeking havoc across the continent.
The film does a surprisingly effective job reconciling the plot and timeline implications of the events of "Avengers: Infinity War" and "Endgame," mostly playing them for laughs. The film brings the audience up to speed quickly within the first 10 minutes in a hilarious sequence that more closely resembles an Eric Andre skit than a Marvel movie. Overall, the film takes a couple surprising risks with offbeat humor and unconventional set-pieces that provide some of the most hilarious moments in the film.
Similar to "Spider-Man: Homecoming," the film feels like equal parts superhero action-fest and coming-of-age high school movie. Both parts of the film work well, but at times it suffers from uneven pacing and disjointedness. The beginning of the film, while funny, lacks coherence as it moves between comedic set pieces. This is amplified by the film's editing during some sequences early in the film, which cuts so quickly between shots in varying locations that it loses a sense of continuity.
Despite this, the film really picks up once we are introduced to Quentin Beck (Jake Gyllenhaal), a mysterious new hero dubbed "Mysterio," who is an expert on fighting the Elementals. From this point, the film maintains its tone, but the action helps to break up the comedic sequences.
The action is bigger and better than "Spider-Man: Homecoming," which helps sell that Parker is developing as a hero to handle larger scale threats. The visual effects of some of the films later sequences are impressive and captivating, as Spider-Man increasingly faces greater terror and deception. 
But what sets apart these films is the incredible cast. High school films live and die on the chemistry of the teens depicted, and this film thrives because of it. Holland is endlessly charming and carries the film, as he and Batalon carry their convincing interplay from "Homecoming," with Angourie Rice performing wonderfully in her expanded role as Betty Brant. 
Zendaya is also spectacular and was given a lot more to work with in "Far From Home," including increased nuance and complexity to her character and her portrayal. Martin Starr and J.B. Smoove are hilarious as the two chaperones on the trip. The cast amplifies that central teenage goofiness at the core of the film, as well as the comedic trappings of heartwarming teenage angst and earnestness.
Gyllenhaal also provides an excellent performance which becomes increasingly complex over the course of the film. He exists largely separate from the younger cast, but his relationship with Holland's Parker over the course of the film is central to the story.
Ultimately, "Spider-Man: Far From Home" is an incredibly fun and surprisingly emotional film that packs in entertaining action and side-splitting teen comedy, providing another must-see film into the MCU catalogue. 
Reach writer Ryan Phelan at arts@dailyuw.com. Twitter: @D_R_Phelan
Like what you're reading? Support high-quality student journalism by donating here.