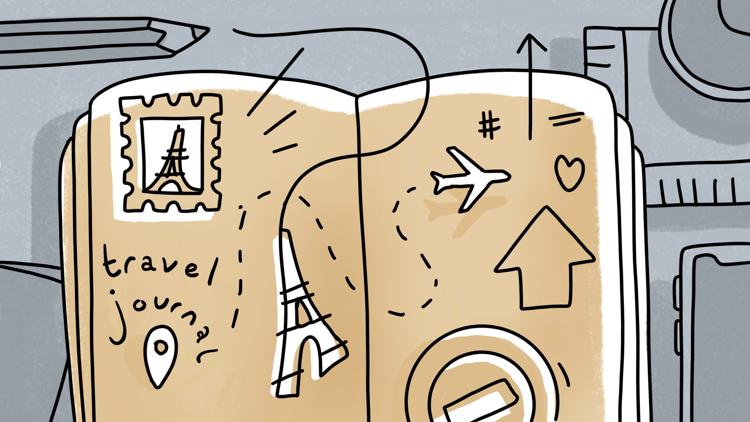 It's been a while since I laughed as hard as I did while Madeline Bertaux, a UW exchange student studying international law from Lyon, France's third-biggest city, told me about a story about U.S. drinking culture from her outsider's perspective.
One morning in October, football season fully in swing, Bertaux made her way to the bathroom after waking. Having not yet been exposed to the wonderful art that is the college game-day party, she was unprepared for the scene awaiting her. Sprawled out on the tile, her roommate sat, wreaking havoc into a toilet bowl full of drunken defeat. The game hadn't even started yet. 
"It's really an American thing to get drunk on mornings," Bertaux said, as I once again erupted in laughter. "No one does that in France except alcoholics."
Beyond the odors of early-morning vomit, Bertaux also mentioned that she wasn't as favorably inclined towards other aspects of the culture here; the sugar-saturated food lining market shelves, the disregard for the environment, and the things we sometimes say that we don't mean. I can't say I disagree with her. 
But, beyond the dislikes that I asked her to list, Bertaux had nothing but love and gratitude for her experience here so far. In fact, amid the COVID-19 outbreak, though the potential of the French Embassy forcing her home worried her, she remained hopeful and persistent in continuing her education at the UW. Fortunately, she was allowed to stay.
"I chose to stay because I have more to win by staying," Bertaux said. 
She didn't want to lose the opportunity to improve her English with her housemates and to continue taking classes at normal hours, which, as many students who have had to move to radically different time zones during the pandemic very well know, can be an unpleasant experience.
When asked three things she loves about being here, she listed the close proximity between her house and campus, the kindness of professors, and the warmth of strangers. 
Apart from these small details that I realized I often take for granted, Bertaux was grateful for the lessons she has taken from her time in the United States. 
The general acceptance in American culture towards gap-years between degrees is something Bertaux wished she saw more of in France. In French culture, she mentioned that a job-interviewer would see any extended breaks between education as a sign of neglect or laziness. But Bertaux, being unsure of her career trajectory at the moment, is thankful for her exposure to this positivity around taking one's time in planning for the future. She is even considering taking a gap year after her exchange. 
"At the end, it doesn't matter if you have taken a year off," Bertaux said. "As long as you get the job that is made for you and that makes you happy."
Her second greatest takeaway from this exchange program has been finding a greater sense of confidence. Before arriving, she was terrified that her English skills, among other cultural differences, would keep her from meeting people and enjoying the experience.  
"I was scared because I am shy and pretty nervous about making friends," Bertaux said. "I was worried. 'What if people don't like me? What if people don't understand me?'"
But now, eight months down this American road, Bertaux feels a greater sense of confidence in her English, has built wonderful friendships, and has dominated her classes, all within the brave accomplishment of living in a foreign country. 
In her exchange at the UW, Bertaux has come away with more confidence in herself and her English. And for myself, as this column was meant to demonstrate how traveling can teach us so much about ourselves, I have come away from her story with a good laugh, a deeper appreciation for the bravery of international exchange students, and a reminder not to take the short walks to campus for granted. 
Reach columnist Billie Featherston at arts@dailyuw.com. Twitter: @billiefeathers1
Like what you're reading? Support high-quality student journalism by donating here.