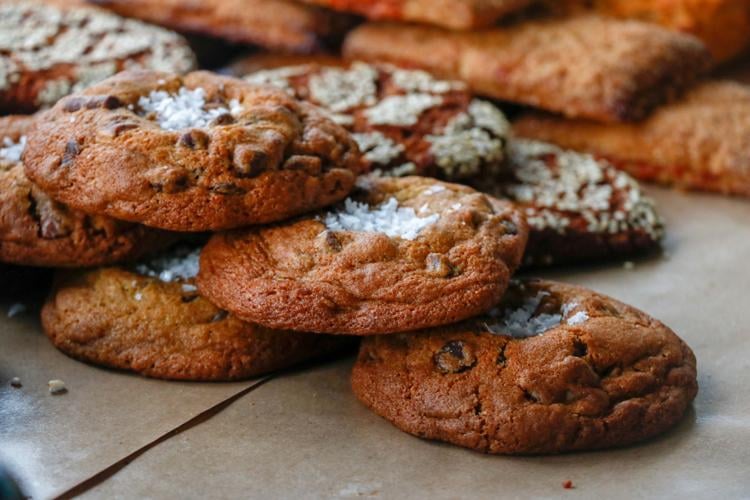 About halfway through the farmers market, marked by an unassuming sign, is a stall with an eye-catching display of goodies. Perfect rows of fastidiously arranged cookies, moist banana bread, and perfectly baked galettes sit temptingly behind the counter of Salmonberry Goods. 
The stall gets a lot of business and regulars even greet the employees behind the counter by name. This, apart from the food of course, is my favorite part of the farmers market. You feel like a part of a community. Everyone you meet is helpful, and everywhere you look there are clusters of people and their dogs, greeting friends and acquaintances.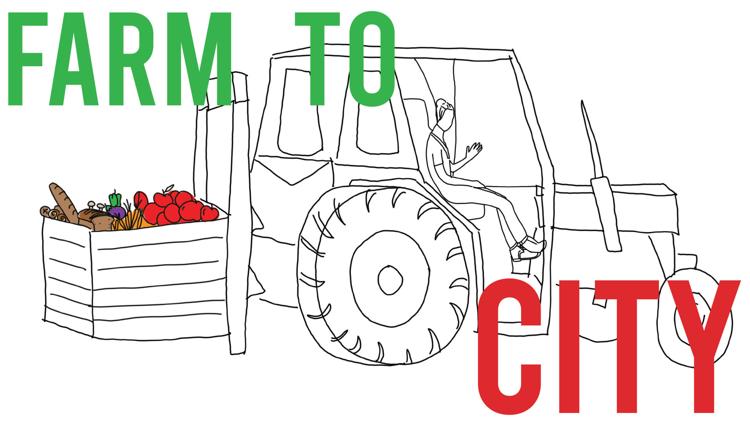 Salmonberry Goods specializes in farm-to-table pastries. In a move to reduce their carbon footprint, most of their ingredients are sourced from farmers in Oregon and Washington. Their pastries are sweetened with non-GMO cane sugar, local malt, and local wildflower honey 
While the sweet baked goods are what caught my eye as I walked past, Salmonberry Goods also makes a wide variety of savory options made to "energize and satisfy." Some of their seasonal offerings include roasted potato biscuits and garlic salt pretzels. 
They also make their own granola, available in resealable bags to take home with you. 
When I went to Salmonberry Goods last weekend, I had a hearty appetite fueled by the early morning cold air and my walk from campus. I decided to try as many pastries as I could reasonably hold at once, in the spirit of journalistic integrity of course.
After an agonizing internal debate, I bought a cardamom bun, a peanut butter malt cookie, and a sea salt dark chocolate cookie. 
I have a huge sweet tooth, so I was in pastry heaven. The cardamom bun was a new take on the classic cinnamon roll. The pastry was flaky and perfectly buttery and the cardamom slightly floral and spicy. The bun was topped with crunchy sugar that added a satisfying amount of texture to the chewy bun.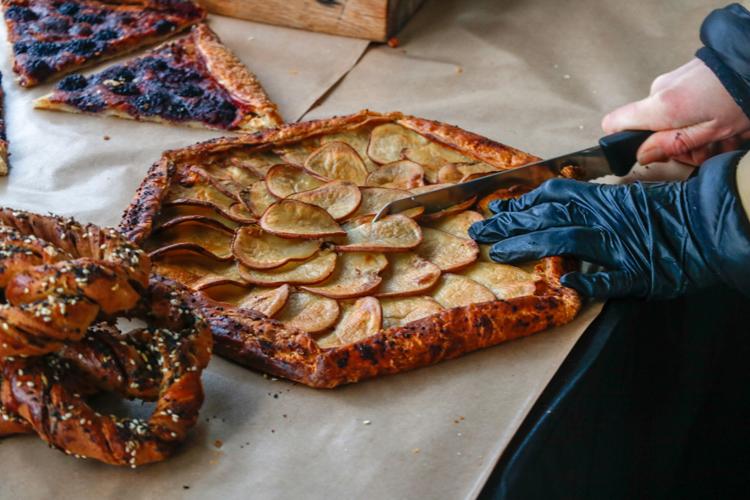 The vegan peanut butter malt cookie was another unique surprise. I adore peanut butter cookies, and this felt like a sophisticated version of an old favorite. The peanut butter flavor was intense, and the malt made it rich and indulgent. 
Last, but certainly not least, was the sea salt dark chocolate cookie. I don't say this lightly:  Salmonberry Goods may have the best chocolate chip cookies I've ever tasted. They were thick and gooey in the middle, with ample amounts of dark chocolate. Topping it all off were flakes of sea salt that perfectly elevated the cookie from simply delicious to fantastic. 
For those who enjoy their pastries washed down by a cup of coffee, Salmonberry Goods is partnered with Convoy Coffee to provide single-origin, fresh coffee right next-door to their stall. 
If you want luxury baked goods at a student-friendly price, look no further than Salmonberry Goods. 
So, without further ado, raise your milk glasses and toast to good cookies. 
Reach columnist Zoe Luderman Miller at arts@dailyuw.com. Twitter: @zozozaira
Like what you're reading? Support high-quality student journalism by donating here