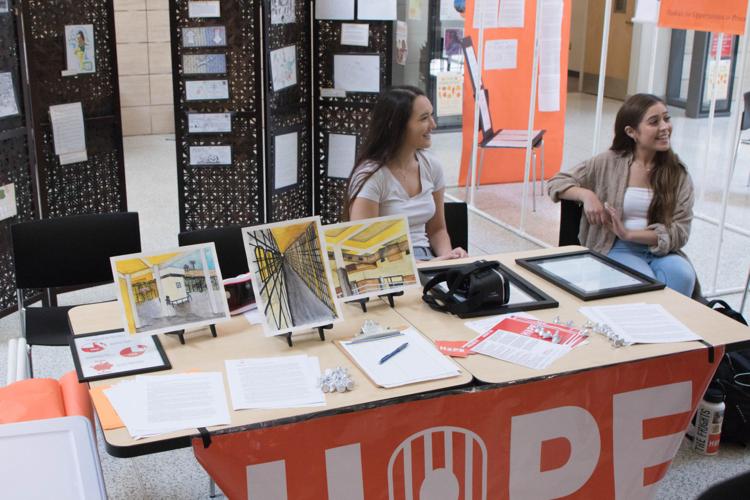 For Scott Robinson, a currently incarcerated person at the Monroe Correctional Complex, a state prison about 45 minutes from the UW, the educational program he has participated in has been the "light at the end of the tunnel."
Beside Robinson's geometric art piece filled with vibrant golden metallics, which hung in the HUB as part of an exhibit May 30 and 31, a letter was displayed in which he described his creation and his experience with academics in the carceral system. Robinson explained that he takes "classes daily on subjects like 'Dealing with Depression,' P.T.S.D, and relapse prevention."
"This program is by far the best thing that has ever happened to me in all my stays at prison," Robinson said.
Robinson's work was part of a two-day exhibit held by the UW RSO Huskies for Opportunities in Prison Education (HOPE), which featured art created by people who are incarcerated. The exhibit gave a voice to incarcerated folks and showed the positive impact that education had on their lives.
The work from this exhibit came from HOPE's collaboration with two nonprofits: University Beyond Bars, which provides credited and noncredited classes to prisoners at the Washington State Reformatory, and Books to Prisoners, which sends books to inmates around the country upon receiving their letter requests.
Most of the pieces in the exhibit were thank you letters and art created in response to the education and texts received. One inmate from Texas responded to Books to Prisoners saying that the organization's "books are my window, my companion and friend in solitary confinement where I have lived for 18 years alone with only my thoughts for company."     
HOPE holds public awareness events like this exhibit and a winter quarter panel in which formerly incarcerated people described their experiences with education.
The group also raises money to provide inmates at the Twin Rivers Unit of the Monroe Correctional Complex with correspondence courses, which are paper-based classes that are completed through snail mail exchanges. The inmates do not have internet access, so they cannot take courses online.
In 2013, the U.S. Department of Justice released research that said "inmates who participated in correctional education programs had 43 percent lower odds of returning to prison than inmates who did not." The Washington State Institute for Public Policy says that for every dollar invested in correctional education, the state saves almost $20 in taxpayer money.
Pursuing an education is financially difficult without groups like HOPE. Inmates have to pay for their own correspondence classes, which can cost as much as $1,000 per course, according to professor Claudia Jensen.
This RSO was conceived in 2013 by students of a UW honors summer course taught by Jensen, an affiliate with the Honors Program, in which students teamed up with inmates at the Twin Rivers Unit to brainstorm educational opportunities.
Jensen explained a project from the class that was conceptualized by the prisoners and is part of an ongoing collaboration with the UW Reality Lab. Virtual reality is used in prisons to teach vocational skills, like truck driving and welding, and to prepare inmates for re-entering society through simulations of everyday activities. UW student Anand Sekar is developing technology to simulate ORCA card usage.
Jensen was bursting with pride as she announced at the exhibition that "this year in HOPE, two of our members are men that were originally at Twin Rivers." Additionally, one of the chairs of HOPE is a founder of the partner program at the Twin Rivers Unit, Bridges to HOPE, an inmate advisory council for HOPE and for the summer class. This adds a very necessary voice to the club's work: the voice of people who have experienced prison and are now part of the UW community.
Sophomore Elise Aydelott got involved in HOPE after she took the immersive honors course last summer.
Aydelott wants to give the inmates at Monroe an even better educational experience. She believes that the "paper courses miss out on so much of the actual class," and are "not an efficient way to learn." She noted that it is hard to get in contact with professors and to get help if you don't understand the material.
According to her, UWTV used to broadcast lecture videos in this prison, and the inmates would avidly watch them. One inmate told her that he would sit in his bed and raise his hand to the lecture to feel more present in class. UWTV is now only available online, which is a blow to the incarcerated inmates.
To bring back this more effective learning mechanism, Aydelott is currently working with her team to get the Panopto recording system to the Monroe Correctional Complex. Working in collaboration with professor Lauren Graham, she plans on bringing the UW's Psychology 101 course to the inmates. They aim to have recorded lectures supplemented by monthly in-person lessons.
Aydelott's voice filled with warmth as she described the passionate inmates she has worked with.
"They were all just trying to make the most out of their time there," Aydelott said. She described one incarcerated person who became newly interested in math in prison and now writes for math journals and does high-level math, despite still being in prison.
Aydelott hopes to either become a mental health counselor in the prison system or get a law degree and work to get incarcerated people with long or "life without parole" sentences out of the system.
"There would be so many incredible people doing amazing things if they weren't locked up in prison for the rest of their lives … a lot of the most inspirational, amazing people are stuck in a box," Aydelott said.
Reach contributing writer Tiasha Datta at development@dailyuw.com. Twitter: @TiashaDatta2
Like what you're reading? Support high-quality student journalism by donating here.