The room was waiting in anticipation. The lights dimmed and everyone in the audience went dead silent. You could hear the collective pounding heartbeat of the room as everyone expected Steven Lim to walk on stage. A door opened off-stage with an eerie squeak and three Chinese Student Association (CSA) officers walked on stage. The audience broke out in laughter and CSA's "A Night with Steven Lim" began.
Lim, executive producer on BuzzFeed's "Worth It," visited the HUB Lyceum on Saturday, Oct. 19, to give a presentation about his experience of going from a chemical engineer to a video maker and how his Asian American identity has influenced his life. 
The night was light-hearted and filled with comedy.
"Let's just start from the beginning here," Lim said. "A Night with Steven Lim: It sounds like we're on a date right now."
The audience laughed again and the presentation was underway. During his talk, Lim discussed his first career as a chemical engineer.
"I worked on the coolest product of all time," Lim said. "Which is Tide Pods. Yes, I was working on food before my food show."
Despite his work on what is undoubtedly one of the best "food" items of all time, Lim had reservations about his career.
"I remember going to a meeting, and I remember they were celebrating for some reason, some guy's 25th year at the company," Lim said. "Like, this guy was working on soap for 25 years, and I just could not imagine my life dedicated to the art of soap." 
Lim spent the next year of his life exploring different hobbies.
"Video-making was one of [those hobbies]," he said. "I think you guys have the advantage, being in school right now, you have so many resources to go and try something else. If I were you, I'd try as many things as possible. Don't be afraid to fail … For everybody in this room, you have to figure out what's going to drive you, 'cause that's the thing you're going to look to when things are going tough."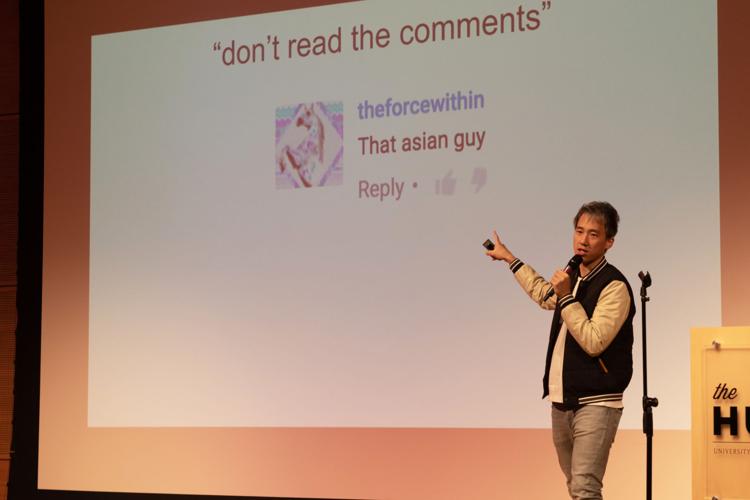 During the Q&A moderated by CSA officers and the following audience Q&A, Lim talked about the origins of "Worth It" and its purpose as a food show that focuses on price.
"I work for this billion-dollar company and they're not paying for my meals," Lim said. "The main broader concept is when you make a decision on where to eat, you think 'what is my budget for today?' I wanted to make a show that made sense to me. I want to see what I can get for five bucks, or a hundred bucks, or 2,000 dollars."
Lim shared some personal details about himself too. When he told the audience about how he mains Ness in Super Smash Bros. Ultimate, the audience groaned. 
A major theme of the night was Asian American representation. Lim talked about his journey figuring out what Asian American representation really meant to him and how best to represent the entire Asian American experience.
"In the end, I realized that representation is not just about talking about your identity and making sure [people] understand who you are," Lim said. "It's not like … you're pounding it down people's throats. It's about being a human being and being present in people's lives. Me being an Asian American host for a food show that's [mainly] a food show can have just as much impact as me talking about my identity."
He addressed this topic both in his main talk and the following Q&A, leaving audience members with a hopeful message.
"I think of it as a spectrum of content in terms of Asian representation," Lim said. "On one side of it is making highly specific Asian content for Asian Americans. The other side is making content for broad audiences that feature[s] Asian Americans. My role and my desire is to help and empower other Asian Americans into a place where they can make content on all side[s] of that spectrum."
Reach writer Kyle Bender at arts@dailyuw.com. Twitter: @ATOMICpandaBOMB
Like what you're reading? Support high-quality student journalism by donating here.