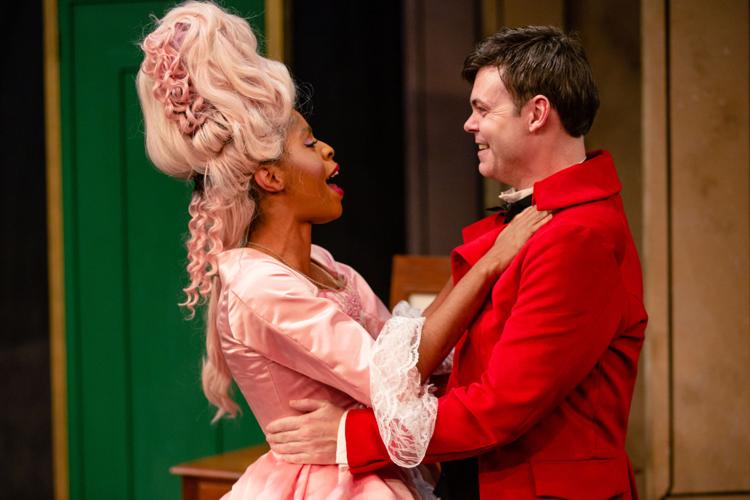 Exaggerated archetypes and overly predictable plot points are the hallmarks of Restoration-era comedies. If you're hoping to start the year off with a handsome, fearless love story about a handsome, fearless man, you'll get that from George Mount's adaptation of Richard Brinsley Sheridan's "The Rivals." Expect some inexplicable laughter, a little wit, and that mildly bewildered feeling you get while watching rain fall on a sunny day.
Coming from 1775 London, "The Rivals" is your standard, feel-good romantic comedy, depicting two love stories hindered by good intentions and misunderstandings. Captain Jack Absolute (Avery Clark) has won the heart of wealthy Lydia Languish (Alexandria Henderson) under the guise of a lowly ensign, a necessary deception since Lydia's pastime of romance novels has resolved her to marry only a poor man for true love. Lydia's friend Julia Melville (Jocelyn Maher) is engaged to Jack's friend Faulkland (Calder Jameson Shilling), although their love festers from Faulkland's insecurities and jealousies. 
The plot is driven along by Lydia's other suitors, including Sir Lucius O'Trigger (Mike Dooly), who, unbeknownst to him, has been trading letters with Lydia's guardian and aunt, Mrs. Malaprop (Julie Briskman), who is actually in love with him. In hindsight, Mrs. Malaprop was the true star of the show. She defied her intended role as a secondary character and beguiled the audience with her overbearing hair and ingenious misuse of critical words (the term "malapropism" originates from this character), leaving onlookers failing to stifle giggles. Crowd favorites included "he can tell you the perpendiculars (particulars)" and "the very pineapple (pinnacle) of perfection."
Briskman was hysterical as Mrs. Malaprop, gracing the character with tremendous poise and assertiveness while spewing absolute nonsense. The occasional singing had audiences begging mercy for their eardrums. Maher's Julia was outstanding as well, especially in her last argument with Faulkland. Having been so soothing and rational before, it was heartbreaking to see her calm exterior shatter with disappointment. Her voice trembled and her figure sagged — Faulkland described it as an "awful resolution in her manner that rooted me in my place." The thunderous applause ensuing her exit was well-deserved.
Having never encountered Restoration comedy before, my favorite stylistic feature was the absence of the fourth wall. Rather than extensive, formal monologues, characters would display wit and personality through asides directed at the audience. Specifically effective with Clark's Jack and Dooly's O'Trigger, the snarky remarks kept the mood light and casual and presented many opportunities for characters to improvise or interact with the audience.
This isn't to say, however, that the execution of the play was faultless. The dialogue and banter are clever and well-written — it's a shame I couldn't hear all of it. Henderson's Lydia complained at a rapid-fire pace, Dooly's O'Trigger had a gravely, licentious Irish accent, and Jack's father Sir Anthony (Bradford Farwell) wheezed and raged like a storm, rendering his insults indecipherable at times.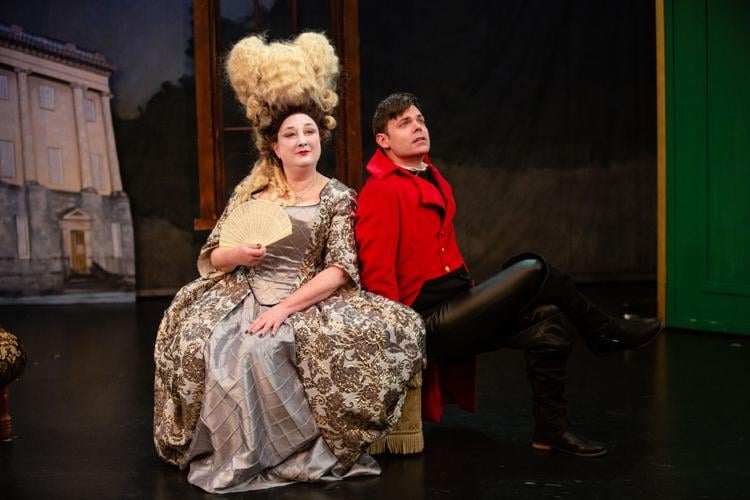 I'm all about bringing a character to life, but there is a line you shouldn't cross that sacrifices plot for humor. Be prepared to strain your ears often — amid English accents and whining, growling, and fluffy vocabulary, it was a challenge to keep up with the plot, much less any societal critiques Sheridan might have sprinkled in. I highly recommend skimming a summary beforehand to prevent getting lost in the first act.
Confusion further afflicts the plot through a distressing choice of casting. Shanna Allman appears in the prologue as Thomas (whose role is never fully explained), but assumes the character of David once the show is underway. I didn't realize Thomas and David were two distinct characters played by the same actor. 
To make matters worse, Allman's character continuously shows up during scene transitions for unwanted comic relief, looking lost and flailing with the script. A play in which alternate identities are pivotal should make separate characters much more obvious. I spent too many brain cells deciphering the relationship between two minor characters who were completely unrelated.
The stagehands were of poor taste as well. It might seem original to entertain during scene transitions, but having the stagehands bickering over where props go was distracting and childish rather than humorous. 'Tis a comedy, indeed, but their job is still to facilitate the smooth flowing of the stage, no? Then they shouldn't remain so cringeworthy and substantial in the audience's memory.  
The set design (Craig B. Wollam) accomplished its purpose of establishing setting but did little to enhance the experience. Dull and mundane, the stage was deliberately compensated by the characters' bright clothing and the women's outrageous wigs. However, both set and costume design could benefit from finer details and creativity — both were a tad uninspired. The show was primarily carried by the acting. 
"The Rivals" is an adequate choice for those seeking a modern twist on premodern English theater, or those with particular interests in a small production. It doesn't leave you feeling much one way or another, and I wouldn't necessarily promote it as a must-see this month. I do recommend checking out the remainder of Seattle Shakespeare's season, however — the team and leadership seem quite beloved by the community.
"The Rivals" plays through Feb. 2 at the Center Theatre. Tickets and information may be found online. 
Reach writer Theresa Li at arts@dailyuw.com. Twitter: @lithere_sa
Like what you're reading? Support high-quality student journalism by donating here.