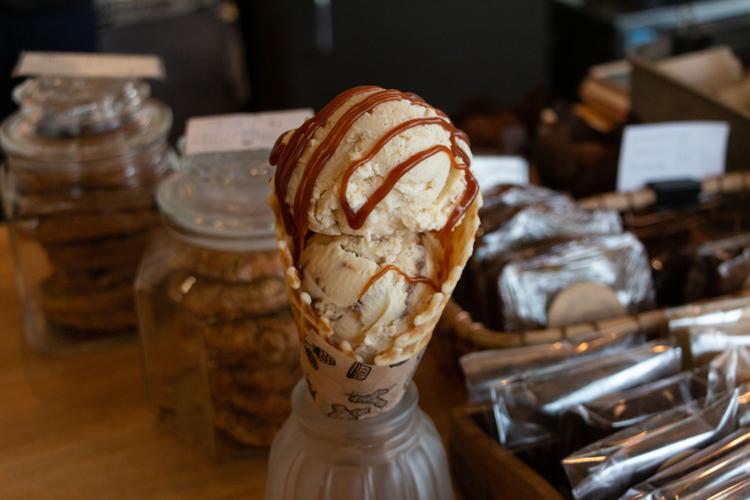 Author's note: Chow Down is a weekly column exploring the intersections of food and culture on campus and beyond. Its goal is to encourage readers to engage with food in new, thoughtful ways and, more importantly, enjoy chowing down.
Here are some common words filling my email inbox this week: roasted, warm, skillet, chili, stew. If the rust-colored leaves on the trees haven't tipped you off, the food media industry and their email newsletters that I subscribe to have made our descent into soup season official. But just because it's soup season doesn't mean there isn't room for the colder things.
While we typically associate ice cream with summer, we should reconsider summer's exclusive claim over this universally loved dessert. 
Not only do autumnal seasonal produce and flavors — think apples, winter squash, cranberries, fragrant spices — translate deliciously into ice cream but enjoying scoops of ice cream in the off-season prompts a refreshing sense of liberation. The overabundance of savory, warming foods in our fall dining routines begs tempering with a cold, sweet treat.
Moreover, making seemingly illogical social plans to eat ice cream when the temperatures drop and the skies darken at 4 p.m. prompts a shared feeling of conspiratorial rebellion that you can't replicate if you dine according to the status quo. 
So step outside and brave the cold to visit one of these three scoop shops' seasonal flavors. Your roasted sweet potatoes and lentil soup will be waiting for you when you return. 
Environmental sustainability, social justice, and delicious ice cream intersect at Molly Moon's. They locally source most of their ingredients, donate a portion of earnings to charities every year, and invest in sustainable practices. In fact, if you visit Thursday, Nov. 14, 10% of your purchase will go toward the Northwest Immigrant Rights Project. 
Here are a few of their seasonal flavors: 
Cranberries & Cream: My personal favorite flavor is, as their website describes, "lightly spiced with cardamom and swirled with sweet-tart ribbons of homemade cranberry jam." 
Dutch Apple Pie: This ice cream features organic Honeycrisps from Collins Family Orchard in Selah, Wash. As their website puts it, the folks at Molly Moon's "believe that purchasing in season from farmers who share our passion for thoughtfully grown fruit shines through in our ice cream."
Pumpkin Cheesecake: Organic, fairtrade caramel meets cheesecake batter ice cream sprinkled with graham cracker crust. 
Vegan Choco Donut: This vegan chocolate ice cream includes chocolate-covered chunks of local favorite Mighty-O's Cocoloco donut, a rich, dark chocolate cake donut dusted with cinnamon sugar.
Molly Moon's U Village location is open 11 a.m. to 11 p.m. every day.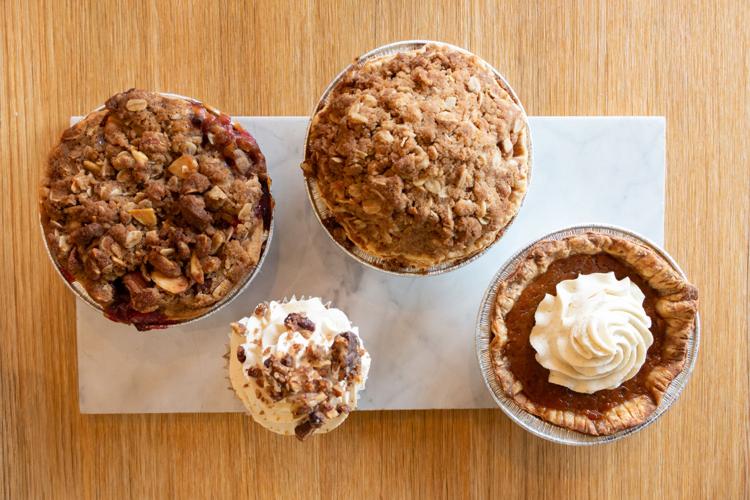 This minority-, woman-owned scoop shop features a rotating cast of fall seasonal flavors. UW alum and owner Lois Ko prides herself on Sweet Alchemy's ethos of sustainability, responsible sourcing, and relationships to farmers. Most ingredients come from within a 100-mile radius of the shop, and the honey is literally sourced out of the UW's backyard at the Center for Urban Horticulture. 
Here are a few of their seasonal flavors: 
Apple of Your Pie: This ice cream blends apples baked in cinnamon and nutmeg with a pie crust-esque crumble. 
Maple Bourbon Pecan: Bourbon, homemade caramel, and maple syrup meet homemade candied pecans.  
Pumpkin Spice Latte: Cinnamon and nutmeg combine with creamy pumpkin puree, homemade Espresso shortbread crumbs, and espresso caramel drizzle to make this fall-favorite flavor.  
Sweet Alchemy on the Ave is open 11 a.m. to 11 p.m. every day.
Regardless of the season, customers can expect the unexpected at Full Tilt. Full Tilt is better known for unique flavors like Ube and Thai Iced Tea, but they still offer seasonal flavors like Almond Latte, Peach Mint Sorbet, and Tiger Tail, which is an orange ice cream blended with black licorice. Plus, Full Tilt always has multiple vegan flavors available. Enjoy a scoop while playing on their arcade and pinball machines.
The U-District Full Tilt location is open Sunday to Thursday 12 p.m. to 11 p.m. and Friday to Saturday 12 p.m. to 12 a.m.
Reach columnist Estey Chen at arts@dailyuw.com. Twitter:@esteychen
Like what you're reading? Support high-quality student journalism bydonating here.