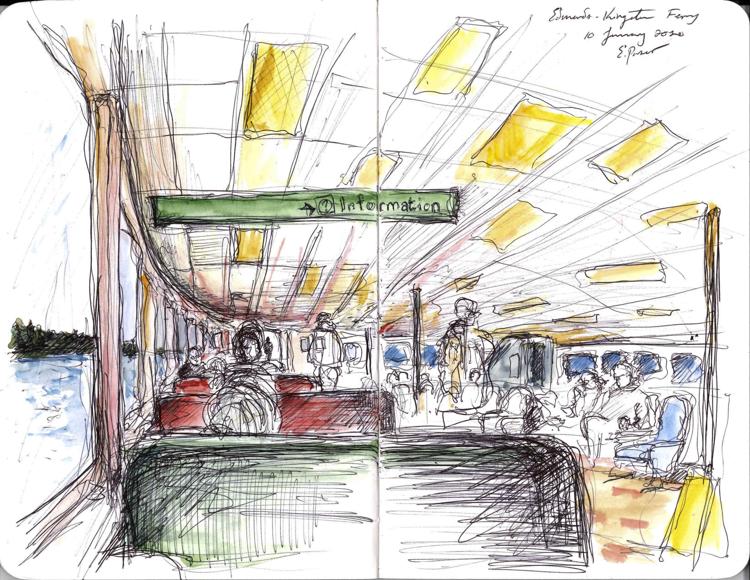 Seattle is an interesting city, to say the least. We have a ridiculous number of hills that make getting between different neighborhoods incredibly difficult. There are strange five-street intersections, buses that sometimes never come, and one light rail system that is slowly but surely expanding. 
But these are things that can be found in most major metropolitan cities. What sets Seattle apart is our ferry system. The Washington State Ferries is the largest ferry system in the United States with a total of 22 ferries serving the Puget Sound and island ports. Everyone from tourists to commuters use the ferries on a daily basis to explore and commute within the greater Puget Sound region. Some even ride the ferry just for the sake of riding it. The iconic waterfront view of Seattle makes the perfect background from the deck of the Bainbridge or Bremerton ferries. 
My grandfather lives in Poulsbo, which is across Puget Sound from Seattle. While it is possible to drive all the way around the sound, taking the ferry is a rather unique experience that many Seattlites take for granted. When I went to visit him on one of my days off from class, I rode the Edmonds-Kingston ferry on the way there, and the Bainbridge-Seattle ferry on the way back home. During the half-hour crossing, I did a sketch of the passenger cabin.
On calm, sunny days you can go to the sun deck and feel the wind on your face as you stroll, and on more stormy days you can stay huddled inside and feel the slow rocking of the boat back and forth. The open shared space of the cabin has a communal charm to it. Unlike most public transportation, the space is alive with conversation. People walk freely about the cabin, some nap on the bench seats, others read, and some even play musical instruments. The rows and rows of booth seating are the most popular, as most people like to look out of the windows. On larger ferries with longer routes, there is often a galley serving snacks and drinks filling the ship with the smell of popcorn and burnt coffee. 
Perhaps I am biased because of the hundreds of trips I've taken on these boats, but these short adventures at sea hold a special place in my heart. 
Until the next sketch,
Reach The Campus Sketcher at arts@dailyuw.com. Instagram: @the_campus_sketcher
Like what you're reading? Support high-quality student journalism by donating here.