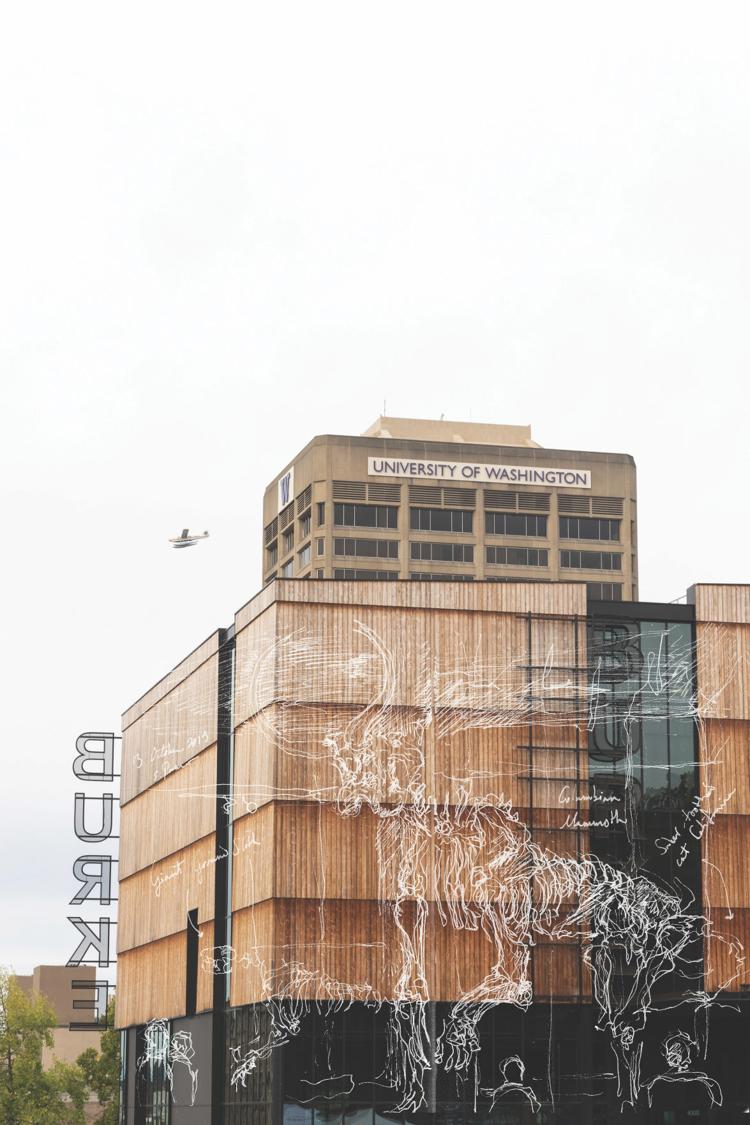 Nearly three years after breaking ground, the new Burke was finally opened by Gov. Jay Inslee and a giant pair of purple scissors in a ribbon-cutting ceremony Oct. 11.
"Today we're saying that Washington state's oldest museum is also Washington state's newest museum," Inslee said in a speech.
Inslee was among several dignitaries there, which included Sen. Jim Honeyford of the 15th Washington state Legislative District, King County Executive Dow Constantine, elders from local indigenous tribes, and President Ana Mari Cauce.
"It really is amazing because it has been years in the making," Cauce said. "I was just talking to Julie Stein about how at one point, I didn't think it was going to happen."
Upon being appointed as the executive director of the museum in 2005, Stein realized that the old building was not only antiquated but also did not allow the public to see many of the activities that happened behind the scenes.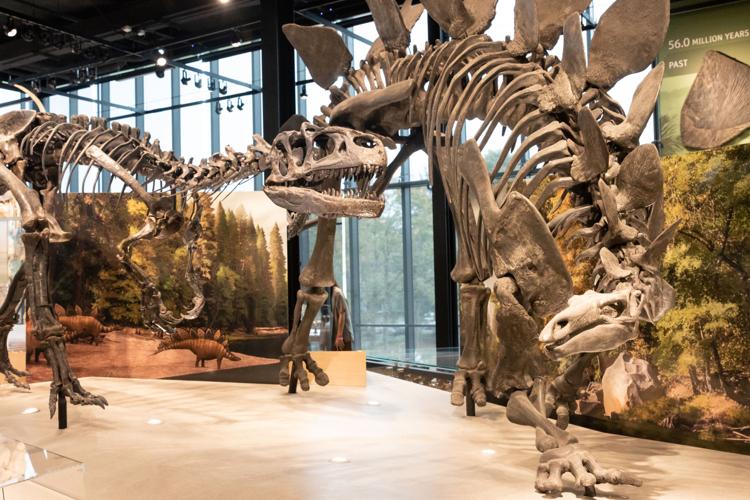 The old Burke, which closed to the public late last year, did not have adequate heating and air conditioning to preserve the over 16 million objects that the museum has in its collection.
"There are a couple of friends that [were] left behind in the old Burke that have made their way here to the new building, and we just wanted to put them out in case someone was looking for them," director of external affairs Alaina Fuld said about a plush elephant located on the second floor's biology showcase.
Along with more items on display, the museum now offers up-close views into research laboratories that were previously hidden away. Through giant glass windows, visitors can gawk at working researchers.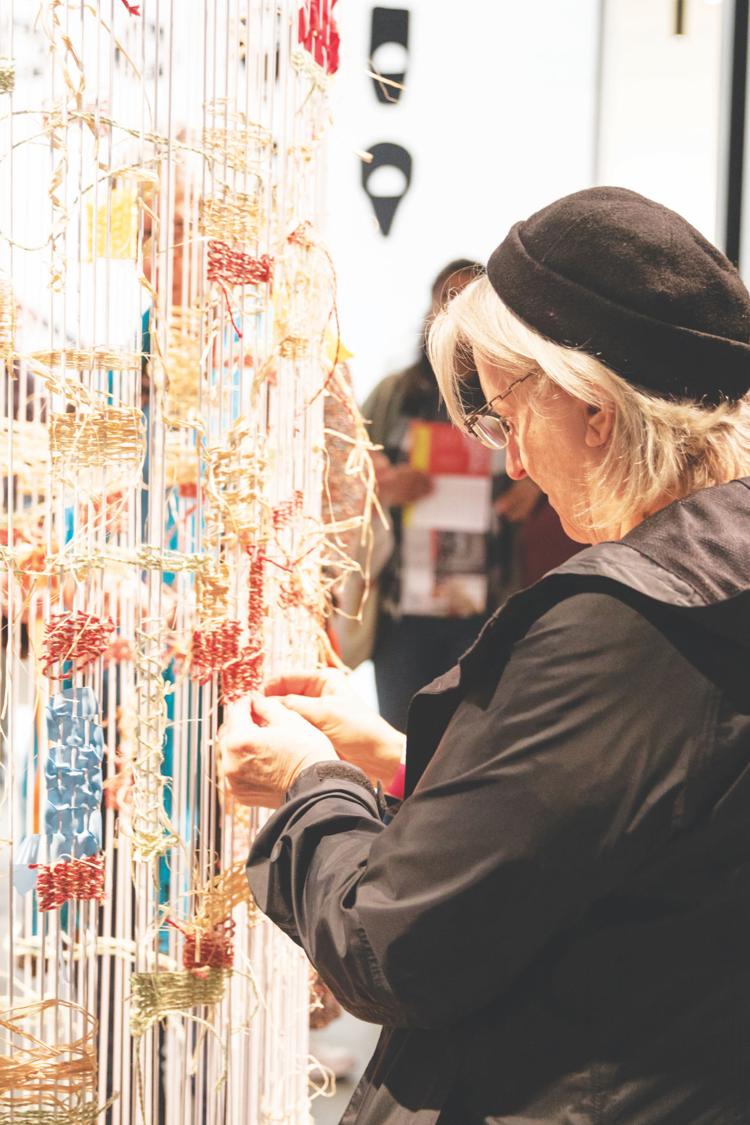 "So far it's been really exciting. There hasn't been any awkwardness," Adam Leaché, curator of genetic resources and herpetology and a professor of biology, said about working in the public eye. "It's fun to be in there working. So far, we all like it."
This open window concept was first tested in 2015 at the old Burke, where much of the public, along with researchers, reacted positively.
However, not all of the Burke is open to the public.
"One collection you can't see is the reptile and amphibian collection because they are stored in ethanol, so that room has strict fire code policies," Leaché said before showing me a backroom full of animals in jars.
In addition to natural history, the Burke also houses historical artifacts which allows students to research and learn about the different Native American, Asian, and Oceanic cultures, while bringing in community members to add input about their respective traditions.
"We look at research that builds relationships and creates a sense of belonging and support system for one another," Holly Barker, curator for Oceanic and Asian culture and a professor of anthropology, said. "It's much more personal and intimate for students and also signals to community members how much we welcome them here at the University of Washington."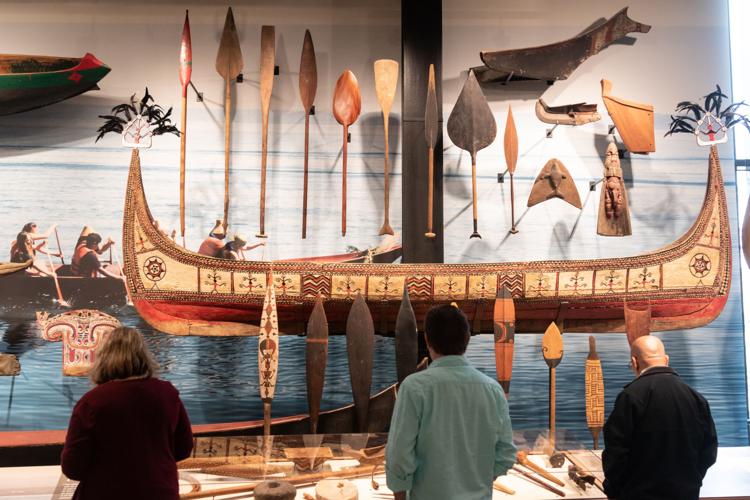 On the first floor of the building, there is also a wall that acknowledges the dark role museums have had in taking objects away from communities and exotifying them in museums, which is a welcoming sight in a place that is built on the lands of the Coast Salish Peoples.
"Part of the reason for this new transparency is because museums have a horrific past, including abusive relationships with communities," Barker said. "We have to recognize the violence of the past and work to heal by acknowledging that and trying to rebuild relationships with the people we have hurt."
As part of an effort to be more culturally sensitive with its artifacts, the Burke has an advisory board of Native Americans from Pacific Northwest tribes, which consults on cultural protocols for the physical and spiritual well-being of the collections, staff, volunteers, and visitors.
Designed by UW alum Tom Kundig of Olson Kundig, the new Burke stands as a see-through monolith of natural history and culture, with the intention of luring visitors with its bright LED sign, once used to attract attention by leaving out the "U" in the word Burke, as well as a massive mastodon near the lower floor entrance, which, if I have to be honest, made me quiver. 
Aside from the museum parts, the building houses a gift shop where one can find native art and dinosaur-themed anything, as well as Off the Rez Cafe, which is the Native American food truck's first brick-and-mortar location.
The Burke Museum offers a great place for visitors to explore natural history and culture with a magical ambiance, something that Cauce commended in her speech.
"My spouse and I actually had our first blind date underneath that Tiffany window," Cauce said. "The Burke must have worked some magic because it's been a little over 30 years now."
The museum's new 113,000-square foot facility is now open to the public and is free to UW students, staff, and faculty. If the range of exhibits and the possibility of meeting your life partner haven't convinced you to go to the Burke, I don't know what will. 
Reach writer Timothy Phung at arts@dailyuw.com. Twitter: @TimPhung
Like what you're reading? Support high-quality student journalism by donating here.