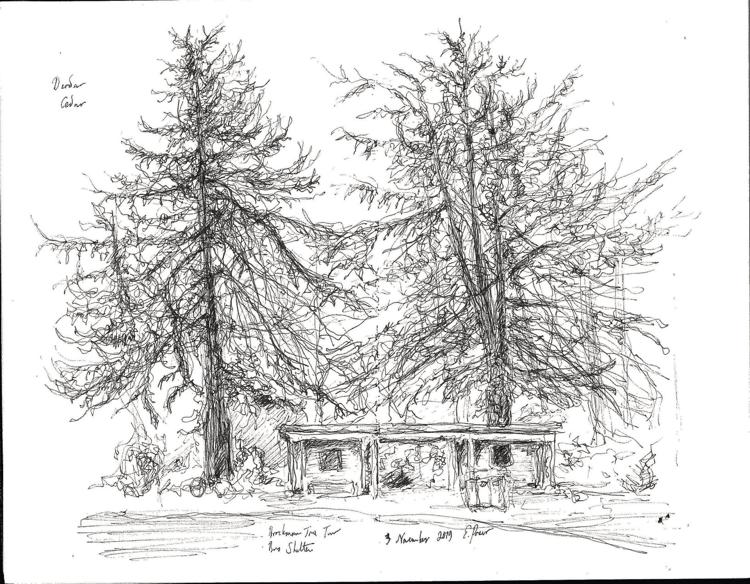 As an ongoing project, I am going to attempt to sketch as many trees as I can on the Brockman Memorial Campus Tree Tour, which highlights a series of significant trees on campus. There are a total of 66 trees listed, so it will be quite a feat if I somehow manage to sketch all of them. I'll certainly need quite a few sketchbooks to get through this series. 
The tour is in honor of Professor C. Frank Brockman, who taught recreational forestry during his time at the UW and created the original tree tour in 1980. At that time, it featured 81 trees.
The tour begins at a wooden shelter next to Anderson Hall, the home of the School of Environmental and Forest Sciences. The shelter is a simple structure built around a deodar cedar, the first tree on the tour. The tree is so huge that it makes one wonder if the designer took into account if the tree would outgrow the building. 
Only 28 species of the 480 different trees on campus are native to the Pacific Northwest region. Over the years, faculty and staff have planted trees that add to the diversity of tree-life on campus. The deodar cedar is native to the Himalayas, and it is highly sought after for construction because of its close grain and rot-resistant properties. These trees can be found dotted along Stevens Way.
The more I explore the plant life on this campus, the more I become enthralled by it. I now know for certain that I will always have something to sketch on campus: trees; all 480 different species of them.
Until the next sketch,
Reach The Campus Sketcher at arts@dailyuw.com. Instagram: @the_campus_sketcher
Like what you're reading? Support high-quality student journalism by donating here.