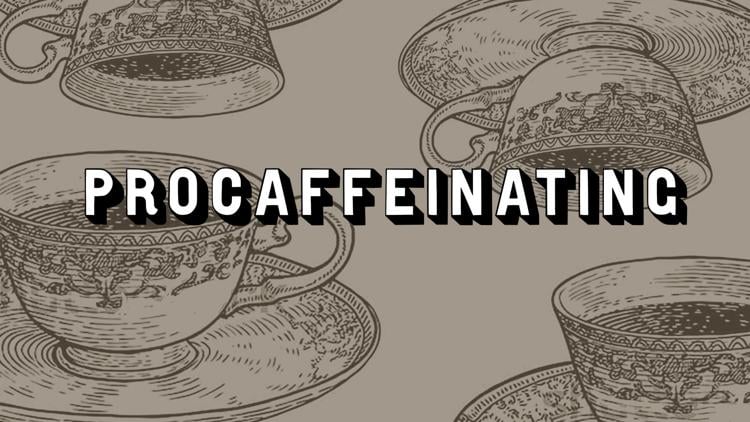 On an otherwise quiet street, blocked because of construction, it's easy to miss Elm Coffee Roasters. The front blends in with the rest of the shops on the street and it's hard to tell where Jack's BBQ ends and the coffeeshop begins. 
The layout inside is fancy — with black leather couches and walls covered in photographs by local artists — but the coffee bar itself is simple, a wooden countertop set up against a mint green backsplash.
Because Elm is in the lobby of a building, its seating area had two distinct parts. 
The first part opens into the lobby of the 9th & Thomas building. This area is extremely open with plenty of room. Seating options on this side of the cafe include couches and armchairs. 
While this side is mainly filled with comfortable seating for relaxation, there is one large wooden table for communal studying, where you might find eight individuals sitting with laptops and headphones pretending there aren't seven other people right there.
The other part of the cafe, to the right of the coffee bar, has the look and feel of a more typical coffee shop. The light brown wooden theme carries over from the bar to the seating area. With some bar stool seating against the windows and square tables with multiple chairs populating the remaining space, this part of the coffee shop is where you should head if you're there to get some work done. Outlet access is limited to those sitting by the windows, so come with your devices charged up. 
As far as coffee goes, the menu is comprehensive with most major espresso drinks and their flavored variations. If you're a tea fan, you can go with the barista-recommended home-brewed chai. 
I decided to go with a cappuccino. It was a cold and rainy day (surprise, surprise) and I just needed something warm. 
I loved the drink. I'm not usually a fan of cappuccinos since they are usually either too dry (too foamy) or too wet (not foamy enough), but Elm's bold coffee flavor with the smooth texture of oat milk worked perfectly. 
Another good option is an iced mocha. While Elm does offer great, hot coffee with strong flavors, what caught my attention most was the ice cube used in iced drinks. Contrary to the cubes that we are used to putting in our drinks, Elm cools your drink with a solid block of ice shaped like a waffle. 
I'm not saying you should go all the way to Elm for an ice cube, but if you're already out there, get an iced drink and experience the waffley joy. 
Elm has two locations: one in South Lake Union and another in Pioneer Square. I tried the one in SLU. For a Saturday afternoon, it was fairly empty and I was able to get a few hours of good, focused work in before heading out for the day. 
It is a little farther away from campus — about a 25-minute bus ride on route 70. If you're looking for a strong pick-me-up that's not too close to campus, head down to South Lake Union to try this coffee shop.
Reach columnist Ash Shah at arts@dailyuw.com. Twitter: @itsashshah
Like what you're reading? Support high-quality student journalism by donating here.