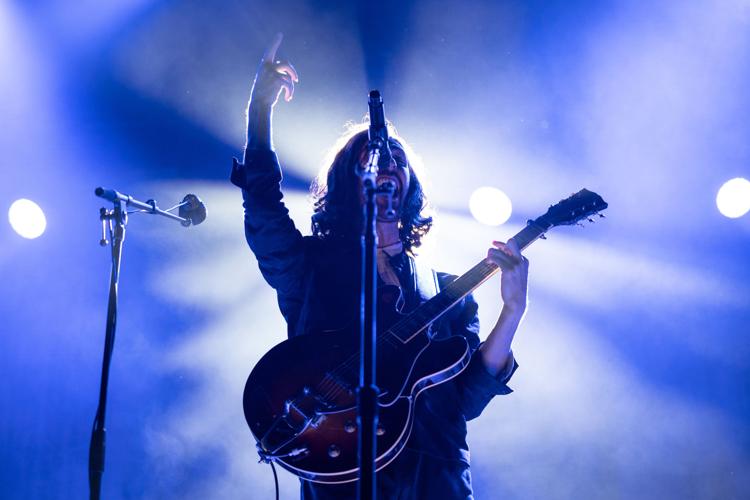 "It is my unmitigated pleasure … to be standing before you today," Andrew Hozier-Byrne, known professionally as Hozier, said toward the beginning of his Seattle concert, prompting cheers from the packed house.
Hozier played the WaMu Theater on Oct. 19 as part of his "Wasteland, Baby!" tour. The fall leg of the tour kicked off in Portland, Oregon, on Oct. 17.
Singer-songwriter Madison Ryann Ward opened the show, playing slow, sad love songs on her acoustic guitar accompanied by her deep, powerful vocals. Despite the seriousness of her songs, Ward's stage presence was lighthearted and charming. She didn't let a persistent squeaking noise or her mom calling her onstage derail her performance too much and laughed through the set.
"I get so giggly sometimes and I can't stop up here," Ward said.
After a brief intermission, during which the stage was transformed into an approximation of the album cover for "Wasteland, Baby!" with the addition of a red-backed chair, a globe, and old-timey suitcases and books, Hozier arrived. To deafening cheers, he began the first song of his set, "As It Was," under a single red spotlight, but his seven-person band soon joined him onstage.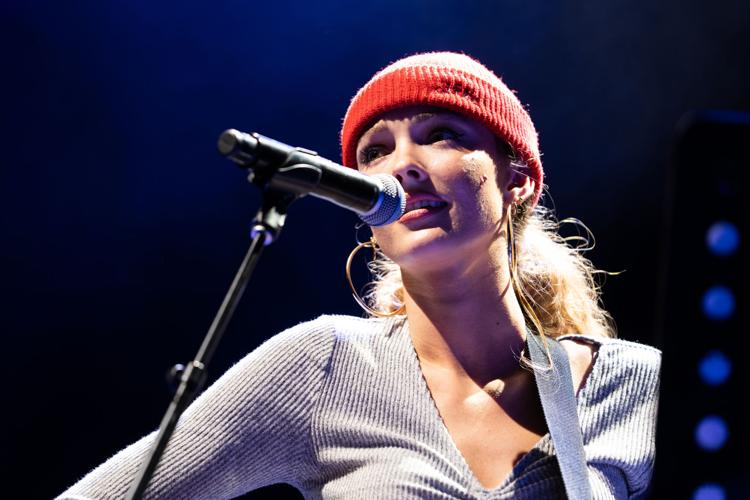 The show made exceptional use of lighting and multimedia elements, using different light colors and patterns to set the mood of each song, as well as projecting videos behind the band onstage, ranging from static images of windows to simple animation to lyric videos and to live footage of the band performing on that very stage. These elements served to elevate the experience of each song.
"The light design was just incredible [during the song 'Movement']," junior Izze Gates, who saw the show with her sister, wrote in an email. "It blew me away. 'Movement' is not my favorite song of his, but how he performed it was breathtaking."
Throughout the show, there was a remarkably communal feeling in the room, both in the audience and onstage. The crowd was kind to one another, helping stragglers find their friends and letting people through with little hostility, which is unusual. 
Onstage, too, the band worked as a collective. Though Hozier's name was on the marquee, he made sure to highlight the skill of each of his band members, introducing them at length and showering them with compliments at one point in the set. The band would often draw together as they were playing, forming a huddle around the drum set.
The music itself seemed to emphasize this egalitarian, communal aspect. Though Hozier's vocals were clear in some of the quieter songs, during the faster-paced numbers his voice faded into the thrum of the music, becoming just another instrument contributing to the resonant, rattle-your-bones sound of the show.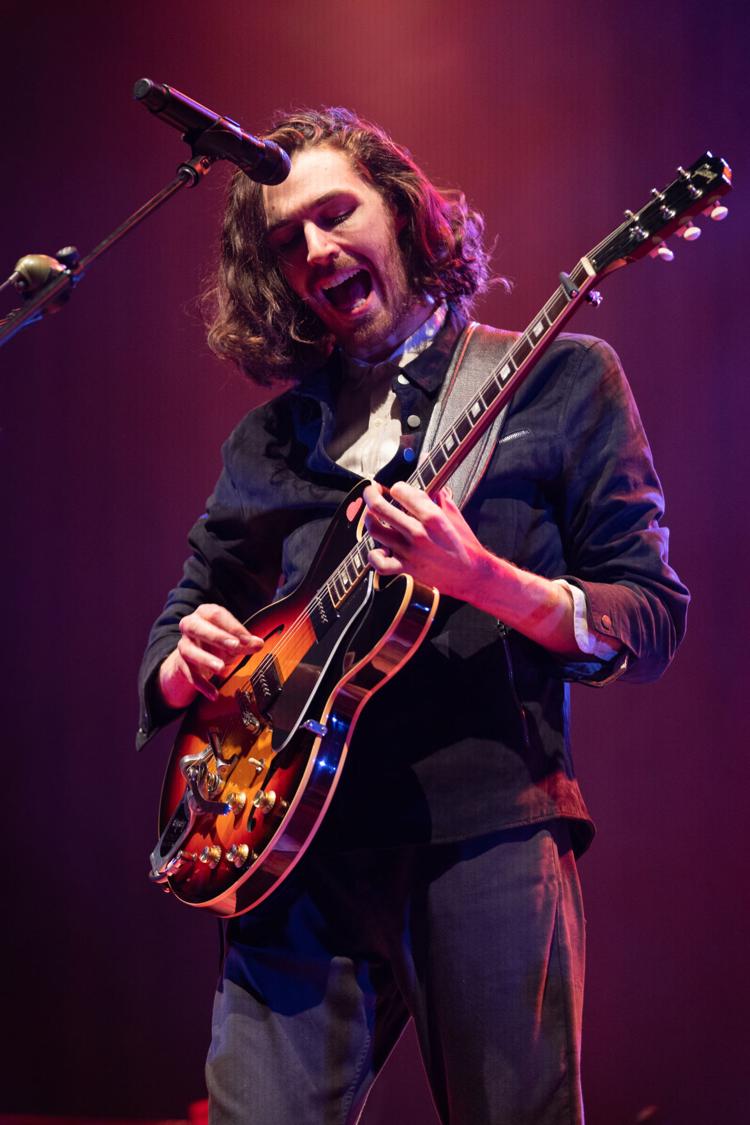 Hozier himself proved to be a talented live musician in addition to being a powerful vocalist, switching between guitars — which he played largely hand-picking — each song. In conversation, he was a kind, grateful figure, chatting and joking with the audience in-between songs. 
"I want to see what kind of shape your voices are in, check if you've been eating your veggies," he joked to the audience before leading them through a progression of notes to sing along to in the song he was about to play.
He seemed to appreciate the audience joining in with his singing, as they did throughout the show, especially on some of his older hits like "Someone New" and "Take Me To Church."
"It is a joy like no other to hear you making noise," he said to the crowd.
The show was being live-streamed to children in hospitals all over the world by the Melodic Caring Project, and Hozier dedicated songs to the people watching throughout the night. During the encore — for which the stage had been dressed with ivy vines, all but confirming internet suspicions that Hozier is a bog witch or a forest spirit — the names of the kids he'd mentioned throughout the concert were playing behind him.
"It was really moving," Gates said.
The crowd at the concert was markedly young, diverse, and visibly queer. Hozier's music seems to appeal to these groups in particular, engaged as it is with protest and social justice.
"I think Hozier appeals to young people because a lot of his songs have themes that [resonate] with people exploring the world (and its injustices)," Gates said. "His breakout song, 'Take Me to Church,' became a sort of queer anthem. 'Nina Cried Power' feels like a protest song."
Indeed, much of Hozier's live performance was centered around these themes. Playing behind the band during "Nina Cried Power" was a video that paid homage to protest throughout time and across the world, from black and white footage to recent images of the pro-abortion rallies in Ireland. 
During "Take Me To Church," the music video for the song, which chronicles the homophobic backlash that erupts after a gay Russian couple is outed, was projected onto the stage. When Hozier sang the repeated lyric "amen," the crowd raised their hands into the air as one in the white light that filled the room. And when he waded into the crowd, they crushed forward toward him as though he was a religious figure. He returned to stage holding a pride flag given to him by an audience member, which he hung prominently on his mic stand.
Hozier also played a new song, which he'd only played for crowds in London and Portland (and not even for his label), intended as a part of his forthcoming EP, which is "leaning into songs from a line of protest." He cited Woody Guthrie's "Tear the Fascists Down," as inspiration. The song, "Jackboot Jump," is an inspiring song about how the "jackboots" only start jumping down when things are looking up. With its roiling drums and jumping, screaming guitar, the song is sure to be yet another protest anthem to add to Hozier's growing list.
Reach Arts & Leisure Editor Sierra Stella at arts@dailyuw.com. Twitter: @sierramstella
Like what you're reading? Support high-quality student journalism by donating here.