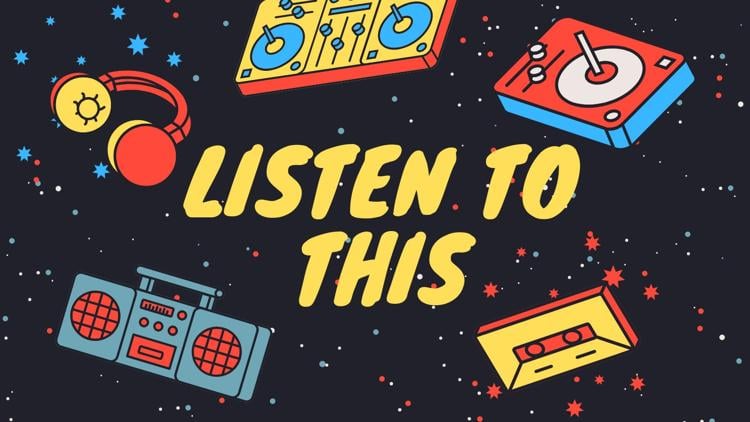 Author's note: Listen to This is a bi-weekly column that serves as a listener's guide to the world of music, with recommendations, reviews, and music-related stories.
I am a ho for the sci-fi genre. Whether it be the grungy, dirty streets of Neo Tokyo from "Akira," the semi-realistic lunar colony of Andy Weir's "Artemis," or the menagerie of sci-fi themes in the Netflix anthology series "Love, Death, & Robots," I love it all. 
What I really value about sci-fi is that it is always changing to fit the times. The genre will always be at least 10 steps ahead of current technology and always comes with a tiny promise that the sci-fi content we are consuming is achievable in real life.
That's why I wanted to take a look at the music of Supergiant Games' "Transistor." It came out in 2014, but was recommended to me by a friend in 2017 because of the game's music, produced by Darren Korb.
This game itself is nearly perfect. The well-written and unending technological city of Cloudbank, the oddly pleasing mix between turn-based strategy and action role play, and the perfectly composed music all make this game one of my favorites to play and one of my favorite iterations of sci-fi.
The game follows Red, a performing artist and denizen of Cloudbank's Highrise district. During one of her performances, the Camerata, a group of Cloudbank's most influential figures, attempt to assassinate Red to steal her creative talent. They aim to regulate the city in order to control the increasing demands for change within the masses. The Camerata failed to integrate Red into the Transistor, a greatsword-like object used to command their control program, known as the Process. The Camerata ended up stealing her voice in their failed assassination attempt after Red's partner, referred to as "Unknown," took the hit for her. 
The game's music puts a shiny finish on an already great game. The first background music that the player hears when they start up the game is called "Old Friends." This song features a somber, flowing guitar melody coupled with simple percussion and a blown-out synth bassline that nicely competes with the melody at some points and completely dominates at others.
The background music of "Transistor" often works to communicate Red's emotions because of her stolen voice. At this beginning of the game, "Old Friends" creates a sense of confusion with a significant feeling of defeat and sadness. 
One of my personal favorites off the game's OST is "The Spine (feat. Ashley Barrett)." This song is a prime example of the mutability of sci-fi as a genre — it can shift between a pristine, utopian world like that of "Transistor," and a dark, unforgiving setting like that of "Blade Runner 2049." The song's clashy, gain-filled guitar instrumentals and methodical percussion mixed with the lamenting lyrics touch on the dark and grungy themes of the cyberpunk subgenre, a category this game doesn't fall under. Barrett's vocals are filled with so much tragedy and emotion that you begin to feel the song in your chest as you listen to it. 
Similar to "Old Friends," this song is used as a window into Red's emotions. It references one of the Camerata's loose creatures, The Spine. Whenever Red encounters The Spine, Unknown often goes into a nihilistic stupor, and their lines become staticky and depressed. In this case, "The Spine" is a view into the emotions of betrayal and fear that the player and Red are both having, hoping that Unknown won't turn on Red or devolve further. 
"Transistor" is a masterpiece. Supergiant's art style showcasing both the clean and corrupted aspects of utopia are beautiful, and Korb's composition is a valuable, integral part of worldbuilding and character expression. 
I highly recommend you all give the game a playthrough. It's only $19.99 on PlayStation, Nintendo Switch, and Steam, and the iPhone mobile app is only $4.99. You could easily finish the game in two weekends. If you don't feel like coughing up the money or video games just aren't your thing, at least give the soundtrack a listen. You'll gather the strong emotions and overall feeling of the game through its music alone.
Reach writer Kyle Bender at arts@dailyuw.com. Twitter: @ATOMICpandaBOMB 
Like what you're reading? Support high-quality student journalism by donating here.