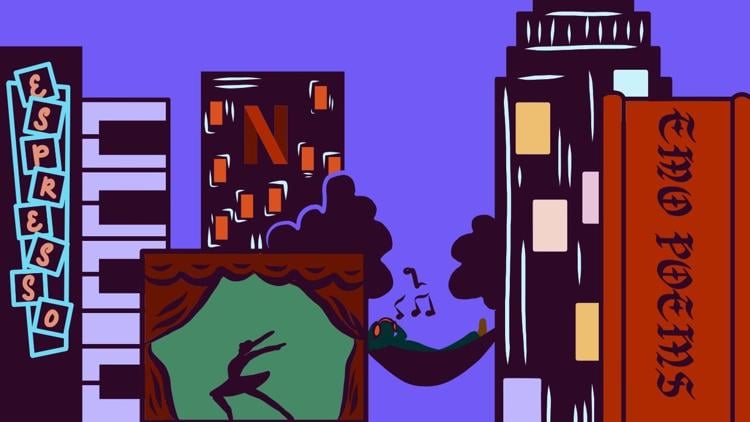 What we're watching
Trevor Hunt, Copy Chief (@trevohunt)
If you've gotten bored in quarantine with managing your Sims family, surpassed your threshold for reading those books you said you would when you had the time, or are too sore from all the DIY projects and yard work you've been doing, then now is the time to jump into the virtual world of Lakeview, your luxurious, digital afterlife.
"Upload," an Amazon original brought to us by Greg Daniels from "The Office" and "Parks and Recreation," is the cross between "The Good Place" and an episode or two of "Black Mirror" we've all been waiting for.
Follow the story of Nathan Brown (played by Robbie Amell), a young programmer who dies and is uploaded to a digital afterlife where he will live out the rest of his eternal existence. Aided by "Angels," living customer service representatives, Nathan adapts to life as a binary string of ones and zeros while falling in love with his assigned angel, Nora, (played by Andy Allo) in an almost Romeo and Juliet sort of way.
The familiar comedic writing style of Daniels keeps you entertained and engaged for all 10 episodes of season one while looping in tragedy, mystery, heartbreak, passion, and existentialism. Though predictable and sometimes repetitive, the plot is entertaining and the underlying mystery — which I won't spoil for you — keeps you always searching for clues in the back of your mind.
"Upload" also engages with the potential consequences of a digital heaven based on a pay-to-play business model. This is where "Black Mirror" comes in, and you won't be disappointed. 
The show also portrays inequality among the "uploads" seen between billionaire David Choak (played by William Davis)  — a Koch-brother-esque character with unlimited data and a 15-acre estate as his "hotel room" — and the "Two Gigs" — uploads who "live" off of two gigabytes of data a month and freeze when they run out — who lack even basic amenities like books or windows.
As someone who enjoys shows that have something to say about society, this one meets the mark while still being light and funny enough to enjoy with the family. 
If you've ever thought of living out your afterlife like the Sim family you play when procrastinating on homework, then give "Upload" a watch and experience for yourself what the virtual world of Lakeview has to offer.
What we're listening to
Peyton Blackmer, Web Editor (@peyton_blackmer )
While doing work in quarantine, I have been listening to different music than I would usually in a normal quarter. I have found myself gravitating towards music that doesn't require room for analysis or metaphorical pondering and just is what it is. Thus, Nightcore has taken its place this quarter as my go-to for studying, walking, and painting my nails. Nothing seems to hit harder in this time of isolation than fast, high-pitched nonsense. 
Nightcore as a genre was originally defined as a cover track or remix of a song that is a sped up and pitched up version of the original, with its application primarily being on trance and eurodance tracks. Today, we see the likes of it in the Dylan Brady and Laura Les duo, 100 gecs,and smaller traces of the genre in Crystal Castles and Grimes. 
The real gritty, crunchy, homemade nightcore tracks come from the bedroom studios of those on Soundcloud with sub-genres in Soundcloud Rap and Soundcloud Emo Rap. I'm somewhat exposing myself by revealing my appreciation for a genre deemed ridiculous by some, but I can't help that this music inspires solo dance parties and fits of happiness in these weird times. 
I have a tendency to listen to songs over and over and over again for a week at a time. So, here are this weeks favorites: "WASABii" by SEBii, "perfect" by capoxxo ft. oaf1 and dreamcache, and "teardrop fessstt :D," a mix by movedon. 
What we're reading
Estey Chen, columnist (@esteychen) 
With summer inching closer, I increasingly find myself daydreaming about the food of my travels. Between Zoom meetings, my mind floats to the silky cheung fun (rice noodle rolls) of Guangzhou, the intoxicatingly bright fragrance of grapefruit luring me into a Florence gelateria, and the airy egg salad sandwiches of Japanese 7-Elevens. I yearn to smell the floral aroma of plump Beijing peaches, their sweet juice leaving sticky trails down my forearm, and to hear San Francisco bakery Tartine's croissant shattering on first bite. 
Until it's safe to revisit these places and explore new ones, I'm satisfying my travel itch with cookbooks like Michael Solomonov's "Zahav: A World of Israeli Cooking," named after Solomonov's Philadelphia restaurant by the same name, and Meera Sodha's vegetarian "Fresh India." The stories behind recipes like Sesame and Tamarind Eggplant with Cracked Wheat, a dish with roots in India's Andhra Pradesh, and Fried Cauliflower with Herbed Labneh instantly transport me to home kitchens and bustling markets thousands of miles away.
I'm also flipping through Alice Waters' 1982 "Chez Panisse Menu Cookbook" not with the intention of tackling ambitious dishes like Stuffed Shoulder of Spring Lamb with Grilled Leeks or Smoked Trout Mousse with Chervil Butter — though I did cook her cassoulet on Sunday — but to relish in her devotion to every step of the culinary process. 
Waters, who is credited with pioneering the modern American farm-to-table movement, eerily foretold the present restaurant crisis when she lamented how the existing industrialized food system that prioritizes convenience divorces consumers from the origins of and people behind their food.
"I am reminded of a small neighborhood restaurant ... run by an Indian man and his Mexican wife who do everything themselves … and thrive modestly against the prevailing winds of faster and faster food purveyors," Waters wrote. "Across the street ... customers, totally isolated from one another and the food itself by the gleaming white sterility of the plastic counters, tables, and walls, are all facing in different directions. The result can be nothing but alienation from one another, as well as from the food and those who cook and serve it."
Maybe she never imagined these exact circumstances, but as COVID-19 forces beloved local businesses like Il Corvo to shutter, "Chez" is also a rallying cry to save the community institutions that form the soul of Seattle. Waters reminds us that if we don't, we not only lose sources of physical sustenance but sites of emotional nourishment.
Reach Copy Chief Trevor Hunt, Web Editor Peyton Blackmer, and columnist Estey Chen at arts@dailyuw.com. 
Like what you're reading? Support high-quality student journalism by donating here.