Author's note: Chow Down is a biweekly column exploring the intersections of food and culture on campus and beyond. Its goal is to encourage readers to engage with food in new, thoughtful ways and, more importantly, enjoy chowing down.
Though Jan. 1 marked the end of the Christmas and New Year's Eve gluttony, the most important holiday of the year awaits at least a fifth of the world's population.
Lunar New Year, which changes annually based on the second new moon after the winter solstice, will fall Jan. 25 this year. Celebrants in Korea, China, Vietnam, and the diaspora have already begun flocking to their hometowns en masse to spend time with family and participate in the traditions, many of which involve food, associated with their respective culture. 
Koreans eat tteokguk, or rice cake soup, for Korean New Year because the rice cakes resemble coins. Similarly, foods eaten during Chinese New Year like fish, dumplings, and noodles are chosen for their promise of good fortune and health.
China is not a monolithic culture, and the regionality of Chinese New Year food reflects that. In the cold northeastern region of China, where international student Summer Ai calls home, many families fill their dumplings with pickled cabbage in place of fresh produce. 
Meanwhile, the Vietnamese eat banh chung, or banh tet as it's more commonly known, in south and central Vietnam, a savory sticky rice cake filled with mung bean and pork belly wrapped in la dong or banana leaves to symbolize Earth.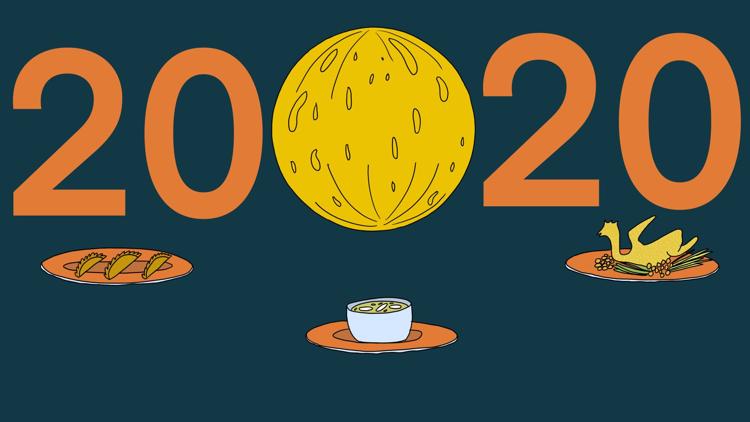 "Tet [or Vietnamese New Year] is all about food," Khanh Dinh, an international student from Ho Chi Minh City, said. "We eat and then we sleep and then we eat again."
But as with many other major holidays, people habitually return to food traditions for more than the ancient meanings prescribed to certain dishes. 
More important than promises of wealth and longevity, food functions as a medium to express love through both the laborious, collaborative preparation of a meal and in the intimacy of family-style dining.
For international students, nostalgia for the warming comforts of family makes replicating the Lunar New Year experience in Seattle difficult to accomplish. The care poured into individual dishes back home is incomparable. 
Hoang Huy Le, an international student whose family lives 45 minutes outside Ho Chi Minh City, never thought he would miss waking up at 4 a.m. to the sound of a squealing pig's final stand and the cheerful chaos of the kitchen. Since moving to the United States, Huy Le realized he took Tet for granted.
"Killing an actual pig in our background was crazy," Huy Le said. "It left me traumatized but tasted good."
And though international students aspiring to replicate the taste of home can find the necessary ingredients at local Asian grocery stores, it's not the same. 
Dinh lamented that she has yet to cook thịt kho tàu, a caramelized braised pork dish eaten during Tet, to the same caliber as her grandma's.
In addition to the challenge of replicating flavors of home, international students struggle to replicate the sense of familial collaboration that comes with cooking.
"It's really sad if I have to make [dumplings] myself," Ai said. "It definitely feels different than when you're making them with your parents because it's more of a collaboration [when] someone is making the filling, someone is making the wrappings, someone is making the dumplings, and someone is boiling the water and cooking the dumplings." 
While social media has an overall positive effect of allowing international students to communicate with distant family, Ai finds it bittersweet to see photos of her family's celebrations in real-time. 
"The meaning of the festival changes, especially when you have the time difference where you have family members in China celebrating before you," Ai said. "You can know what they're doing but you can't be involved because you have your own life going on. I literally had a midterm last year."
However, Ai, Dinh, and Huy Le agreed that cooking and eating with fellow students and attending community events like Tet in Seattle makes the city feel more like home. 
This year, Ai looks forward to wrapping dumplings with the Chinese Student Association members and fellow international students, while Dinh will cook and eat a traditional meal with new Vietnamese American friends. Huy Le plans to attempt, thanks to a phone call to his mom in which she explained the complex recipe, to make banh chung with friends. 
"Food is a reminder of where I'm from," Huy Le said. "It's a way for me to remember my family and look forward to seeing them again."
To partake in the celebrations, visit Tet in Seattle at Seattle Center from Jan. 18 to 19. On Lunar New Year's Day, visit the Lunar New Year Celebration and Fair at the Wing Luke Museum in Chinatown to watch a lion dance, make crafts with local artists, and play games. For an on-campus celebration, check out the 53rd annual Lunar New Year Gala on Feb. 1 hosted by the Chinese Student Association. 
Reach columnist Estey Chen at arts@dailyuw.com. Twitter: @esteychen
Like what you're reading? Support high-quality student journalism by donating here.