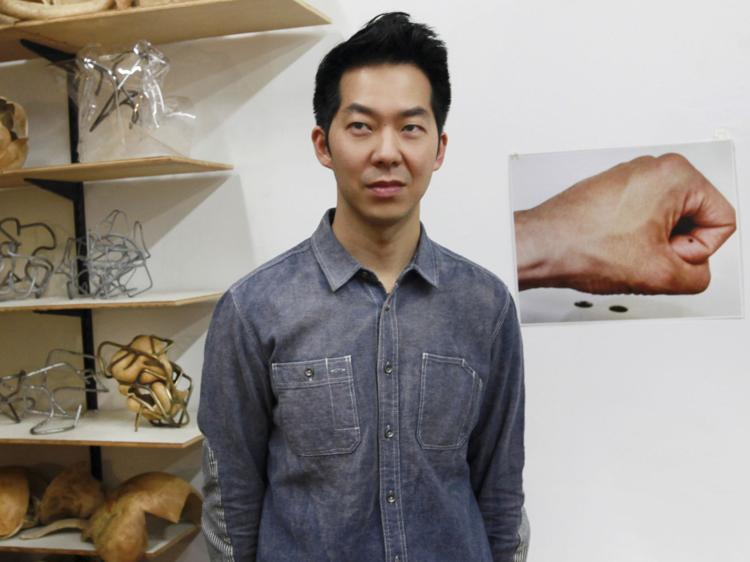 Had Robert Rhee gotten that job as a zamboni driver, things would have been different. As an undergraduate studying English and creative writing at Yale University, Rhee accepted a work study position — his second choice — as a wood and metal shop monitor in the school's sculpture building. There, a teacher prompted him to take a sculpture class, which ultimately led Rhee away from English classics and poetry and "down the path of making."
After receiving a bachelor's degree in fine art, Rhee did what most post-graduates do: returned home to his parents house — living in the garage so as to not admit total defeat — and had a "freak-out." Craving a life with some semblance of linearity and grappling with the realization that the "amorphous" path to art was anything but, Rhee began working as a production intern at a film company. He spent about eight years distancing himself from making art before slowly returning to the practice through jobs as a studio assistant and handler at an art gallery.
"I had to build an organic community of thinkers, makers, [and] people of dialogue," Rhee said. "Through that, I got back into making work on my own terms."
Rhee will join the UW School of Art + Art History + Design in the fall as a tenure-track assistant professor in Interdisciplinary Visual Arts. Beyond teaching, Rhee describes himself as a "rubbernecker and collector of accidents". He shrugs off the notion that his work follows any particular theme, but acknowledges that there are areas of interest, like structure, he frequently builds from.
For Rhee, "structure" can refer to the manipulation of materials through processes of making and "unmaking," constructing and "dismantling," or it can be understood as the space, whether it be in college or outside the walls of academia, in which art is produced and analyzed. Rhee's experiences sharing his work in these formal and informal settings — for example, the academic critique process versus his studio — have allowed him to conceptualize structure as a principal determinant in his "cycle of making."
"I think making creative work within the structure of a college or institution is so different from making it outside, because dialogue and discourse are built into the making of the work," Rhee said. "In some ways, that structure informed what I made; but when I was outside of school … the structure and cycles of making would get much longer, more curated, and internal. That really changed the way I worked; it's cliché, but I started making work more for myself, because I was the main audience — the maker and the viewer."
When it comes to teaching, Rhee seeks to incorporate the inquisition and anticipation generated by the critique process and other forms of exhibition into his mentorship of students.
"The way I've come to describe it to students is: if you go to a fancy restaurant, there's a menu that doesn't just tell you what you're going to eat, but describes [the food] to you to create a sense of anticipation, so that when you receive it, you build a narrative or experience," Rhee said. "I try to focus on that element of the discourse. Questions of 'why this' or 'what is the purpose of this' are really a way of saying 'I want to get excited about this; show me how to get excited about this.'"
Rhee is also enamored with connectivity and the "moments where things touch, either physically or metaphorically, and they define each other." Gourds and Sēdoka poetry are two mediums he often uses to explore this interest in encounters, or the responsiveness of one material or form of dialogue to another.
His latest exhibition at the Frye Art Museum, "Subspontaneous," is a collaboration with fellow Seattle artist Francesca Lohmann that involves pouring two "disparate materials," alginate and plaster, into empty gourds and observing as the different densities push and pull against each other. Rhee admires this interaction because he views it as representative of "dissolving" himself in the process.
"To me, that seems like the next step for the work, because it is yet another place in which I am not determining what happens, '' Rhee said. "One term I like from Duchamp is [his discussion of] the rendezvous: 'I'm present for the rendezvous' and 'I create the rendezvous.' That is what I'm interested in; the more that I can set the practice in motion and not be there minding it, that to me is the most my work, ironically."
Rhee is coming to the UW after previously holding an assistant professorship at Cornish College of the Arts. Although the pandemic has complicated this transition and shrouded the upcoming quarter in uncertainty, Rhee believes in approaching our current state of disarray from the unique perspective of encounters.
"We are all being forced into a certain encounter, so perhaps the best way forward is to encounter what is being forced upon us: how do you make sculpture with a limited set of materials, frame of time, or way of presenting the work?" Rhee said. "[I think] you take advantage of your fixedness, where being located in a single place becomes not a thing to recuperate your mobility, but you become intensely interested in fixedness."
This idea of recuperation or using productivity to fill the empty days during stay-at-home orders is plaguing many of us, whether it be through collective media pressure or our own friends and family. For Rhee, this is regrettably reflective of a pervasive burnout culture, which stresses the belief that a "good life is a full life." In essence, we must always seek out "major life experiences" that reinforce each other and produce a limitless sense of fulfillment.
The catch, Rhee claims, is the impossibility of relative highs in the absence of lows.
"Trying to use this moment, which is a moment of rest, as one where we have to keep raising the amplitude is absurd in a way that really reflects that kind of societal disruptive thinking," Rhee said.
Rhee wants students to understand that meaning and satisfaction, regardless of if they come from making art or driving zambonis, derive from our recognition of and exposure to the lows.
"What makes those experiences meaningful is that they are peaks in between valleys," Rhee said, referencing the book "The Burnout Society" by Byung-Chul Han. "You cannot have a life of just high-key moments; if you just have those moments, they'll feel like whatever is the normal."
Reach reporter Brooke Kaufman at arts@dailyuw.com. Twitter: @bkaufmanLJ
Like what you're reading? Support high-quality student journalism by donating here.