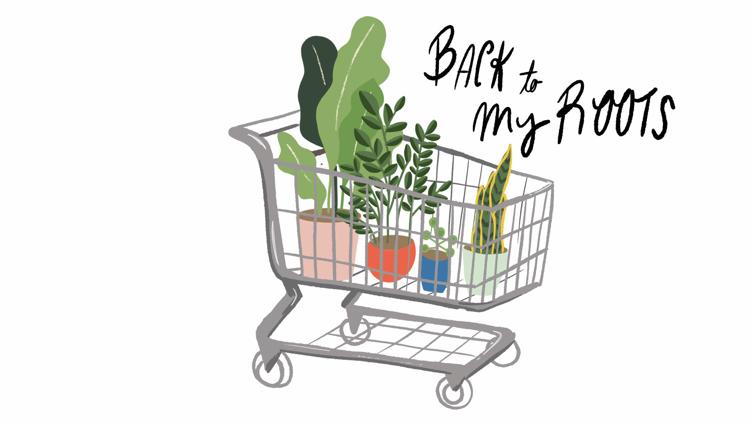 Being the plant lover I so obviously am, I am one for green foliage. But when spooky season comes around, I love filling my space with deep and dark leaves that are nearly black or plants with Halloween-themed names. Here are some of my favorite houseplants if you want to add some goth touches to your home in time for Halloween. 
Burgundy Rubber Tree 
This is a common houseplant that's inexpensive, depending on the size, and a super easy plant to care for. Because it's a tree, it does need high light conditions, but other than that, I neglect mine. The leaves are a deep green and in some lighting appear to be black. 
If you're in the market, I found a baby one at Red Light on the Ave the other day. 
Raven ZZ
Raven ZZ is the plant for you if you want truly black leaves. This houseplant is nearly indestructible. Low light? It'll be fine. No water for months? Good as new. This is the houseplant to get if you don't know what you're doing — so much so that I recommended it as a starter plant at the very beginning of this column. 
The leaves come out a bright lime green, and over time they fade to a pure black. The leaves stay glossy if cleaned regularly, so this one is an eyecatcher. 
Philodendron Imperial Red
This climbing philodendron has dark burgundy leaves up top, while the undersides have a red hue to match the deep red stems. This plant is a statement piece if you have the space, because given the right conditions, these leaves get big. I purchased mine from Indoor Sun Shoppe in Fremont and it's already giving me a new leaf just in time for Halloween. 
This, like most other climbing philodendrons I've owned, has easy care requirements: bright and indirect light, watering only when the soil is completely dry, and average humidity. 
Philodendron Micans 
The philodendron micans is all the rave right now, and for good reason. This trailing philodendron produces dark, velvety leaves with burgundy backsides and has similar care requirements to any other trailing philodendron or pothos while being absolutely stunning. 
This plant is a little harder to come by right now because it's in high demand, but if you're lucky, you can find some in plant groups or local shops. 
Philodendron Florida Ghost
The ghost gets its name from the unique process the leaves go through. If given enough light, this plant will produce white leaves, and over time, they will slowly fade to green. This plant is one of my current favorites, though it is on the pricier side of the spooky plants. Peace Love and Happiness Club usually has a few in stock for about $130.
Its care requirements haven't differed from any of my other philodendrons, aside from its growing medium. My ghost is currently growing in sphagnum moss because that was the medium it was in when I purchased it, and I didn't want to disturb the roots by transplanting. 
There's something about decorating my space with dark and oddly shaped plants that gets me in the mood for spooky times. And there's something so cool about a plant — something that we know needs green leaves and chlorophyll to live — that produces rich, deep, dark leaves like it's nothing. If you're in the need for that rush of serotonin from making a purchase, why not add a goth plant to your space? 
Reach Health & Wellness Editor Iseabel Nance at arts@dailyuw.com. Twitter: @iseabel
Like what you're reading? Support high-quality student journalism by donating here.