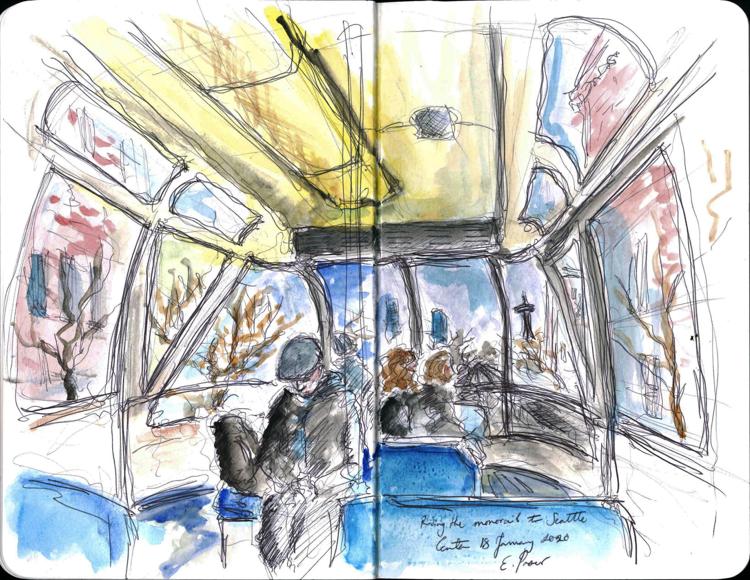 Whenever I go to Seattle Center, I always try to ride the monorail. It turns a 15-20 minute, crowded, unexciting bus ride from Westlake Center into a two-minute trip that is paradoxical, fun, and practical. 
Since October of last year, the Seattle Monorail has begun accepting Orca cards. This makes riding the monorail all the more attractive and, in a way, seem more commonplace rather than like a novelty. Sure, there are still the tourists who ride it for the experience, but much like the ferries, I feel like there are also those who ride the monorail out of pure utilitarian convenience. 
Rather than standing outside, unsure of when a bus will come to Seattle Center, commuters and tourists alike can expect the monorail to arrive every 10 minutes. The tall windows provide a sweeping view of the city as it glides along Fifth Avenue, 25 feet above street level. 
Originally built as a part of the 1962 World's Fair, it was believed that the monorail would expand to become a mass transit system that would connect all of Seattle. Multiple votes and pieces of legislation were drafted to try and expand the network, but after years of debating, nothing ever passed.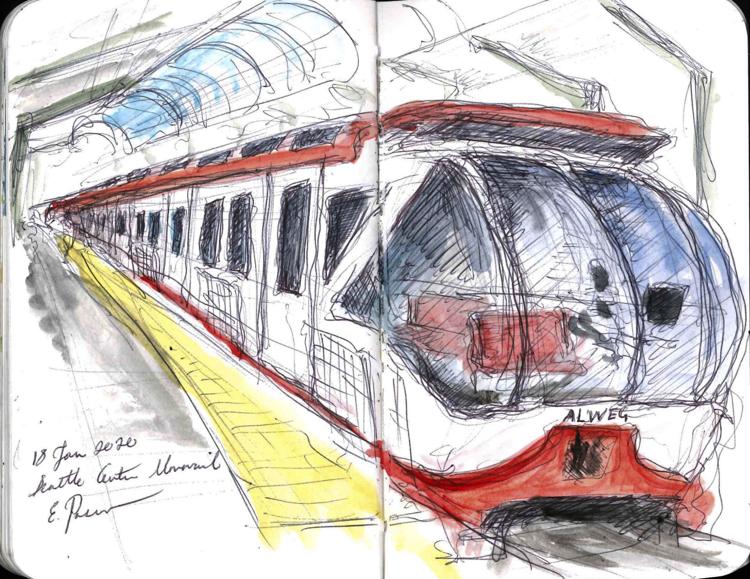 The monorail is such an interesting Seattle phenomenon. As someone fascinated by urban environments and how people interact within these spaces, this 1960s space-age, two-minute train ride between two centers in Seattle feels iconic and special. The train rattles as it speeds along the track, leaning to one side as it rounds a bend. The colors of the cars are a soft cream, with one train painted with orange stripes and the other with pastel blue.
The monorail looks and feels old without a doubt, but at the same time was designed with the intent of transporting people to the world of the future. Surprisingly, the paradox of the past and the future live on in the monorail to this day. 
Until the next sketch,
Reach The Campus Sketcher at arts@dailyuw.com. Instagram: @the_campus_sketcher
Like what you're reading? Support high-quality student journalism by donating here.