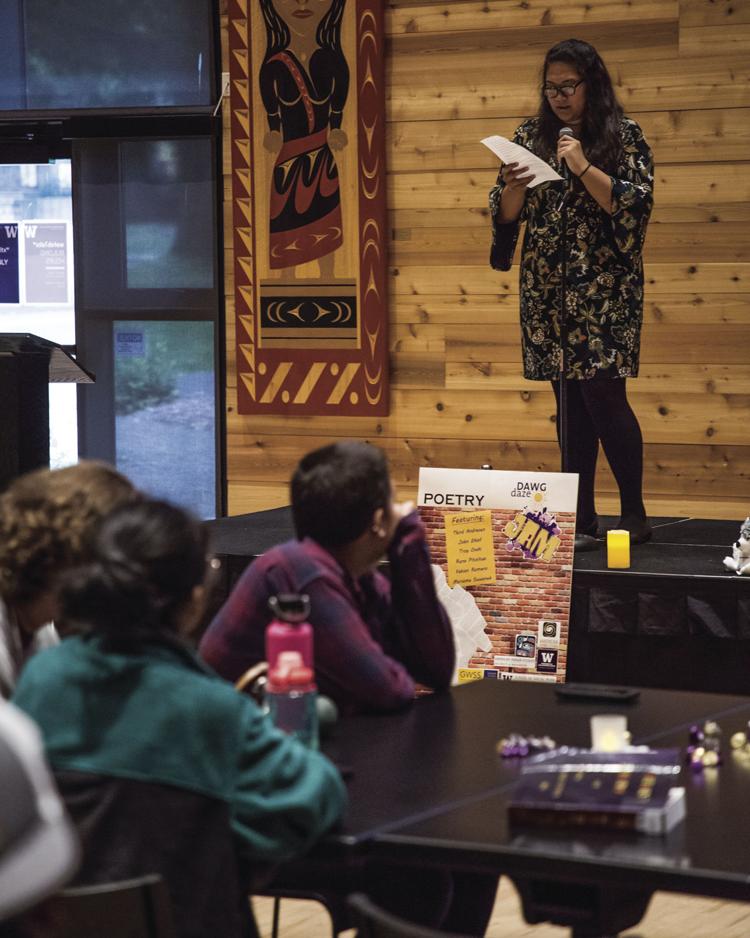 Students, new and old, filled the wǝɫǝbʔaltxʷ — Intellectual House at the UW on Friday, Sept. 21 to enjoy poetry performed by members of the UW community at the Social Justice Spoken Word/Poetry Open Mic event put on as a part of Dawg Daze by the School of Social Work and the departments of law, societies, and justice, American Indian studies, American ethnic studies, and gender, women, and sexuality studies.
Ananya Garg, a senior in both the comparative history of ideas and gender, women & sexuality studies majors, emceed the event.
Garg began by emphasizing the importance of engaging with the speakers.
"It takes a lot of guts to get up here and speak your mind," Garg said. "It's more than just a performance, it's an interaction."
After having the audience agree to engage in a discussion with the participants, she also taught the audience how to communicate their feelings for the art being shared.
"You can snap, you can stomp your feet, you can say 'speak, poet,' and you can do your own thing," Garg explained. "It's about showing them that you're listening and understanding."
One of the artists scheduled to perform was Third Andresen, a UW alumnus and the current department chair for American minority and ethnic studies at Green River College.
Andresen, after acknowledging and appreciating that the venue is on native lands, began his time on stage by sharing the meaning of his two pieces.
"This [performance] is about the internalized, inter-ethnic conflict we [have] going on in our communities because we don't pay it enough attention," Andresen said.
Mariama Suwaneh, a recent alumna of the UW, also connected back to the theme of "social justice, equity, identity, and social change."
"Sometimes, my friends and I, we joke about competing in the 'oppression Olympics,' where we talk about who had the worst day because of who we are," Suwaneh said. "One thing I've noticed [is] that black men don't participate, they don't talk about it."
After explaining her experience and perspective, Suwaneh performed a piece dedicated to seeing the difficulty that African-American men face in identifying and sharing their struggle.
Other performers included Troy Osaki, an alumnus of the co-sponsoring American ethnic studies department; Runa Pitoitua, a UW undergraduate seeking her B.A. in American ethnic studies and anthropology; and Fabian Romero, a Ph.D. student in the department of gender, women, and sexuality studies.
The event, being an open mic, also included performances by audience members who signed up upon entry. One of those performers included Jerred Mace, an incoming freshman.
"Poetry is one of my passions, so I went to the open mic to see what the poetry scene [at] UW is like," Mace said.
He shared a poem from his own book, Visions, a collection of poems and photography.
"I independently published my own book, and I wanted to get my work out there and get some exposure," Mace said.
Mace shared his thoughts about the event as a part of the Dawg Daze experience.
"It was a cool event and I was glad I got to go and get a glimpse at the perspectives of people around campus," Mace said. "It was a good experience to get a feel for what poetry is like in the UW community."
Reach writer Kiran Singh at arts@dailyuw.com. Twitter: @SinghKiran20