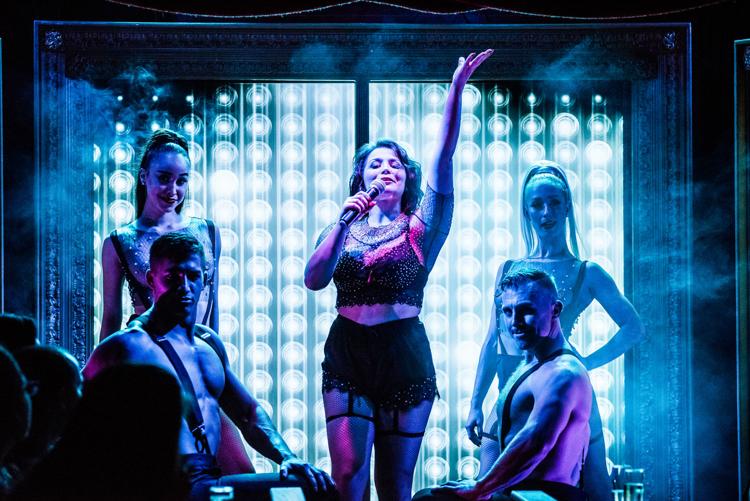 "C'est la vie," translated as "that's life," is a phrase that expresses an acceptance of the trials and tribulations of everyday life, and might best encapsulate our attitude toward the troubling times we live in. But "Bonbon," a tantalizing cabaret accompanied by delectable beignets, may serve as somewhat of a remedy, a reminder of carefree days long-past to take our aching hearts away from the present.
Tucked away under Pike Place Market, Can Can Culinary Cabaret is bathed with lighting evocative of the rouge-soaked tapestries of Montmartre's Moulin Rouge, so prepare for a deluge of Old World charm. The venue is reminiscent of the hope embodied by "La Belle Époque," a period of French history regarded with fervent nostalgia that ended with the beginning of World War I.
"Bonbon" is a postmodern interpretation of cabaret that blends vaudeville, jazz, and baroque as an exquisite homage to the stars who graced the stages throughout history. The immensely talented choreographers and artists throw in their own twist and a bit of raunch though, better engaging the audience in the intimate performance.
Magnanimous MC Jonny Boy sauntered up the catwalk within the first few notes of Offenbach's "Can-Can", starting the audience's pulsating hearts with the desire to, in Jonny Boy's words, "fight or f---."
In the first act, we are introduced to the harrowing tale of femme fatale Bonbon, who has to cope with the fallout from an affair. Acrobats dazzle with twirls off low-hanging chandeliers, weaving sexual tension with a morbid fascination as we witness an absurdist take on her affair that goes south, culminating in her kidnapping and presumed demise.  
In a manner wholly surreal, dancers are flung onto beds, contort their bodies in seemingly impossible ways, and change attire on the fly. However, the cacophony never borders on lewd. Rather, it is comparable to a high-octane, sexier version of a circus act.
One major highlight of this production is the catwalk wedged between the seats, with metal poles fixed horizontally above the wood-paneled railings. The dancers balance themselves with beautiful control, and the dancing takes place mere inches from the audience's faces.
As the lights lifted the audience out of the narrative for intermission and back into reality, chatter abounded. This was a break done correctly, a cliffhanger that left us wanting more.
Jonny Boy graced us with his presence, still glistening from his own performances throughout the show. There were only five performers, all of whom were physically taxed by the choreography. Yet, his beaming grin and infectious energy carried us throughout the show, which I can only call a fever dream.
After a brief intermission, Bonbon makes a triumphant return, this time masquerading as one of the performers, seeking revenge on those who wronged her.
In the second act, dancing prowess was at a high for dancers Shadou Mintrone, Madison Oliver, and Jordan Tayler, whereas clothes were at a critical low, revealing a fluidity of motion that was unprecedented anywhere else in the show.
With one emotionally raw performance after another, the show was also shaken up by the invitation of audience members to participate in debaucherous acts of their own. The pace of the show picked up, and the fourth wall came down.
However, there was a deliberate pause in the eye of the storm, featuring Bonbon belting out a wonderful rendition of "Dream a Little Dream of Me," creating a melodic dissonance with the unraveling otherwise masterfully controlled in the final act.
Even after the farewell number, the audience was in disbelief, heartbroken that the show was over and that the magic was gone. But this was a night to remember. This show is true artistry, and it is such a rare treat that you will wish you could forget it just to re-experience it again.
"Bonbon," originally running until April 21, has been extended to June 2 due to popular demand. Shows are at 7 p.m. and 9:30 p.m. from Wednesday through Sunday. Tickets can be purchased on the Can Can website. Excepting for Sundays, students can show their ID at the door for $25 rush tickets. There is also a family-friendly version of the show called "Bonbon Brunch" on Saturdays and Sundays at 12:30 p.m. and 2:30 p.m.
The verdict: If you ever plan an evening in the Westlake area, be sure to follow the quiet staircase into "Bonbon," one of the best shows in town.   
Reach writer Andy Chia at arts arts@dailyuw.com. Twitter: @chiabacon
Like what you're reading? Support high-quality student journalism by donating here.