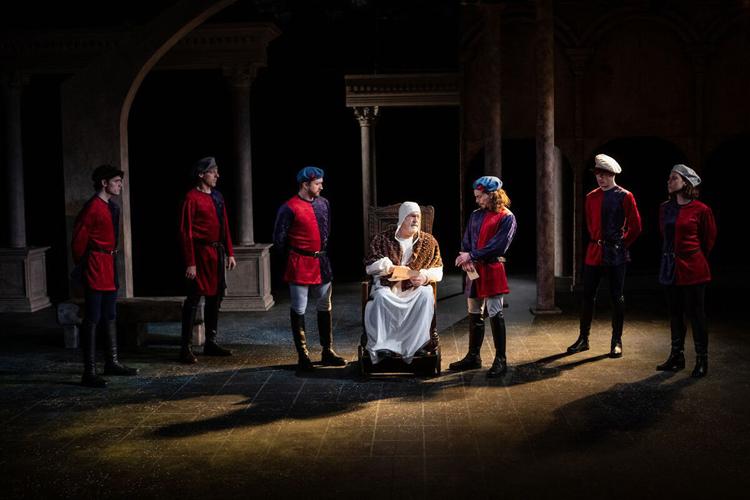 Contrary to popular belief, the phrase "all's well that ends well" did not originate from Shakespeare. Rather, it is an old proverb that roughly translates to the idea that as long as a situation ends well, the problems that may have occurred along the way were worth it.
The Seattle Shakespeare Company capitalizes on this idea for the play "All's Well that Ends Well," which they're performing down at the Center Theatre at Seattle Center.
The play is a comedy by Shakespeare, and though some modern critics now class it as a "problem play" that is somewhere in between comedy and drama, this company took it the traditional comedy route and ran with it.
The humor comes from the situation of the main character Helena, who heals the king and is granted by him whatever husband she desires. The would-be husband did not agree to this and runs away to war rather than be married to the beautiful bride.
The play is set in France and the set is beautifully simplistic, with pillars and arches that hint at French architecture and made for a very versatile set that didn't need to be changed.
The costume department didn't fail to truly capture what can be imagined of a Shakespearean play and each character was well garbed for the occasion. The first character to appear on stage is the Countess, who is in mourning after losing her second husband, and her black gown made it apparent that she was mourning before the first line of the play.
Actress Keiko Green stars as Helena, and gives the phenomenal display of passion and cleverness that the character is known for. Even before Green said a line, her facial expressions and body language spoke volumes of her acting ability, as they truly illustrated what Helena would've been feeling at the time. She makes you sympathize with the character before you even hear her voice.
Green, as well as the other cast members, delivered their lines with the precision and skill you expect from a professional company. There was perhaps one stumble, but it was so well covered that it may have actually been part of the script.
The chemistry the cast had on stage was amazing. It was clear the cast was enjoying themselves in their craft and building off the laughter of the crowd and the unique energy each actor brought to the scene.
As someone who slightly struggled with understanding Shakespeare in high school, this play was extremely enjoyable and funny. There was more than one insult that is worth saving for a rainy day.
The beauty of Shakespeare is in the language he created and the words that came from him. The cast had no difficulty with iambic pentameter and delivered their lines with a fluidity that most can only dream of achieving.  
There was one scene that definitely had a "Bachelorette" feel, but it served to prove how timeless this play is and how the comedy of such an act was entertaining even before the popular television show.
As someone who had never read the play (I read SparkNotes before I went to see it for context), it was an enjoyable experience, and it wouldn't be amiss to say that those who have read it are bound to enjoy themselves.
The Company performed this classic tale professionally and in a way that everyone can enjoy. The actors succeeded in doing something that all plays hope to accomplish: they made it feel real.
"All's Well that Ends Well" runs from Jan. 8 to Feb. 3 at Center Theatre with performances Wednesday through Sunday.
The verdict: If you have the time, it is definitely worth experiencing this performance either alone, with your significant other, or a group of friends. You won't be disappointed.
Reach writer Zach Jablonski at arts@dailyuw.com. Twitter: @ZachJablonski14
Like what you're reading? Support high-quality student journalism by donating here.