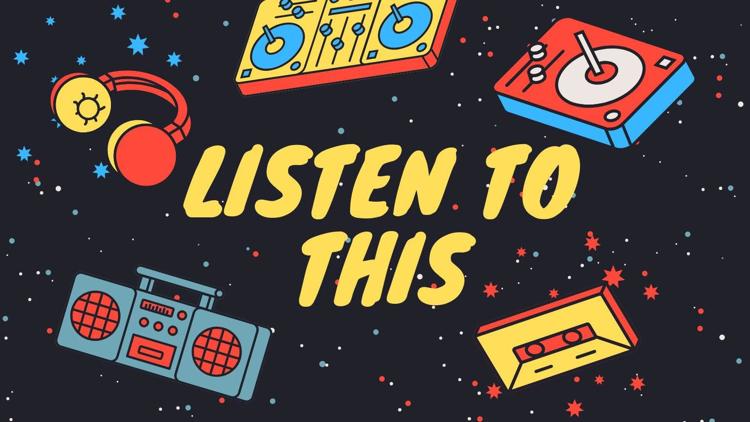 I've always been indifferent toward Valentine's Day. One on hand, I'm an overly dramatic hopeless romantic. On the other hand, I'm cynical and mean.
But now that I've gone through the trial run of real life for a couple of years, I've realized a couple things. In the past, I've been way too dramatic, and sometimes, I've been way too cynical. I've also realized that these two personality traits tend to balance each other out. 
So for this upcoming Valentine's Day week, I compiled a playlist with three themes: overly romantic bullshit, sad boi music to hate the holiday to, and a totally unrelated set of songs that have nothing to do with Valentine's Day.
The first song on the playlist is "Hands Down (Reprise)" by The Greeting Committee. The Kansas City, Missouri based band first hit the public's radar in 2015 after the release of a demo version of their most popular song, "Hands Down." The original version of the song was later edited, then re-released on their 2015 album "It's Not All That Bad," and currently has around 14,700,000 listens on Spotify alone.
The version on the playlist was released in 2017, as a slower, more lovey-dovey version of the original. The reprise version features a simple guitar melody that compliments lead singer Addie Sartino's smooth and relaxing vocals. Each part of the song's instrumentation is distinct, but fits well together. You can mostly hear the great mixing in the chorus.
The track also features some of the sappiest lines I've heard, like, "Baby, you're hands down the best thing / About me," and "Baby, don't know where I was / But I'm so glad you found me," and in all honesty, these lines break my heart in the cutest way possible. This track never fails to fill my heart with the warm, overflowing feeling of romantic love.
The next section of the playlist is filled with various tracks that each have a healthy level of sadness and loneliness. None of these songs revel in their sadness to the point where it's painful to listen to them, but they will definitely invoke a level of sadness similar to the week after a breakup.
The main song I wanted to take a look at for this section of the list is "(She's) Just a Phase" by Puma Blue. This song has been my personal favorite breakup song for a couple of years now. The title of the song alone gets me in a vaguely sad mood.
This song's production is awesome. The first six seconds of the song are near silent except from a low level of record scratch static, then it slowly and somberly shifts into a lo-fi-type guitar chord progression with sad, mumbly, and near indecipherable first verse. While the song's lines like "Twisted dark sister 'round my finger I wish / Streak of blue, linger you, I feel no kiss," make no real sense, the literal words are just edgy enough to make you feel bad about your love life. 
The last section of the playlist has absolutely nothing to do with Valentine's Day. These are a bunch of songs that I've been listening to for the past month that I've absolutely fallen in love with. 
The main song I want to talk about for this section is "CLOUD" by Monsune (Scott Zhang). This song is featured on the artist's 2019 EP "Tradition." I fell in love with Monsune's music last year after I found the music video for his 2017 single "Nothing in Return." 
"CLOUD" features a bedroom pop/lo-fi production layered over a booming bassline and a shrill but satisfying chord progression. Mixing this with Monsune's almost sexy lyrics, the song is a definite banger.
I hope y'alls' Valentine's Day week is chill and filled with love, warm feelings, spite, or just pure indifference.
Reach Development Editor Kyle Bender at arts@dailyuw.com. Twitter: @ATOMICpandaBOMB 
Like what you're reading? Support high-quality student journalism by donating here.