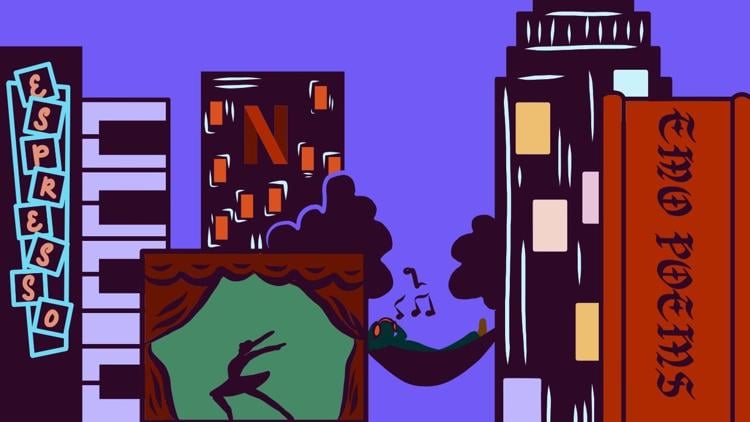 What we're watching
Tatum Lindquist, writer (@TatumLindquist)
Even under quarantine this past spring quarter, I left no time to watch my ever-expanding list of movies and shows to catch up on. Now, with the summer off, I am shamelessly relaxing and binge-watching. However, that doesn't mean I'm not still learning.
This past week, I finished season two of one of my favorites: "Pose," a series set in the 80s and early 90s in the midst of ballroom culture. It follows the life of Blanca Evangelista, a Dominican transgender woman set to start her own house for other LGBTQIA+ people of color. "Pose" digs into the layered prejudice and discrimination of transphobia, racism, and sexism, alongside the activism of AIDS awareness, through riveting performances and the occasional musical number. With just about as many funeral scenes as ballroom scenes in season two, "Pose" left me both full of joy and bawling with its grandeur.
I also finally started "GLOW," a fictionalized story based on the 80s female wrestling circuit. Frank in its depiction of sexism, fatphobia, racism, and xenophobia, it brings an artistic shade to wrestling and a complex dynamic of female empowerment. "GLOW" strikes a balance between comedic entertainment and thought-provoking characterization, and while I have yet to finish the series, if the next few seasons are anything like the first, I will not be disappointed.
Both "Pose" and "GLOW" are streaming on Netflix.
What we're listening to
Diana Davidson, writer (@dianavdavidson)
Even though the Fourth of July has passed, it's important to reflect on the history of the United States — and how it informs the present — every day of the year. I decided to revisit one of my all-time favorite episodes from NPR's "Throughline" podcast, "Becoming America." In the episode, co-hosts Rund Abdelfatah and Ramtin Arablouei walk us through moments in American history and the name transformations the country witnessed. 
Abdelfatah and Arablouei start off the episode by setting the scene for the Spanish-American War in 1898 in the Philippines. The Philippines fought for independence twice, once against Spain, and again against the United States. The United States annexed Guam, Hawaii, Puerto Rico, and American Samoa around the same period. This shift in tone from "manifest destiny" to empire had an influence on the United States' name. 
When the United States was founded on stolen lands, it was declared "The United States of America," which caused some problems in terms of how to address the country colloquially. The United States could have been called Freedonia or Columbia if history went a little differently.  
The U.S. victory in the Spanish-American war had people questioning the United States' name. The United States is no longer a union, as its annexation of former Spanish colonies, among other lands across the globe, was not consensual; it is not a collection of states, because of the aforementioned lands; and it isn't restricted to the American continent. After 1898, people in power used names like "Greater America," "Imperial America," "The Greater Republic," or "The Greater United States," cementing, in speech and in society, that the United States was — and still is today — an imperial power. 
For breakdowns of periods in history and how they inform current events and ideas from around the world, I can't recommend "Throughline" enough. "Throughline" can be found on Spotify, Google Podcasts, NPR.com, or wherever you listen to your podcasts.
What we're reading
Nicole Ursprunger, writer (@nicoleursp)
As the Fourth of July approached, given the current state of the world, I found myself reflecting on issues that have threatened the very principles of freedom and opportunity that America is supposed to stand for. I realized that frankly, given my background, I know very little about these pressing issues to begin with. So, with the extra time quarantine has generously provided me with, I decided to dive into a new read that would both entertain and inform. 
After a quick browse of the Seattle Public Library staff picks, I settled on "The Hate U Give." When it first came out, I refrained from watching the movie with the intention of reading the book first (my typical course of action) but never ended up getting around to it. I finally decided to give the book a go after dabbling in some nonfiction books and documentaries about current issues and ongoing movements with hopes of informing myself in the best way I could. Though it is not comprehensive in highlighting and explaining the deep-rooted issues our society continues to face, "The Hate U Give" was a good start in recognizing the brutality that exists in our country, and does so in a way that appealed to a large mass of people.  
If you are looking to educate and inform yourself, check out these lists of staff picks on fiction and nonfiction by Black authors. 
Reach writers Tatum Lindquist, Diana Davidson, and Nicole Ursprunger at arts@dailyuw.com.
Like what you're reading? Support high-quality student journalism by donating here.