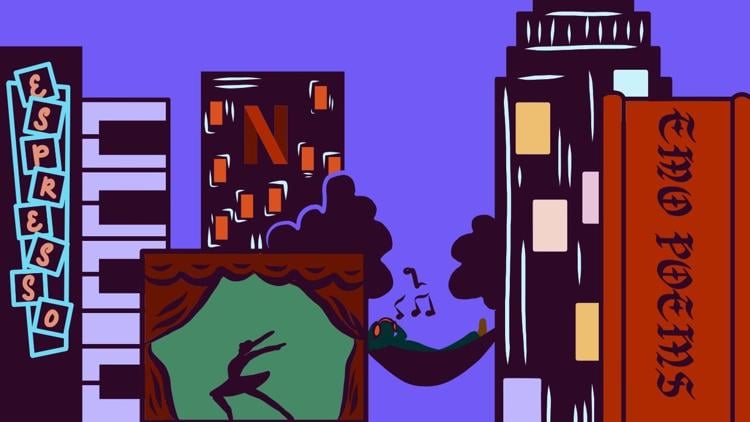 What we're watching
Chamidae Ford, Pacific Wave Editor (@chamidaeford)
I have always loved bad TV. The kind of television that you are embarrassed to watch but can't pull your eyes away from because it's so amazingly horrible. For example, the masterpiece "Jersey Shore," and even worse spinoff, "Floribama Shore." I love a sob worthy moment while watching "Grey's Anatomy," and the extremely problematic rollercoaster that is "Sex and the City." It only makes sense that while trapped inside during the stay-at-home order I would fall into deeply real and everlasting love with the one and only "Desperate Housewives."
Watching this show is like entering a fever dream. Growing up, my mom would watch the live weekly episodes on and off, so I would catch a few jaw-dropping moments every now and then. Now, as an adult, every time something truly insane happens I am taken back to the stolen glances I took as a child of a show my mother would not let me watch. 
The extreme highs and lows of the winding road that is eight hilariously long seasons of "Desperate Housewives" is jammed packed with jokes that don't hit the mark in a post-2010 world. Chalked full of murder, revenge, and extremely humiliating one-liners, I can't help but love the ridiculousness of it all. 
Not only do you get Felicity Huffman going to the same unimaginable extremes for her children in the show as you do in real life, you get a bunch of upper-class people breaking the law and getting away with it.
An added bonus is that the show is full of characters you love to hate. I am embarrassed to admit that my favorite character is, in fact, the gun-toting, Republican, white woman … someone I would never root for in a modern day show. 
You will laugh, you will cry, and you will love to analyze every scene with your friends about why it is so terribly amazing. If you are looking for a show to sell your soul to, this is the one. All seasons are now streaming on Hulu.
What we're listening to
Hannah Krieg, Engagement Editor (@hannah_krieg)
I am insecure about my music taste. I am more than willing to divulge every detail of my life from love, to sex, to religion, to my passing thoughts, but my taste in music is painfully expected. My "Artist of the Decade" on Spotify was Taylor Swift, closely followed by Ariana Grande. Lana Del Rey is basically underground to me. 
Otherwise, I'm cool: I put blush on my nose and sometimes I text in all lowercase and opt for emoticons over emojis. That's cool, right? 
This week I made an explicit effort to explore music beyond my Daily Mix on Spotify and expand my listening to women who make music without the support of huge record labels. 
Back before the idea of reckless human proximity canceled concerts for the foreseeable future, my friend and I saw King Princess at the Showbox. My ex's girlfriend at the time sold us the tickets for half price which basically made that entire failed relationship worth it.
While King Princess's song "Holy" gives me major "Heathers" vibes in the best way, the real star of that show was her opener, Banoffee, an Australian pop artist with nearly 200,000 monthly listeners on Spotify. 
Banoffee's latest album, "Look at Us Now Dad," was released Feb. 21, 2020 though I had already heard my personal favorites, "Contagious" and "Permission," during her performance last year. 
"Contagious" is an interesting listen during a pandemic, and Banoffee has not strayed from drawing the connection as life imitates her art. This song makes me want to get my heart absolutely smashed by someone who drives a white Mitsubishi. When the sun goes down, I plug in my fairy lights and sad girl tweet to this sad girl bop. 
"Permission" is the song though. Banoffee opened her performance with this emotional ballad, just her, a single blonde braid dangling from her baseball cap and an acoustic guitar. Despite the deeply personal narrative of the song, a group of girls continued to carry conversation throughout her performance. When she finished, she called them out. It was hot. 
I was so moved by this song (and so frustrated that I couldn't find it on any streaming services), I DM'd Banoffee on Instagram. She replied that it would be released with her then-upcoming album and that is the most clout I will ever have.
Give Banoffee's new album "Look at Us Now Dad" a listen. It's really the only thing I could recommend that you haven't already heard on TikTok.
What we're reading
Brooke Kaufman, writer (@bkaufmanLJ)
Prior to this quarantine, I was on a real book-buying, fiction-reading kick. Within the span of four months, I consumed Lisa Taddeo's "Three Women," Jia Tolentino's "Trick Mirror"(second reading), Joan Didion's "The Year of Magical Thinking," Rachel Cusk's "Outline," and Rachel Kushner's "The Mars Room." To add some non-fiction spice, I also spent two feverish weekends tearing through Janine Di Giovanni's "The Morning They Came for Us: Dispatches from Syria" and Katharine Smyth's "All the Lives We Ever Lived."
When I moved home for what I thought would be a relaxed spring quarter, I had every expectation that my literary free-for-fall would continue. But the quarter system (as it often does) had other plans, and my vision of productivity is now to finish just one book in these socially distant 11 weeks.
Like many of us, I've been pondering global affairs, particularly, how our current ways of life will shape future perceptions of normalcy and human interaction. Small potatoes, really. These intrusive thoughts did, however, help me choose a quarantine read: Yuval Noah Harari's "Sapiens: A Brief History of Humankind."
"Sapiens" is, above all, the story of us, centering on how our species evolved and what factors led to this outcome. Harari's book takes a looking glass to humanity and chronicles our four significant turning points: the Cognitive Revolution, the Agricultural Revolution, the so-called "unification of humankind," and the Scientific Revolution. If you've ever been curious as to how Homo sapiens transcended all expectations and became influential in most, if not all, life on Earth, this is your book.
Given the current circumstances, "Sapiens" is a compelling read. How does the pandemic fit within the scope of history? Are there indicators we missed or intervention points that unknowingly passed us by? Whatever the case, looking back may just show us the way forward.
Reach Pacific Wave Editor Chamidae Ford, Engagement Editor Hannah Krieg, and writer Brooke Kaufman at arts@dailyuw.com. 
Like what you're reading? Support high-quality student journalism by donating here.