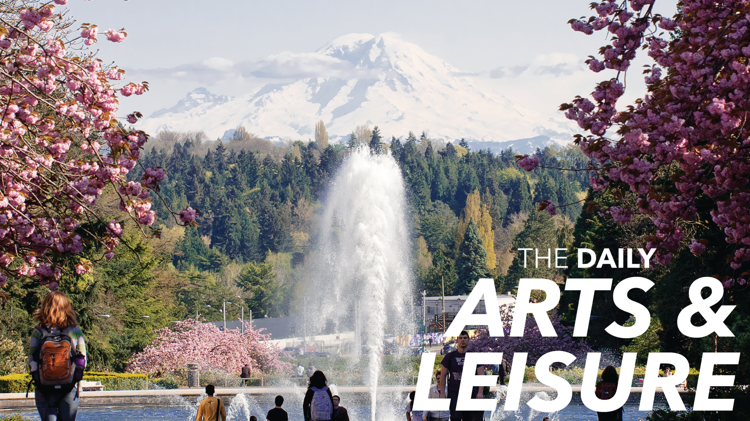 The Sephardic Studies Program at the UW Stroum Center for Jewish Studies hosted a Zoom webinar Aug. 9 featuring professors David Bunis and Devin Naar, who talked about the past, present, and future of Ladino language, studies, and culture.
David Bunis, a visiting professor at the UW in 2013–2014, is the Ladino Studies chair at the Hebrew University in Jerusalem. Bunis has dedicated over 40 years of his career to studying Ladino. 
Ladino is a Sephardic language with influences from many languages, including Spanish, Hebrew, Turkish, and Aramaic, and has historically been written with the Hebrew alphabet.
Naar started the talk by asking Bunis about his journey with Ladino, starting from his childhood.
Bunis grew up in Borough Park and moved to Sheepshead Bay, both in Brooklyn, New York, where there was a Sephardic synagogue. Bunis went to Hebrew school after school and studied Biblical Hebrew, until he started preparing for his bar mitzvah and learned Yiddish. 
"I saw words, and as I started to read the Hebrew letters that I knew, I suddenly realized that I knew those words," Bunis said. "It dawned on me that actually I knew some Yiddish and had no idea before that I even knew the language." 
Bunis then went on to describe how he had gone to visit an uncle in Brooklyn who had a rich library and found Uriel Weinreich's "College Yiddish." Bunis found a chapter on Jewish language, where he encountered the word "Judezmo," and a Ladino translation of the Hebrew Bible, for the first time. That was the start of a decades-long journey into the world of the Ladino language.
A lot of previous scholarship on Ladino has situated the language in a Spanish or Hispanic studies context, "preserving the language of Cervantes, a reservoir of the Golden Age of Spain and that kind of tradition in the songs and in the refrains in the proverbs," according to Naar. Bunis took a slightly different journey with Ladino.
"It cannot be denied that whatever we call the language certainly preserves important features of Old Spanish," Bunis said. "The Jews, the Christians, and the Arabic-speaking Muslims in medieval Spain shared a lot." 
For one thing, they shared a phonetic system, and when the Jews were expelled from Spain in 1492, they brought that sound system with them to wherever they went, with many settling in the Ottoman Empire in what is today's Spanish Morocco and Italy.  
Other linguistic features of Ladino were acquired after the Jews left Spain, as well — most notably the Hebrew component of the language and the Hebrew written alphabet, according to Bunis.
Bunis wanted to bring a high level of linguistic scholarship to Ladino, as Weinreich and other linguists did with Yiddish. In order to understand Ladino's development, he used proverbs that could be traced back to Hebrew sources and tracked elements that were incorporated from the surrounding cultures, primarily Turkish. 
"This kind of unique ... independent development of the language, among the Jews who were very loyal to their Judaism, very loyal to their own group experience within the large framework of either Ottoman culture or North African culture — this is really what attracted me about the language," Bunis said.
Ladino language and culture is a fusion of the interactions of its surrounding languages and cultures as history evolved. 
The name for the Ladino language has been widely debated for decades, as Bunis discovered through his studies. Over the years, it has been referred to variously as Judeo-Spanish, Judezmo, and Ladino. Many scholars from the Sephardic community said that Judezmo is what community members call the language, and they consider it a Jewish language.
"You could say the Sephardic world and the scholarly world interested in Sephardic Judaism can be divided into various camps — each camp with the name that it prefers and the scholarly approach that it prefers to the language and the culture," Bunis said.
Some scholars have talked about "the death of Ladino," but Bunis thinks quite the opposite.  
"I think the status overall of Ladino has risen tremendously; it has grown," Bunis said. "There is certainly much more of an awareness of Ladino, Ladino music, food traditions; certainly the authority of Ladino language and culture has helped." 
Interest hasn't grown only in Israel; it has blossomed in young scholars in Spain, Turkey, Germany, and even here in Seattle, home to one of the largest Sephardic Jewish communities in the United States.
The overwhelming interest in Ladino among UW students, faculty, heritage speakers, access students, and local communities is promising to the future of the Ladino program at the UW and to the language at large, according to Naar.
Bunis has been virtually teaching from Jerusalem two inaugural intensive Ladino courses this summer to about 50 students all over the world. 
"I have been to many Sephardic communities throughout the world, and I must say that in my opinion, Seattle is the Ladino capital of the United States," Bunis said. "I've never been to a community in which I had a sense that Ladino is so alive as in Seattle."
Reach writer Diana Davidson at arts@dailyuw.com. Twitter: @dianavdavidson
Like what you're reading? Support high-quality student journalism by donating here.