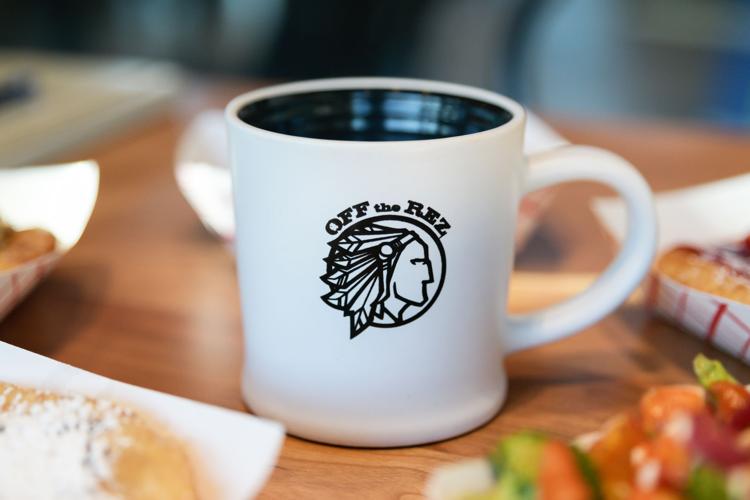 Author's note: Chow Down is a weekly column exploring the intersections of food and culture on campus and beyond. Its goal is to encourage readers to engage with food in new, thoughtful ways and, more importantly, enjoy chowing down.
As much as people in the Pacific Northwest talk about appreciating the rich Indigenous history of our region, the limited Native American restaurant options and lack of awareness of Native American foods (beyond smoked salmon) reflect our surface-level understanding of Native American cuisine. 
The opening of Off the Rez in the Burke Museum on Oct. 12 might be that much-needed first step to launch Native American food into our collective culinary consciousness. 
Off the Rez, possibly Seattle's only Native American restaurant, comes eight years after co-owners and longtime couple Mark McConnell and Cecilia Rikard opened their first food business venture, the Off the Rez food truck, in 2011.
Motivated by both a desire to be their own bosses and their fond associations of food and family bonding, McConnell and Rikard, both UW alumni, set their sights on starting a food business in Seattle. But it wasn't until McConnell, whose mother grew up on the Blackfeet Reservation in Montana, found himself craving the fry bread of his youth that the idea to open a Native American food business emerged. 
Though McConnell's failure to find fry bread, a thick, fluffy bread traditionally made with only white flour, processed sugar, and lard, confirmed the unfortunate lack of Native American representation in Seattle's food and business scene. The failed search uncovered a valuable opportunity to introduce Seattleites to Native American cuisine.
Today, McConnell and Rikard serve a variety of toppings on fry bread, from savory options like Indian Tacos with chili or pulled pork to sweet options like lemon curd, out of their food truck and at their new permanent location in the Burke. Everything is made in-house.
Fry bread is certainly Off the Rez's most well-known dish, but the decision to serve it was not clear-cut.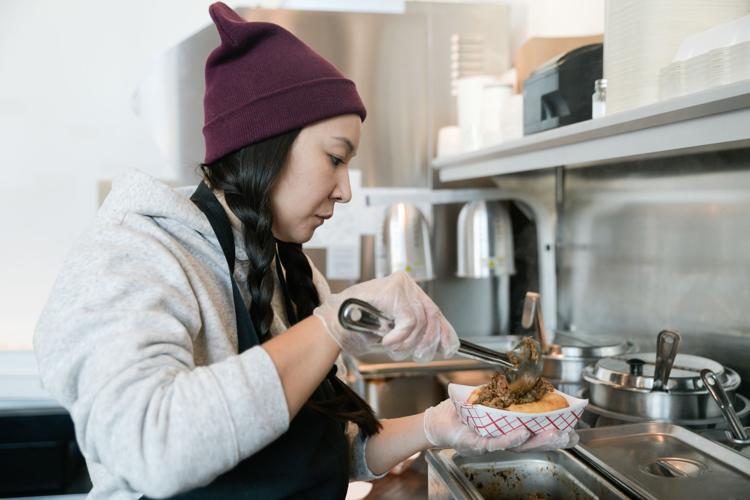 Native American food can be understood through two categories: pre-colonial and post-colonial. Pre-colonial Native American cuisine placed an emphasis on sustainably sourcing hyper-local ingredients and genuinely connecting to the process. 
Post-colonial Native American cuisine comes from Indigenous peoples' forced relocation by the U.S. government and subsequent reliance on processed rations provided to them by that government. This diet of processed, refined foods continues to negatively impact the health of Indigenous communities across the country. 
As a result, some regard eating and serving fry bread and other post-colonial foods as too painful of a reminder of repeated, systematic oppression by the U.S. government. 
Rikard and McConnell recognize the arguments against fry bread but still believe fry bread has a place in Native American cuisine, especially as a story of resilience and symbol of community unity.
"[The U.S. government] basically gave them nothing great — flour and lard — but the Natives turned it into something delicious and wonderful and celebrated in the community," Rikard said. "It's kind of a cool story of the ability to take nothing and make it into something."
Off the Rez's menu finds a balance between the two opposing perspectives by blending pre- and post-colonial ingredients and techniques.
Rikard visits local farmers markets to select seasonal ingredients, embodying the pre-colonial practice of harvesting and preparing whatever regional produce was ripe at that moment, and their menu features common pre-colonial ingredients like wild rice. 
Unique to the permanent location is their roasted sweet potato salad and braised bison taco topped with cheddar, iceberg lettuce, crema, and pickled red onion, a nod to the significance of bison in Blackfeet culture. Game meats like braised bison, braised elk, and duck breast also appear on Off the Rez's catering menu, but McConnell and Rikard chose bison meat because its similarity to beef allows customers to gently ease themselves into game meat.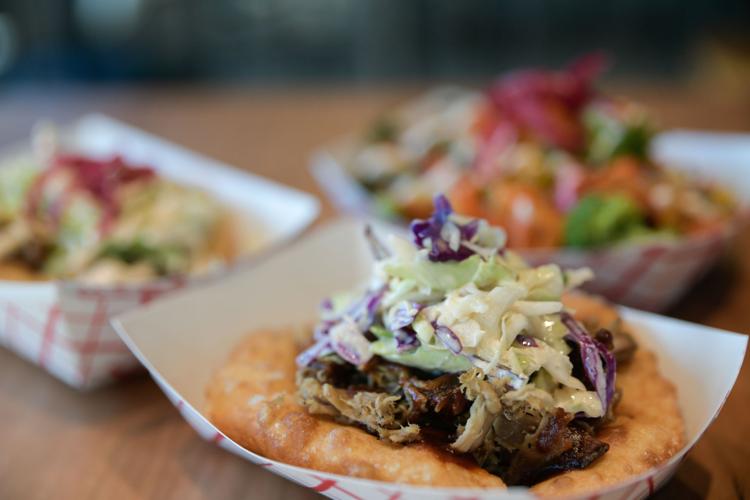 Rikard, McConnell, and their customers see great value in Off the Rez being native-owned. While the question of cultural appropriation arises in other cuisines — a Thai restaurant with white owners, for example — people usually accept it as cultural appreciation rather than appropriation so long as the outsider conducts the restaurant respectfully. 
In Rikard's experience, the opposite seems to apply for Indigenous cuisine, perhaps because of our country's history of and continued systematic oppression of Indigenous communities. 
"It's been pretty clear to us over the years that people want this to be a native-owned business," Rikard said. "I think there's still this feeling of 'Don't appropriate something that's not yours.'"
As a result, Rikard and McConnell receive many questions about Off the Rez's ownership. 
"We are constantly asked by natives and non-natives, 'Is this a native-owned business?'" Rikard said. "There's a lot of very strong feelings … Customers have shown us that they are happy our business is native-owned." 
As with any other restaurant owners, Rikard and McConnell hope customers love Off the Rez's food and continue returning for more. 
But more importantly, they hope that Off the Rez, as many customers' first introduction to Native American food, will encourage customers to continue deepening their understanding of Indigenous culture. 
Visit Off the Rez to study and snack on fry bread on weekdays from 8 a.m. to 6 p.m. and weekends from 10 a.m. to 5 p.m. No museum ticket purchase is necessary for entrance. 
Reach columnist Estey Chen at arts@dailyuw.com. Twitter:@esteychen
Like what you're reading? Support high-quality student journalism bydonating here.