A new wave of art was strewed across the gallery walls and floors, communicating ideas through the mediums of reclaimed household furniture, sound, virtual reality, and more. Conversations grew louder as people trickled into the reception May 31 for the Henry Art Gallery's annual exhibition of thesis work from Master of Fine Arts (MFA) and Master of Design (MDes) candidates at the UW. This year's show, which runs from May 25 until June 23, was organized by Jes Gettler, the lead preparator at the gallery.
More than 20 students are showcasing their final pieces in the exhibition, which is significantly more than the past few years; yet each work still expressed unique compositions and messages. The artists demonstrated skill and creativity in this culmination of exploration guided by advisers in their respective programs.
The show began in two smaller exhibition rooms on the upper-level floor. In each of these rooms, striking colors and peculiar items worked together to create an eccentric effect.
The works of two artists, Charles Stobbs III and Jackie Granger, shared the first small room on the right.
Granger's prop-heavy piece occupied the space. Round tables of different heights, draped with white cloths and candleholders, were topped with terrarium-like pieces. Light fixtures lined the walls and a small iPod-like music player was taped to the floor with earbuds. With no title or description, the work stood out.
"A file is playing, which is two fruit flies making attraction calls to each other that I put a beat to," Granger said. "It's also supposed to mimic a film called 'Woman in the Dunes.' I have a lot of references — pop culture is my s---."
Creating this piece for the show didn't come without challenges for Granger. She said the hardest aspect of putting on the show was "not wanting to show in an institution that has rules and regulations."
"You have to play the game, and I don't like playing it," Granger said.
Connor Walden dressed in all blue to match his piece "Stitched Together." It hung from the ceiling, a DNA-like spiral of various blue cloths sewn together. The piece responded to recent shootings.
"It's almost like every time I go on the news now, I'm like, 'What is it going to be today?'" Walden said. "After that, I was wondering how we could respond, not only myself but also as a community."
The piece, which was essentially a large prayer shawl, was so big that one could walk into the center and look up. It gave off a serene, flowing presence. Walden noted there were over 90 people involved in making the piece.
Among the other fine arts pieces were beautiful, large paintings that dominated the space, compelling the viewer to stop and look.
The second half the exhibition, created by design students, consisted of pieces in which many, if not all, the displays were made to interact with the audience.
The concepts expressed in the art ranged from the issues of single-use plastics to the implementation of augmented reality in woodworking.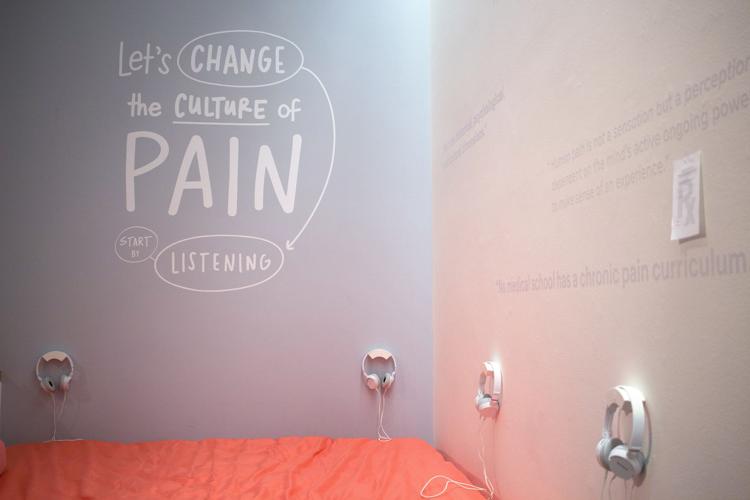 Headphones wait at many of the design displays, offering not only a visual experience but also an auditory one. This approach provided a deeper and perhaps more straightforward understanding of what the projects stood for.
Jooyeon Oh's piece was a way for long-distance relationships to be connected through a product called the "Scentie-Talkie," a device that allows people to know when loved ones are, for example, watching television, by releasing a specific scent.
"My inspiration was actually from my personal history of living far away from my family," Oh said. "I think it started from how I wanted to research something that's very personal and very relatable to my own history."
In the last room, Phillip Carpenter and Jose Pacio offered a virtual reality (VR) piece called "The Space Between Two Perceptions,"which consisted of a VR headset sitting under a bare bulb. The world within the headset behaved as a liaison, linking this reality and one that people explore today. Within the world of the headset, above is the night sky in space and once-blank walls have doorways into different worlds.
Though the exhibition consists of both fine arts and design students, there was a seamless and captivating flow between both experiences. The artists' skill, creativity, and hard work spilled into the work they created for this show, and is well worth the trip to the Henry Art Gallery; this is especially great for UW students, for whom admission is free.
Reach contributing writer Abby Alishio at arts@dailyuw.com. Twitter: @Abbs.Alishio
Like what you're reading? Support high-quality student journalism bydonating here.