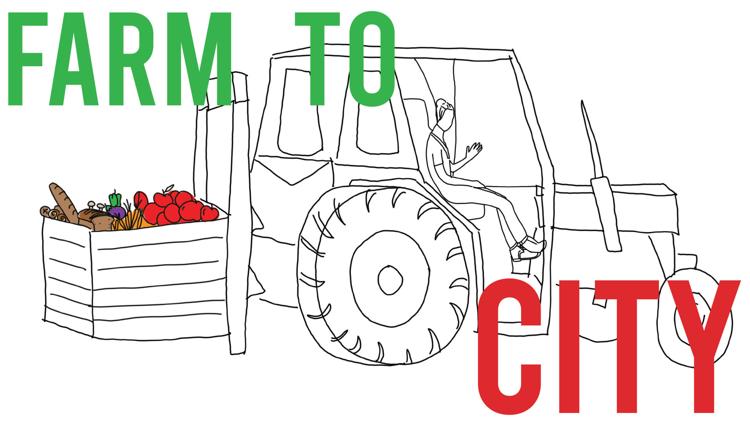 Last weekend, Washington state basked in a heat wave underneath crystal-clear skies blue enough to make me remember how much I love living in Washington, something I can easily lose sight of when faced with the drizzly, gray days of a Washington winter. 
The beautiful weather, coupled with the sweet smells of blooming lilacs, made me miss the farmers markets even more than usual. There's nothing quite as idyllic as strolling through a market, baking in the sun, straw hat on your head, and a bag of sun-warmed peaches over your arm. 
Unfortunately, we are facing a summer that will look drastically different from those we are used to, and the primary role of farmers markets in our communities has had to adjust in response to the continuing global health crisis. Many of the farmers and market workers I've spoken to so far this quarter said that what they miss the most about farmers markets is the sense of community the markets bring with them. 
"As much as I miss that, I also understand the need to shift our attitudes about the farmers markets in this time and really treat them more as an essential service versus a gathering space, which is so sad," Corinne Monaco, Farmers Market Assistant for the Seattle Neighborhood Farmers Markets, said. 
Along with shifting attitudes about the role of farmers markets in Seattle's communities, the way farmers markets do business has been radically altered. According to Monaco, the way vendors and operators judge the success of a market day has changed.
"I think before, very visually, we were able to understand a good day from a bad day based on throngs of people moving through the farmers market," Monaco said.
According to Monaco, end-of-day sales are a good way of tracking farmers market attendance, but it doesn't feel the same as seeing the market full of customers.
Farmers markets in normal times offer far more than just local produce and food. They are a nexus for the community, a hub where people and local businesses can interact. Typically, Seattle Neighborhood Farmers Markets strives to offer opportunities to local musicians, businesses, and community groups to attend farmers markets and gain exposure. 
As a consequence of COVID-19, these partnerships have been put on hold, restricting marketing opportunities for small businesses. 
Before the coronavirus led to the closure and modification of farmers markets, Seattle Neighborhood Farmers Markets had a summer park pop-up series planned, which has since been canceled.
"Those kinds of cultural and neighborhood connection points are a huge loss," Monaco said.
When asked about how communities can support businesses that are being impacted by COVID-19, Monaco emphasized the importance of showing up for local farmers, something which she feels the City of Seattle has fallen short on, especially when compared to other cities where farmers markets were never closed. 
"It seems like support for local farmers in those areas has never waivered, and in fact has intensified, as people understand that there's a local food systems catastrophe possible if we don't," Monaco said. "We've already seen an incredible outpouring of support from the public and from local foodies in Seattle, and I just hope that the city itself will catch up."
Going forward, Monaco says that Seattle Neighborhood Farmers Markets hopes to make changes to its systems to maximize the number of customers that can visit markets. 
Despite the fact that you may have to wait in line to get into the markets, Monaco says braving the line is important, as many farmers still rely on market sales to make a profit, and waits are generally only 15 minutes to get into the farmers markets. 
For a list of vendors using alternate sales platforms, you can visit the Seattle Neighborhood Farmers Market website or contact Seattle Neighborhood Farmers markets directly with any questions about where to find your favorite vendors. 
With luck, and the maintenance of proper social distancing and safety measures, we will all get to stroll through a farmers market again soon, with the scent of flowers and fruit heavy in the warm summer breeze.
Reach columnist Zoe Luderman Miller at arts@dailyuw.com. Twitter: @zozozaira
Like what you're reading? Support high-quality student journalism by donating here.