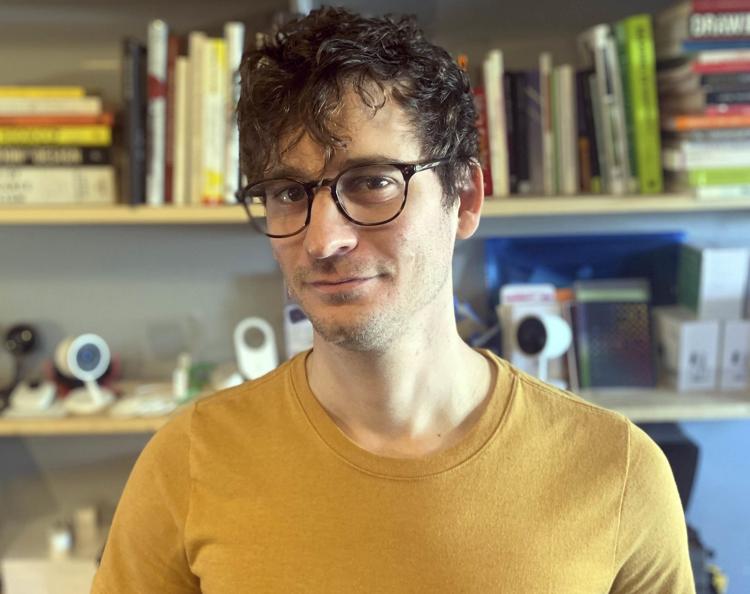 If you're anything like me and woefully inept with technology to the extent that you only recently (and under duress) downloaded Adobe Flash Player, you may be unfamiliar with interaction design and the role of design researchers. Luckily, James Pierce is here to explain.
Pierce will join the UW School of Art + Art History + Design in the fall as a tenure-track assistant professor in interaction design. He describes himself as an interaction designer who works within design and research fields to explore the intersection of human computer interaction — a discipline in which he holds both a master's and doctorate degree. Pierce's pursuit of interaction design has allowed him to merge his interests in computer systems and technology with what he describes as the "social, cultural, and artistic aspects of design."
Pierce currently teaches as an assistant professor of design at California College of the Arts and works as a researcher for the UC Berkeley Center for Long-Term Cybersecurity and the Center for Information Technology Research in the Interest of Society and the Banatao Institute. Following his move to Seattle, Pierce plans to continue contributing to UC Berkeley research projects and cybersecurity work.
A major component of Pierce's work in cybersecurity is research publication and the documentation of his studies for scientific, human computer interaction, and privacy and security conferences. His focus on privacy, security, and data ethics stems from an urge to address "new, pressing social problems" that may fall victim to oversight.
"I'm drawn to [cybersecurity] because it's not something that, you know, if we think of graphic design, industrial design, and interaction design, it's not the first thing that people usually think about," Pierce said. "Usually they think about designing a more enjoyable user experience or the aesthetics. For me, it's really interesting to think about taking those lenses of user experience and aesthetics or making sure there's a good social fit and using that to understand and help solve some of these problems with cybersecurity."
In his teaching experience, interaction design courses have involved topics like web design, app design, and more recently, explorations of smart devices and interactive systems like the Amazon Echo or Fitbit. Pierce often teaches basic, introductory classes that focus on imparting the foundational skills students will need to begin evaluating their own practical and research interests.
Typically his students will engage in group exercises to prepare them for post-graduate careers that utilize "multidisciplinary, cross-functional" team work. These activities can take the shape of brainstorming sketch ideas on post-it notes or something Pierce refers to as "body storming," which involves role-playing user interaction scenarios. There is also an emphasis on material discussions that allow students to critically analyze class projects from a first-hand perspective.
Remote learning, of course, presents challenges to traditional modes of student engagement and has forced Pierce to take stock of what is lost through the online forum.
Although interaction design differs from other art courses in that it doesn't require spaces like wood shops or ceramic studios, Pierce maintains that many of the techniques and forms utilized in class involve physical, hands-on construction. Students are also expected to regularly participate in critiques, in which projects and designs are displayed throughout the classroom to generate feedback and analytical commentary.
Despite these uncertainties as to the efficacy of remote learning, Pierce remains cautiously optimistic about the ability of interaction design courses to excel in an online format.
"I like to think interaction designers are uniquely well-equipped, in certain ways, to think about [modes] of doing [remote learning] that are better, or at least able to make comparable types of teaching available," Pierce said. "Frankly, a lot of work is moving online, even in the design, interaction, and art fields, so I think preparing students to be able to work collaboratively with online tools to make design work and communicate design work is an important skill."
The present commotion hasn't prevented Pierce from looking forward to fall quarter — regardless of its ambiguous format — and his impending professorship at the UW. He sees the position as an opportunity to become part of a "phenomenal interaction design program" nestled within an academic setting that is conducting a host of research related to his own interdisciplinary interests.
"There's just such a tremendous amount of work happening across campus related to things that I'm interested in," Pierce said. "In terms of research and practice, it was a wonderful home in so many ways."
Reach reporter Brooke Kaufman at arts@dailyuw.com. Twitter: @bkaufmanLJ
Like what you're reading? Support high-quality student journalism by donating here.