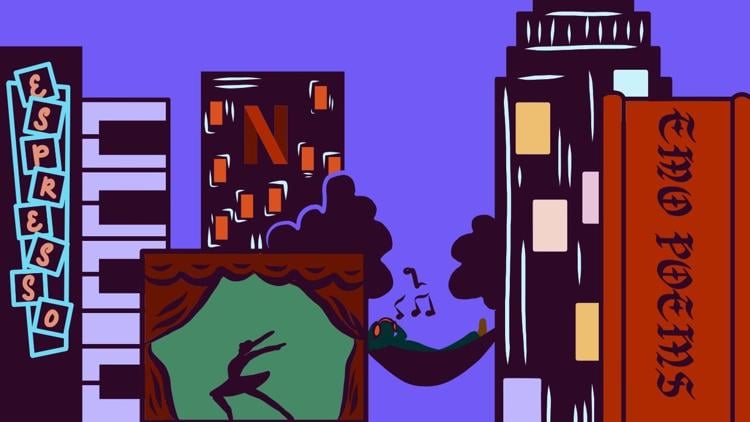 What we're watching
Jake Goldstein-Street, News Editor (@GoldsteinStreet)
Over the past five years, there's emerged a fascinating new genre of television: 30-minute comedies that aren't necessarily funny, but are thoughtful and provocative. They usually star a comedian (who also writes the show), allowing them to flex their more dramatic chops. Think of "Barry," "Master of None," and "Atlanta." 
The latest entrant into this category is Hulu's "Ramy," which had its superb second season released on the streaming service last month. Starring comedian Ramy Yousseff playing a version of himself, the show grapples with what it's like to be a Muslim in America, with xenophobia and Islamophobia raging after 9/11, and what it really means to be faithful.
The first season laid the groundwork for these topics, with Ramy trying to find his place in the world and dealing with who he wants to be as a Muslim. He often holds himself up as a good person because he refuses to drink and because he fasts for Ramadan. But the question the show puts on the table is: "Do these rituals actually make you a good person, or do they just give you the feeling that you are a good person?"
The second season, which includes a stellar supporting performance from Mahershala Ali, builds on this and plays even further into the idea of Ramy's self-righteousness. He's better than his friends because he's less interested in a grimy Atlantic City strip club, for example. 
In that way, perhaps it's less about faith and more simply about the things we do to convince ourselves that we're living life "right."
What we're listening to
Rachel Morgan, Managing Editor (@rclmorgan)
I must admit, I hopped on the podcast train really late. I started regularly listening to podcasts recently, as music wasn't quite cutting it anymore on my long quarantine walks. Now that my love for listening to stories has grown, I circled back around to one of the only podcasts I have completed in the past: S-Town. 
Hosted by Brian Reed from Serial and This American Life, S-Town begins as an investigation into an alleged murder in Woodstock, a small town in Alabama. As Reed begins talking with the podcast's true star, John B. McLemore, the story shifts focus from a criminal investigation to a tale of McLemore's life in Woodstock, or, as he refers to it, "Shittown."  
S-Town is like a good book that you can't put down: you will undoubtedly need to listen to all seven episodes as quickly as you can. Reed tells McLemore's life story of failed romances, hidden treasures, and conspiracy theories on climate change in such a compelling way that you can't help but become invested. Because of McLemore's eccentric tendencies, every episode brings a new surprising twist to this true story. 
While I'm giving S-Town a second listen, I highly recommend that you give it a first. There is something that everyone can relate to in this tale of one man's life in Shittown.
What we're reading
Hannah Krieg, Engagement Editor (@hannah_krieg)
I am a white person. I am a beneficiary from and a participant in white supremacy. I am privileged that I get to learn about racism rather than experiencing it firsthand. For that reason, I have committed to learning (and unlearning) as much as possible. 
The Seattle Public Library recently compiled a list of recommended reading they call "A Toolkit for Anti-racism Allies." Unfortunately, when I scrolled through the list, every book was completely checked out with a long waitlist. Well, maybe that's fortunate. 
I placed holds on "The New Jim Crow" by Michelle Alexander, "Stamped From the Beginning" by Ibram X. Kendi, and "Hood Feminism" by Mikki Kendall.
When I initially started placing holds, "White Fragility" by Robin J DiAngelo had a waitlist of over 2,000 readers. Ever since the book came into my hands, I have been devouring DiAngelo's words at an alarming pace (out of consideration for other readers and because it's genuinely a page-turner).
The book explains the concept of white fragility: a white person's discomfort or defensiveness when confronted by racism and how they participate in it. DiAngelo delves into the origins of this fragility, the ways in which it upholds white supremacy, and what we might do to address this issue. 
If you are a white person who is uncomfortable in conversations about racism, this might be a solid jumping-off point that could perhaps enable you to pursue texts and information about racism that white fragility may have barred you from consuming. However, I have seen critiques about this book as well, and it is important to note that the author, DiAngelo, is white.
This book should not be your only education in racism, but it's a start. I have the book checked out for two weeks. Hopefully, I can finish in the next couple of days and then send a link to my mom. 
Reach News Editor Jake Goldstein-Street, Managing Editor Rachel Morgan, and Engagement Editor Hannah Krieg at arts@dailyuw.com. 
Like what you're reading? Support high-quality student journalism by donating here.