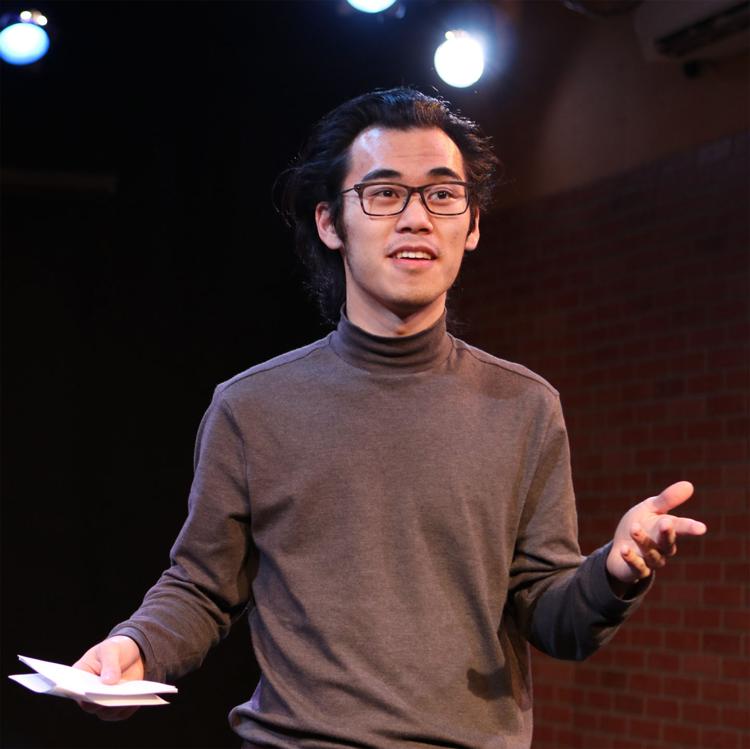 Not many people would have the guts to stand alone on a stage in front of members of their church congregation and openly discuss their sex life. However, UW alumnus Aaron Jin did just that and much more in his solo performance "True Love, but Gay" earlier this month. His 35-minute show was the first half of "american|asian," a show that was part of the We Are Here! Festival presented by the Intiman Theatre and 18th & Union.
Jin didn't always have this much confidence though. In autumn of 2014, he began pursuing a degree in drama at the UW. Although he had long loved the arts, he questioned his ability to support himself if he continued along this path.
"I remember sometimes I ran into a block in my acting class," Jin said. "My teacher would ask what was wrong. And I would say, 'I don't know if I can do this. Is it going to be worth it?'" 
Although he didn't have enough time to do a solo show at the UW as he'd hoped, Jin continued studying drama and ended up graduating a year early. He soon realized that he could, in fact, support himself while doing art. But, as a person of color, he knew that he would have to take ownership of his own career if he was going to see the work he wanted in Seattle.
A year and a half after graduating, Jin came across a great opportunity to produce the solo show he had been waiting for: 18th & Union and the Intiman Theatre were hosting a festival and looking for artists like him to participate. He accepted the offer and began writing a script.
"I wanted to make it my own and go against stereotypes of me as a gay Asian man," Jin said. "I don't think people find them very attractive in the United States, so just to be on stage and be like, 'Hi, I'm here, and I'm beautiful and sexy and looking for my boyfriend right now' … I really liked it."
In addition to breaking expectations, Jin also wanted to disregard the traditional Western masculine plotline that has a single story and a single climax. Instead, he wanted the show to feel like an experience.  
"I wanted it to be personal and intimate," Jin said. "It's just me talking on the stage and sharing the moment with everybody."
 His final product, "True Love, but Gay," ended up following the story of a young and confident Jin looking for love on every first date. His story was dramatic, comedic, and, most of all, authentic. Although Jin initially thought his show was about self-love, he soon realized that it was a love letter to his community. 
"It's messy and it's complicated, but it's our story and that's why we tell it," he said. "Some people go through things that they don't realize everyone goes through. One of the reasons I love to do theater is because I love doing something that will help other people see something in themselves."
Jin also discussed the importance of seeing someone on stage who is different from yourself.
"Art reinforces the way people think about the world or challenges it," he said. "It's good for people to realize that other people have rich lives filled with interesting stories."
The reactions to Jin's show were powerful. Audience members laughed and cried. Afterward, a high school friend told him that the show had inspired her to take acting classes. Due to its popularity, an extra date for "american|asian" was even added.
"There were a lot of people there who I wasn't expecting to come, a lot of people who I hadn't talked to for a long time," Jin said. "My show is very gay and I talk openly about sex. There were people coming from my conservative church, and my mom ended up coming too." 
Jin's show will continue to be developed further. He hopes to bring it to New York this June, and later turn it into a longer show in Seattle. Right now, Jin is the touring music director at the 5th Avenue Theatre for its Adventure Musical Theater Touring Company. He is also in the process of creating promotional videos for nonprofits, putting together short films for a showcase, and working on a documentary about the school-to-prison pipeline.
"I always wanted to be a student leader, like a president of some organization or in the student government, but that just never happened," Jin said. "Instead, now, I'm just a badass bitch. And that's fine with me." 
Reach contributing writer Hannah Turlove at development@dailyuw.com.Twitter: @hturlove
Like what you're reading? Support high-quality student journalism by donating here.