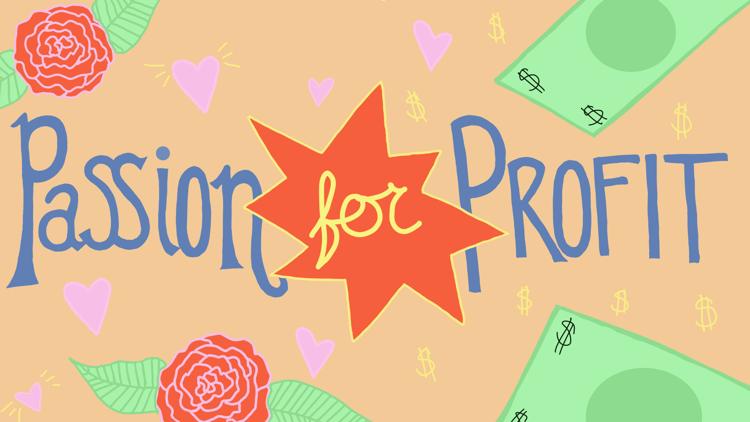 Author's note: Passion for Profit examines the rise of passion blogs, their until-recently-untapped profitability, and what these websites imply about the future of multimedia.
Looking back, I can recall the exact moment this column came to be. It was spring break, and I was spending a late afternoon lull sifting through emails when I came across the application for spring columns. Admittedly, my first reaction was that of self-doubt — would I have the time to write a weekly piece, and did I even have an idea worth writing about?
While pondering these questions, I took a break (read: procrastinated) to indulge in a frequent pastime of mine: browsing blogs. As I was scrolling through personal favorites like Man Repeller and The Messy Heads, I began to wonder what it was about these sites that drew in not only me, but thousands of other readers as well.
That fleeting thought came to serve as the inspiration for Passion for Profit — a column that, over the course of spring quarter, would devote itself to ascertaining the mysterious allure of passion blogs and tie their booming popularity to the shifting nature of multimedia consumption.
Each week, I researched one or two sites that appeared to be working to monetize their creative visions, turning their "passion" into "profit." In addition to delving into each blog's digital platforms (website, social media accounts, etc.), I looked at their physical manifestations, such as print magazines and in-person, community building events. By marketing themselves in both the physical and digital sectors, these blogs have successfully established themselves as multimedia platforms that transcended the limitations of publications solely publishing content online or in print.
The proliferation of passion blogs, aided in large part by the progression of the internet age, facilitated these sites' ability to establish themselves as individual brands whose networks stretch far beyond their internet beginnings. Each site, through its expansion into ventures such as print publications, merchandise, and social gatherings, has built itself into a small business empire, or "web hustle," that thrives off of reader involvement.
Passion blogs subvert standard models of media outreach, in that they begin by cementing their relationship with readers online and then use this framework to expand into hands-on models of interaction. Whereas the majority of media publications are being forced to digitize in order to maintain readership, passion blogs begin with the accessible, online format preferred by key demographic groups, like millennials and Gen Z, forgoing the growth restrictions that traditional print publications face.
For university students, in particular, passion blogs present a viable opportunity to find work within the publishing and journalism industries outside of traditional structures. Students looking to contribute to or even start their own websites won't be required to present extensive resumes or complete lengthy internships in order to prove their capabilities as writers, photographers, artists, or editors. Most of the passion blogs that are currently succeeding leave submissions open to the public, encouraging their readers to participate in creating the content they enjoy.
Take, for example, Pure Nowhere, a blog and creative collective co-directed by two high-school-age teenagers; or Rookie Magazine, an online and print publication that was founded in 2011 by then 14-year-old Tavi Gevinson. In both cases, the founders' inexperience served as an advantage in their curating of sites whose content was both relatable to their target audience and unlike anything else being published at the time, especially in terms of its devotion to self-expression.
Through internet entrepreneurship, passion blogs have expanded to play a dominant role in multimedia. Furthermore, the blogs have become the medium through which the narratives of a younger and more diverse generation are vocalized. These platforms offer job opportunities to creatively inclined, younger populations, and provide a supportive outlet for readers looking to visually experience their thoughts and emotions. Plus, they're great to scroll through when you're procrastinating applying for a column.
Reach columnist Brooke Kaufman at arts@dailyuw.com. Twitter: @bkaufmanLJ
Like what you're reading? Support high-quality student journalism by donating here.