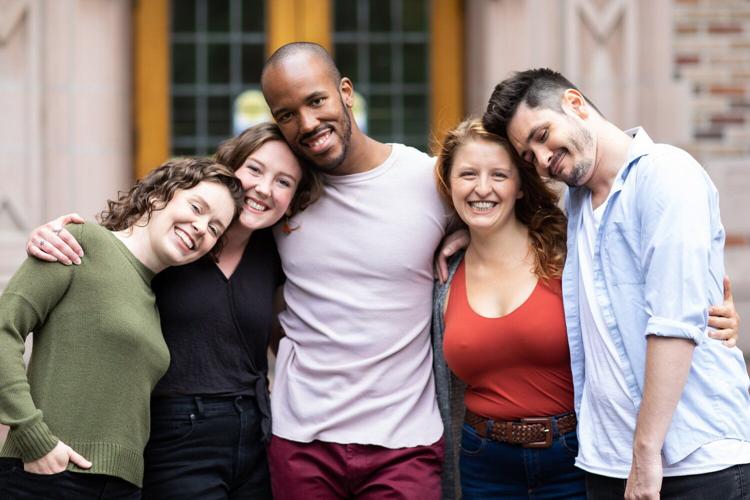 Two months ago, Semaj Miller was making plans to travel to Los Angeles for his showcase that would have taken place this week. As an actor who is graduating with a Master of Fine Arts (MFA), this is a crucial opportunity to connect with the acting industry for a successful transition from academia to the professional world.
Unfortunately, this in-person showcase in LA was canceled due to the unprecedented and uncertain circumstances that are affecting most performing artists. But for artists, uncertainty is not all that unfamiliar, and creative resilience is a constant necessity. 
"Imagine a career where you live with uncertainty all the time; that's your constant," Jeffry Fracé, the head of acting at the School of Drama, said. "Even though this [is] an unfamiliar territory, it is a kind of familiar sensation for a lot of artists."
In lieu of an in-person showcase, the work of Miller and his classmates can be seen in a virtual showcase, which was launched April 15.  A video introduction with all five members of the UW School of Drama Professional Actor Training Program class of 2020 can be seen on the homepage, where actors express a wish to meet the viewer in person, but lament that "the world had other plans."
The program is considered to be the premier actor training programs in the Pacific Northwest and one of the best among drama schools in the country. Typically partnering with Julliard, the showcase for graduating MFA actors often attracts many agents and casting directors in the industry.
Miller and his four other classmates have been preparing for this performance since the start of this year, and according to Miller, the show was sold out before it was subsequently canceled. 
"It's an involved process," Miller said as he pulled a binder off the shelf behind him during a video call. 
In this binder were 15 to 20 scenes organized with colored tabs, three of which ended up in Miller's graduating showcase. 
"It's you introducing yourself to the industry, so you want to make sure they're getting the best parts of you," he said.  
Miller had been thinking about his showcase since the start of his MFA program. When he realized that it wouldn't be happening in the way he had hoped, he was partially devastated.
"Who doesn't want to go to LA for a week after graduating with their master's degree?" Miller said. "I was sad because [there were] some old relationships I was hoping to check back in with, and then some new [people] that I was interested to meet. [Showcase] is kind of the icing on the cake when you finish your MFA."  
However, it was only until a couple days ago that Miller realized that even though he couldn't change the situation, he could control his response to it. This is when the actors and faculty decided to do the virtual showcase.
"Virtual showcase is a way of providing industry professionals who would typically have seen the live showcase with an opportunity to be introduced to the actors virtually," Holly Arsenault, the director of engagement and public information officer for the School of Drama, said. 
The virtual showcase provides an individual profile for each actor containing professional headshots, production photos, and film reels. Even though the in-person connection might be lost, the actors and faculty are proud of how the virtual showcase turned out and feel that the personalities and talents of these actors will still show through.  
"It's a particularly hot moment for exposure and introductions [because] there's a lot of generosity and reaching out," Fracé said. "What's happening is kind of an acceleration of what's been happening already."
Miller is personally excited about the virtual showcase and the opportunities it will bring for him and the other actors. 
"It has an opportunity to expand our reach in terms of who can see our work," Miller said. "The University of Washington as an institution has name recognition, so I think people will open up those invitations who maybe aren't familiar with us as individuals." 
To further navigate the current uncertainty, Miller has been controlling as much as he can while constantly trying to find silver linings in the midst of everything. Miller has become a "self-tape king" as he puts it, sending out 10 to 15 self-tapes in the span of two weeks. 
"If these opportunities are online and available to actors, why not me?"Miller said. "I'm really trying to stay positive and put my best foot forward. As much as I can stay creative is what I'm trying to do." 
Reach writer Andrew Ronstadt at arts@dailyuw.com. Twitter: @AndrewRonstadt 
Like what you're reading? Support high-quality student journalism by donating here.