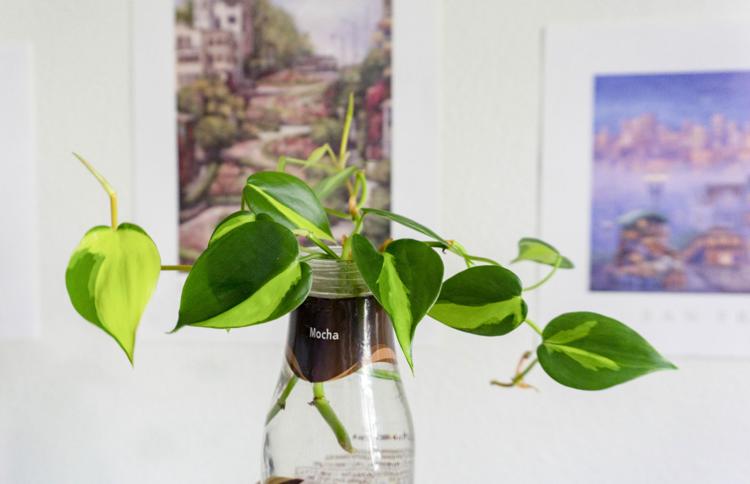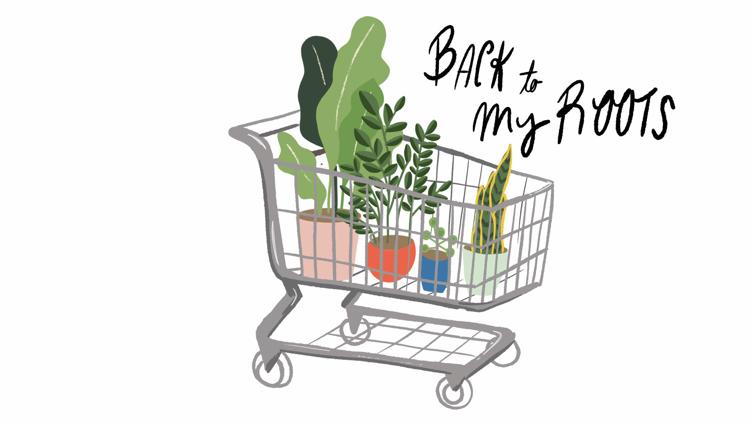 Owning plants doesn't necessarily mean breaking the bank on plant supplies. There are lots of things most people have at home or can find at a store for very little cost that work great as watering cans, makeshift humidifiers, propagation vessels, trellises, pots, and plant stands. 
Saving money on plant supplies gives you a lot more money to spend on the actual plants. I also find that repurposing items and doing some crafting is more rewarding and better for the environment than buying something premade at the store.
Empty bottles
This year, I have accumulated a lot of glass bottles from the District Market and the Nook and instead of just recycling the bottles, I have repurposed them to benefit my plants. I fill them with water and put them around my plants to increase the humidity of my space. It doesn't compare to the humidity gained from a humidifier, but it does add some moisture to the air for your humidity-loving plants. 
My favorite way to use empty bottles is as propagation vessels. The bottles I have are large enough to accommodate multiple propagations at a time and allow me to watch the roots develop. 
They can also be used as watering cans and flower vases. 
Spray bottles as misters
Don't throw out your empty spray bottles just yet. Clean them out and fill them with water to use to mist your plants to increase humidity. This increases the humidity for your plants temporarily, and it's a lot of fun to walk around tending to your plants. You can also use this spray bottle to wet the leaves when you wipe the dust off of them. 
Compostable food containers 
I recently switched to using the plastic food containers from the District Market for succulent propagations. This is a really great way to utilize the packaging before composting it. 
You can use compostable coffee cups as seed starters or pots for your plants. You can decorate the outside of the cup as you see fit and then when you need to repot up, you can still compost.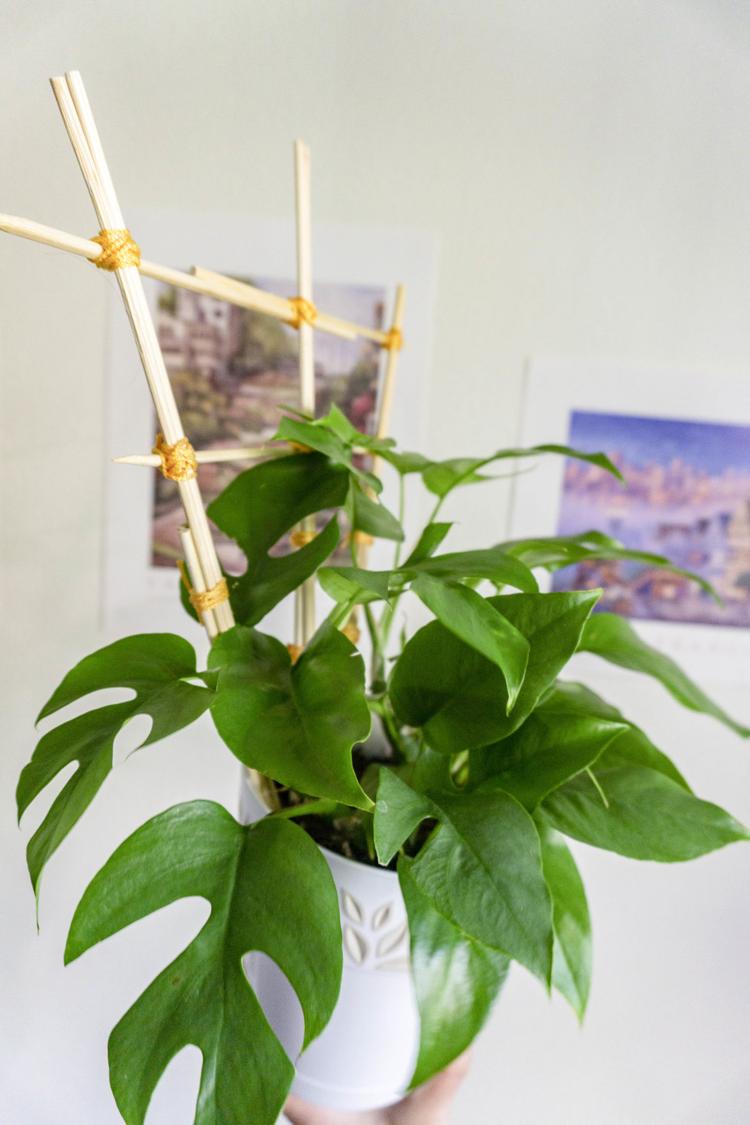 Coffee filters
Placing coffee filters at the bottom of your pots can prevent soil loss during waterings. This is something I was just made aware of so I'm not sure the long term effects, but on the surface, it seems pretty straightforward. The water is able to completely drain out while the soil remains in the pot. This would be a great option for people who don't want to worry about a lot of dirt getting into their space. 
Bamboo skewers 
I recently created a trellis for my Rhaphidophora tetrasperma to climb up as it grows by tying bamboo skewers together in a "V" shape. I just placed the trellis in the soil when I repotted it so it stays sturdily in there. 
I also use bamboo skewers to help some of my plants stand up straight in their pots if they are too heavy and leaning in one direction. This just helps to ensure that the plant grows evenly. 
String or cording 
As I mentioned with the trellis, using string is a great way to support your plant growth. I tied my Monstera deliciosa to my desk so it can be supported in growing upwards instead of out. 
I also sometimes just tie the stems of plants together so they stand up straight. Sometimes I like the look of plants that grow out rather than up, but using string allows me to get the best of both worlds and adjust the look of the plant simply by tying it up.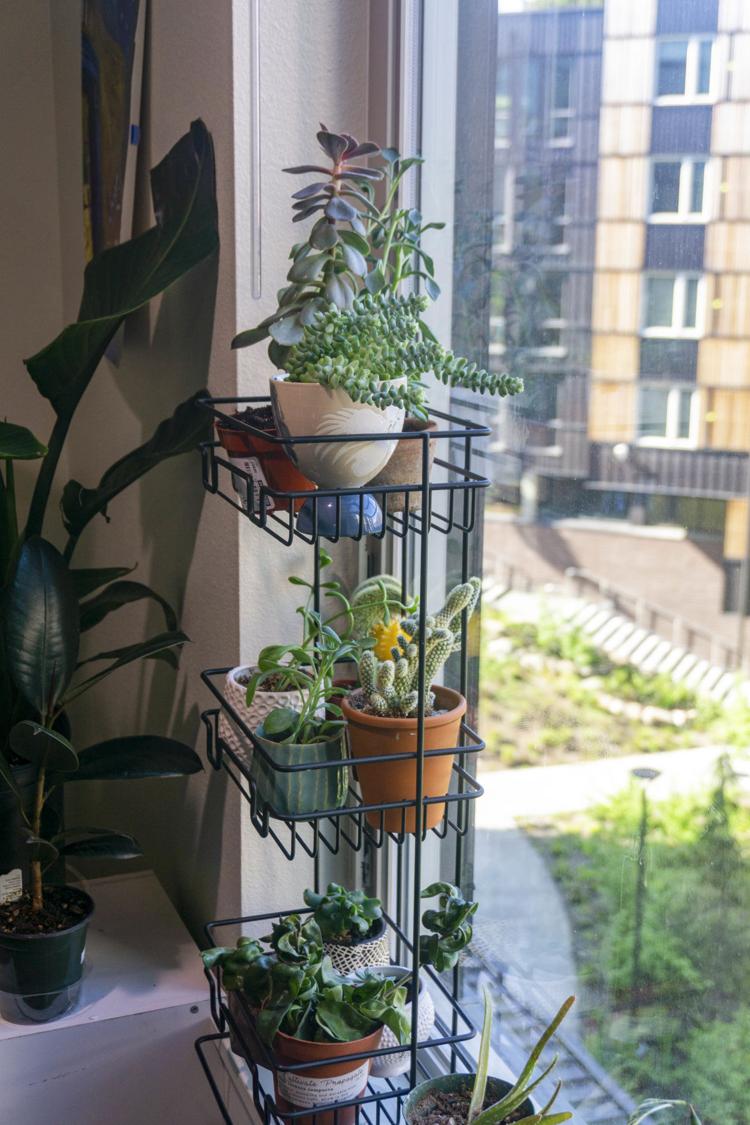 Storage as plant stands 
I recently began using a wire bathroom storage stand to hold all of my succulents in my windowsill. This allows me to use the vertical space in my window sill more effectively and be able to have room for other plants that need a lot of sunlight. My storage unit plant stand is strategically placed in my window so that the succulents get a few hours of direct sunlight in the morning from my northeast facing window. 
Once you start paying attention to the things you use everyday, it's easy to rethink them in terms of plant care. It can be tempting to buy the fancy tools and stands from Amazon or Facebook Marketplace — I'm no stranger to the whirlwind that is Facebook Marketplace — but things in your space can be put to good use at no cost to you. Take advantage of the quarantine and shop your own space for your plants. 
Reach writer Iseabel Nance at arts@dailyuw.com. Twitter: @iseabel
Like what you're reading? Support high-quality student journalism by donating here.