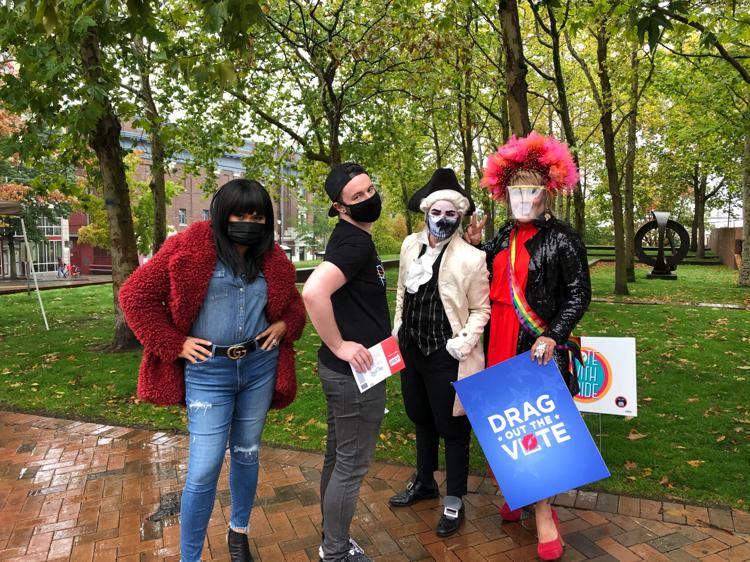 It would be both limiting and historically inaccurate to characterize the arts as purely aesthetic. Across cultures and societies, art is a mechanism through which lived experiences and unfulfilled objectives can be communicated and advanced in equal measure. Art and its remarkable influence are perhaps most profound in political movements that employ visual, literary, and performance manifestations of this discipline to affect social change.
Drag Out The Vote is one such example of mobilizing arts for civic engagement. The nonprofit, nonpartisan organization uses drag performance to encourage voter education and participation. 
Jackie Huba — speaker, consultant, and author of "Fiercely You: Be Fabulous and Confident by Thinking Like a Drag Queen" — conceptualized Drag Out The Vote in 2017 as a platform to increase voter turnout in the LGBTQIA+ and allied communities. Huba, the organization's executive director, acted in response to an October 2019 report published by the Williams Institute at UCLA School of Law that found 21% of LGBT adults are not registered to vote.
Since its establishment in 2019, Drag Out The Vote has organized voter activities at drag events across the country, propelling the group's foundational belief that "the art of drag" is imbued with activist and social justice-minded capabilities.
Dylan M. Austin is the branding and communications strategist at Drag Out The Vote and serves on the Board of Directors at Seattle Pride. Austin is involved in various LGBTQIA+ causes in Seattle, volunteering and working with organizations such as GSBA (Washington's LGBTQIA+ chamber of commerce), and Lifelong (which assists people living with chronic illness). He has worked with drag artists in several capacities over the years and views his role at Drag Out The Vote as a natural career step.
Austin noted that drag artists have held critical roles in the HIV/AIDS movement, women's marches, and Pride festivals, and called attention to the drag queens and transgender women of color who propelled the Stonewall riots. Emphasizing their popularity in mainstream media, Austin stated that drag performers are "experts" at cultivating styles and personas that give their voices an undeniably powerful platform.
"It makes sense to take these drag artists, who always have a microphone in hand (if not symbolically), and give them the resources to talk about and encourage voting to their audiences, online and offline," Austin said in an email. "So we recruited over 300 drag artists all across the country in our Drag Ambassador Program, and gave them guidance on crafting engaging messages and content, training in relational organizing, and activities like text-banking to employ all that creativity and desire to have an impact."
During this election, and in its wake, Austin said Drag Out The Vote will continue working to "inspire young and LGBTQIA+ audiences to vote." 
"Our queer generation is savvy and no BS, so we've made it a point to say over and over that we know voting isn't the most we can do, but it is the least," Austin said in an email. "We must still speak, march, write, call, and organize in our communities, and we must slay at the polls."
Seattle Pride has also launched its Vote with Pride 2020 initiative to promote the importance of voting. Imploring members of the electorate to "get informed on the issues and vote their conscience," Seattle Pride has hosted Sunday afternoon events in Capitol Hill, Burien, and Bellevue to distribute voter materials and register participants to vote from Oct. 4 to Nov. 1. 
On Oct. 18, Seattle Pride hosted an event in collaboration with Drag Out The Vote and featured three Washington State Drag Ambassadors: Aleksa Manila, Vincent Milay, and Gaysha Starr. 
Both organizations seek to grow democratic participation within the LGBTQIA+ community so that issues such as transgender rights and queer workplace protections may be progressed by elected officials.
Manila — who describes herself as "an immigrant Filipinx of API descent, trans-genderqueer drag activist, social worker and U.S. citizen" — derives her drag persona from social activism. After receiving her first drag title at the 2001 Miss Gay Filipino pageant, Manila resolved to use drag's visual appeal to her advantage, remarking: "I thought, well, if you're going to look at me, I'm going to make you listen to me."
Focusing on the intersectionality of her identities, Manila founded Pride ASIA, a collective with a mission to "celebrate, empower and nurture the multicultural diversity of the LGBTQ communities through the Asian Pacific Islander lens," according to its website. She is also actively involved in causes such as HIV prevention, education, and intervention; transgender activism; the protection of LGBTQIA+ youth against bullying; and anti-suicide measures.
Manila believes LGBTQIA+ advocacy and the "reach for equity" is best pursued through voting LGBTQIA+ politicians and legislators into positions of power. Ballot measures like Referendum 90 and Charter Amendments No. 3 and 7 can be tied to LGBTQIA+ inclusion and the fight against discrimination. Thus, the importance of voter registration and participation for these communities and their allies cannot be understated.
"Beyond equal rights, we're looking for equity, and that means representation of women, including trans women, and POC representation, particularly of Black and Indigenous folks," Manila said. "I'm [also] really passionate about legislation [and] policies that can bring about systemic change and will have long-lasting effects that will serve and benefit our generations to come."
This balance of education and entertainment is at the core of Drag Out The Vote and the Vote with Pride initiatives. The arts, Manila reasons, embody political movements, in the sense that artists may collectively mobilize admirers of their work. Manila believes sensory experiences, such as drag performances, can become a call to action that inspires individuals to view "their existence as political" and their vote as an "altruistic behavior change" producing substantial outcomes for broader populations.
Reach Arts & Leisure Editor Brooke Kaufman at arts@dailyuw.com. Twitter: @bkaufmanLJ
Like what you're reading? Support high-quality student journalism by donating here.