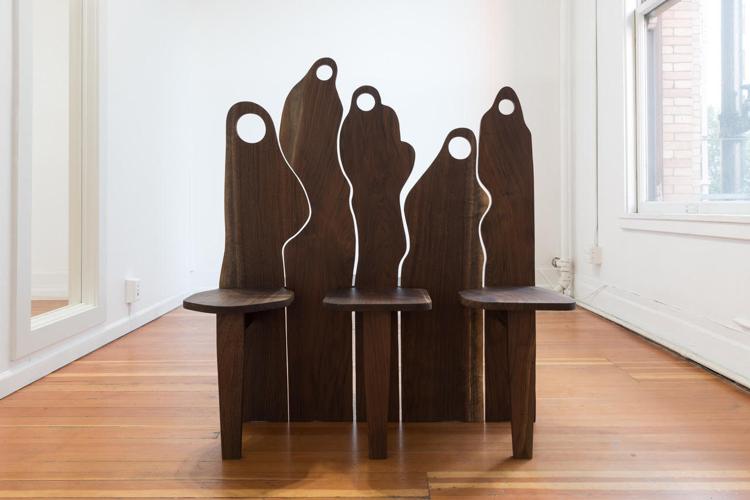 When something is irreducible, it means it cannot be broken down any further. It exists as is, no matter how intricate or complex.    
This is the central theme of the upcoming exhibition at the Jacob Lawrence Gallery, "Irreducible Forms." The pieces in this exhibition express elaborate themes and ideas, far too complex to be broken down into simple forms, in an effort to resist the over-simplification that is all too common in the present era. "Irreducible Forms" acts in protest against the reductive nature of today's society. 
Featuring the work of eight students in their second year of the Master of Fine Arts program, the exhibition displays a variety of artistic styles and mediums. Emily Zimmerman, director and curator at the Jacob Lawrence Gallery,was careful to acknowledge the individual aspects of each artist's work.
"Rather than create a curatorial framework that would be only a surface read of the complexities of the work, I wanted to honor the deep differences in subject matter and approach that each of these students are taking," Zimmerman said. "There is a certain violence enacted when you simplify." 
The artwork of student Stephanie Simek engages the idea of irreducibility in a counterintuitive way. Using a variety of different mediums, Simek breaks down intricate concepts into their most basic forms in an attempt to understand how and why the world operates and how it might be re-imagined using those base pieces. 
Her pieces include a wooden bench inspired by the monks who were the first to produce fabric, sparking the beginning of the mass clothing industry. Also on display are a series of sketches of the bare bones of various industrial systems.
"It all goes back to the idea of breaking something down into its elemental components and trying to re-envision what could be made out of those pieces," Simek said.
Shuo Yin takes a different approach to irreducibility, with work that explores the meaning of being Chinese in American society. Yin moved to the United States to attend the Fine Arts Program. 
When studying art in China, he was taught art was about technicality, its importance lying in the mastery of skill. Exploring art in Seattle exposed Yin to a world of creativity and passion. He realized art was also a form of individual expression.
"It opened up my mind that art is about the world, about human life and our civilization," Yin said.
In recent work, Yin has focused on individual portraits of Chinese citizens to explore the struggle of Chinese identity in America. In the show, he features a series of self-portraits that portray the difficulty he faces in merging his Chinese and American identities.
Yin hopes his work will help Americans understand Chinese culture and the struggles Chinese citizens face in America.
"We have to understand each other better," Yin said. "My hope is to bring in some mutual understanding between different cultures and different countries." 
Todd McKinney, a master's student specializing in painting and drawing, finds inspiration in his passion for environmentalism and scientific theories. 
McKinney links his work with chaos theory: the idea that every action, no matter how small, has an impact on the universe. Every brush stroke influences the outcome of a piece. Everything humankind does affects the Earth.
"I think all art is political in its own right," McKinney said. "If it's not talking about something political, it's going to be political in its material or conception." 
McKinney wants his work to be a reminder of our humanity, a chance to pause and acknowledge the interconnectedness of nature and human life.
"An artist's job is to remind us that we're human, that we think that we feel, that we love," McKinney said. "We are wrapped up in our technology right now, we don't take a moment to take things in." 
"Irreducible forms" is on display at the Jacob Lawrence Gallery from Oct. 24 to Nov. 29. The opening reception is Oct. 23 at 5 p.m. The exhibition is free.
Reach contributing writer Sarah Shapiro at development@dailyuw.com. Twitter: @sarahshapiro94
Like what you're reading? Support high-quality student journalism by donating here.